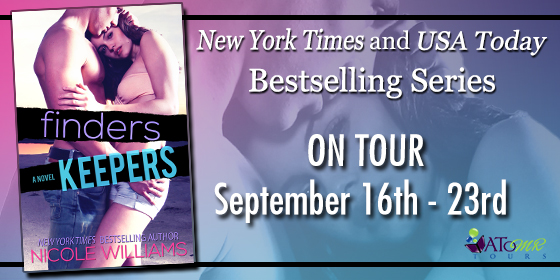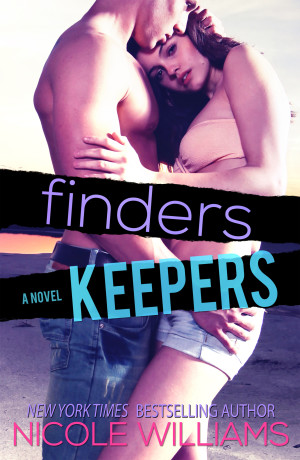 Today we welcome Nicole Williams to our blog as she celebrates her new book Finders Keepers which released on September 16th.
Enter for a chance to win some giveaways using Rafflecopter below!
---
5 STARS!!!
Synopsis
There's tortured. And there's Garth Black.
His life has been a constant carousel of tragedy and disappointment, including his love life.
Of course, applying the term "love" to Garth's conquests is a gross misuse of the word. Some people were made to give and accept love, and others weren't. Garth Black redefines the "others" category. He's made a vow that the day he meets a woman who could sucker him into falling in love will be the day he runs away.
Garth's plan has one flaw. What happens when he's already fallen hard for a girl before the warning signs and red flags go up? What happens when the love he's avoided his entire life brings him to his knees? What happens when Garth Black lets the dirtiest four letter word he's ever known into his dark, lonely life?
This cowboy's about to find out he can control some things, and he can't control others. Number one on the what he can't control list?
Love.
Christine's Review
I am a HUGE Nicole Williams fan and I have LOVED LOVED LOVED Garth Black FOREVER!  I can't wait to get inside this man's head.
"Why don't you stop being the hero and own what you really are?  The villain."
I couldn't agree with this statement more.  Yes, every book needs a villain and yes Garth Black is that villain but he has been in my heart since Lost and Found and I know that there is a heart in this man.  Often times throughout this series, I felt that Garth was just misunderstood, outwardly being a jackass to protect himself and his heart from suffering more heartache or pain in his life, and in Finders Keepers, we really get to see the history behind this man.
Garth grew up without a mother and lived with his abusive, alcoholic, dead beat dad.  Much of his childhood, he never felt loved or cared for.  The only love he had was in his friendships with Jesse Walker and Josie Gibson.  The three were a pack and grew up together and did everything together.  I am not going to deny that his past was very heartbreaking and sad for me – seeing how unworthy he feels and that he expects to never have anything good in his life, make me want to reach out and comfort him and tell him that he really is SO MUCH MORE than what he thinks.  Unfortunately Garth had to live with the cards dealt to him but everyone deserves happiness and love in their life and most especially him.  A lot of his interactions with people are both humorous and sarcastic but I feel that he does this to protect his heart so yes he may appear to be a villain but to me, it's all a show.  Garth's story starts with an unimaginable event – leaving him without a home and more alone than ever.  I want to cry for this man because of everything he has been through and never having an easy life.
"Women are mysterious creatures bound to make a man crazy if he spends too much time trying to decode their every move."
So yes, in this book Garth is finally faced with the one person he has ever had feelings for – Josie.  Garth has always made her life a living hell but we finally see it's because he has always been protective of her, has always felt something for her.  I love their interactions with each other and even more so reading about their history as children and reliving memories that Garth remembers of her.  Josie gets even more under Garth's skin and for once, we see a romantic side of Garth, we see the hope and longing that he has to have that happily ever after with a woman by his side and a happy future.
With the many obstacles that stand in their way and Garth's feelings of not deserving anything good in life, will this broken man finally be able to pick himself up and allow someone into his heart and life to share it with?  Or is he doomed to being alone, always angry, always destructive and never finding true happiness?
You will have to read this book to find out!
I LOVED seeing Jesse and Rowen in this book moving into the next phase in their lives.  Even more so, I enjoyed watching Garth develop as a character, finally growing up and realizing that he needs to stop denying himself his own happiness.
As in all Nicole Williams books, I love the romance incorporated with the tenderness and of course the dialogue that always has me sighing out loud because it's always so touching and sweet and heartwarming.  Thank you Nicole for giving this wonderful man his own book because he deserved to have his story told – thank you for letting him find his happy <3
"I wasn't the guy who fell in love with you this past winter…I was the boy who fell in love with you that day on the school bus when we were five.  And I'm the man that always will."
….sigh…..<3 <3 <3
About the Author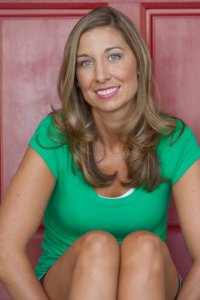 I'm the New York Times and USATODAY bestselling author of the CRASH series (HarperTeen, S&S UK), LOST & FOUND series, UP IN FLAMES (S&S UK), The EDEN TRILOGY, and a handful of others. I write stories about everyday kinds of people who find themselves in extraordinary kinds of situations. I tell love stories with happy endings because I believe in making the world a better place, and that's one tiny way I can make it so. I'm one of those people who still believe in true love and soul mates, and would rather keep my head in the clouds any day over having my feet firmly on the ground.