Click banner to follow tour schedule!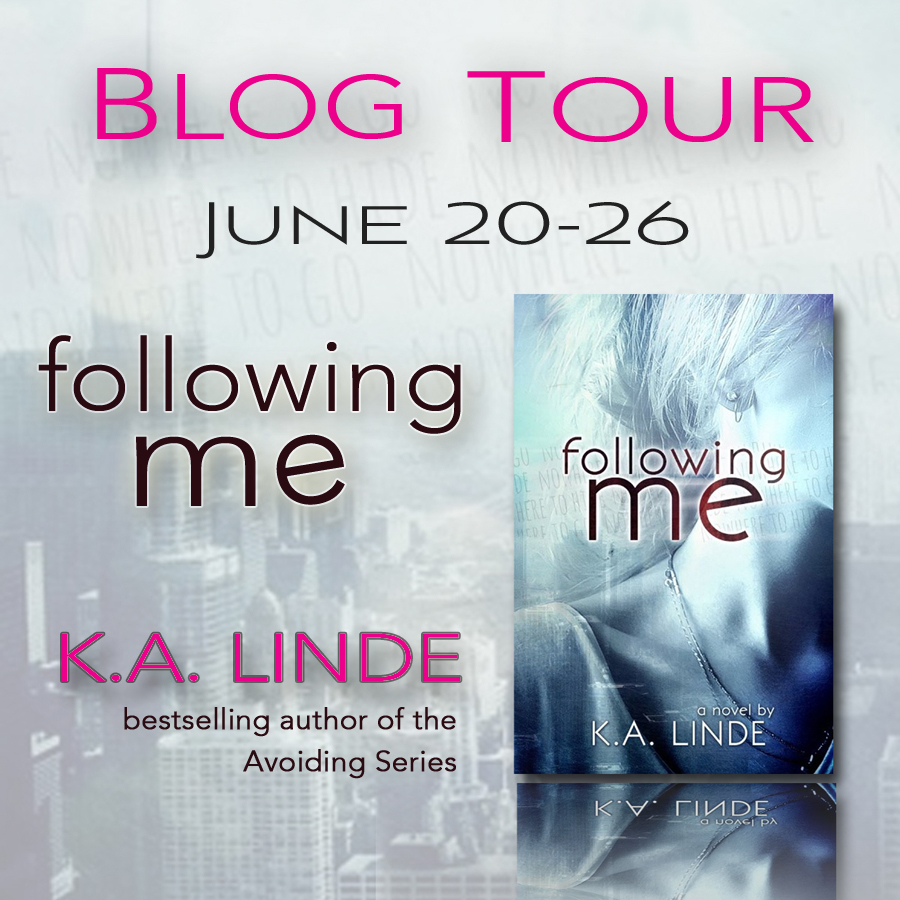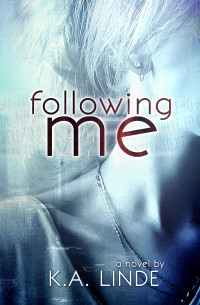 Today we welcome K.A. Linde to our blog as she celebrates hew new release Following Me which released on June 21st.
Enter for a chance to win an ecopy of this book. Enter for a chance to win the GRANDPRIZE is a $100 Amazon gift card using Rafflecopter below.
---
4 STARS!!!
Synopsis
"I knew you were running the first time I saw you…"
Devon didn't have a game plan when she decided to leave St. Louis on a Chicago-bound train for the summer. Just a reason. One she couldn't share with anyone.
Not Hadley, her best friend from college, who lets her stay in the guest bedroom; no questions asked. Or Brennan, the bartender at the local restaurant they frequent, who she actively tries to avoid. Or Garrett, Hadley's boyfriend, who befriends her when she has no one else to turn to.
"I just didn't know what you were running from…."
Desperate to hide at all costs, Devon plunges into her new life in the city. Everyone around her starts to reveal sides of themselves Devon never expected. And just when she starts to get comfortable, her world flips upside down…
"…but I think all along you were running toward me."
4 lives.
All connected.
All with secrets that just keep following them.
***Kyla has released the first chapter of the book on Fiction Press.  Click on the link to read it!  Enjoy!!!
GENRE: New Adult
COVER DESIGNER: Okay Creations
Christine's Review
I've said it many times before – I am a huge K.A. Linde fan….I LOVE the Avoiding Series so when Following Me came out and I had a chance to be a part of the blog tour I agreed whole heartedly.  This is so much different than what I expected it to be…in a good way….Kyla shows us that she can write different stories, emotions and still remain true to herself as an author and to her art and creativity.
Devon Sawyer has one more year of school left when she departed St.Louis to visit her best friend Hadley in Chicago.  Right from the get go, we see how she is running from something she has left behind as she lies to her boyfriend and parents  about where she will be that summer.  Devon suffers from terrible nightmares where people are constantly following/chasing her and it feels very ominous and telling of something dark that has happened to her.  She is also very paranoid of being alone, new surroundings and is depressed and I can't help but feel the same as I read her emotions throughout the book.
While Devon is only supposed to stay a week in Chicago with Hadley, it turns into much longer when she catches her friend doing something out of character which she uses to her advantage.  Right away we can see how this issue will cause a major rift and separation in their friendship as Devon decides to stay with her longer.  They avoid each other for a lot of the book and it creates awkwardness between two girls who used to be so close.  I love Hadley's boyfriend Garrett – he is such a sweet and nice guy but has no clue what is going on with his girlfriend or Hadley.  He has his own issues with his overbearing father but has proved to be a good friend to Devon during her stay in Chicago.  I do sense a growing attraction between Hadley and Garrett (or maybe it's just friendship?) and wonder how it will all play out while they are all living under the same roof during Devon's stay.
Devon meets Brennan when she first arrives in Chicago.  There is an instant attraction and chemistry between them and she tries to resist it.  I have to say that I liked him a lot…Brennan is a bartender at a bar that Devon and Hadley and her friends go to.  Right from the start, he seems to want to befriend her and help her but Devon remains closed off and aloof to his advances.  She remains secretive and it's frustrating because I just want to reach out and help her find some happiness and trust in someone.  Brennan helps Devon get a job at the bar he works at while Devon attempts to figure out what to do next with her life.  In my eyes, Brennan is not only a nice guy under the hard guy exterior but he adds that bit of mystery that makes you wonder what is inside of him that makes him tick – he was yummy!
There were a lot of hard topics revealed within the secrets of this book.  And how these characters can overcome them will be a challenge for them but will make you see how true friends stick together through thick and thin.  This book will show you what kind of strengths lie within you and it will really make you think – days later I am still thinking about it as I write this review as I went through a range of emotions including being scared and then crying and then happy about the possibilities of broken people being able to mend themselves and find love together.  The epilogue was fantastic! Sighhhh…..
I would recommend this book to someone who likes an intense plot filled with some suspense and mystery.  Keep an open mind because this is very different than what is normally expected from Ms. Linde but well worth the read.
Fave Quotes:
When I think there's no chance, none at all after you leave my gig…when I wrote that song for you…" he trailed off looking at her fiercely.  "Then you show up here saying you have nowhere else to go…when the door was always wide open."
I think I knew you were running the first time I saw you," he said.  "Those stormy eyes telling me you were lost with nowhere to go and nowhere to hide.  I just didn't know what you were running from.  But I think all along you were running toward me."
"I think I found what my mama was talking about.  You're my greatness."
About the Author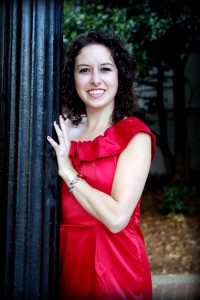 K.A. Linde is an independent author and publisher who enjoys writing novels that keep you guessing to the very end. She wrote her first book, Avoiding Commitment, in 2009 while studying political science and philosophy at the University of Georgia. She received her Masters in 2012.
She resides in Georgia and enjoys dancing in her spare time. She is currently working on Off the Record, a fantasy/romance titled The Affiliate and the third book in the Avoiding Series.
---
GIVEAWAY
Leave a comment after this post (including your email address) for a chance to win an ebook copy of this book!
---
GRANDPRIZE GIVEAWAY
a Rafflecopter giveaway