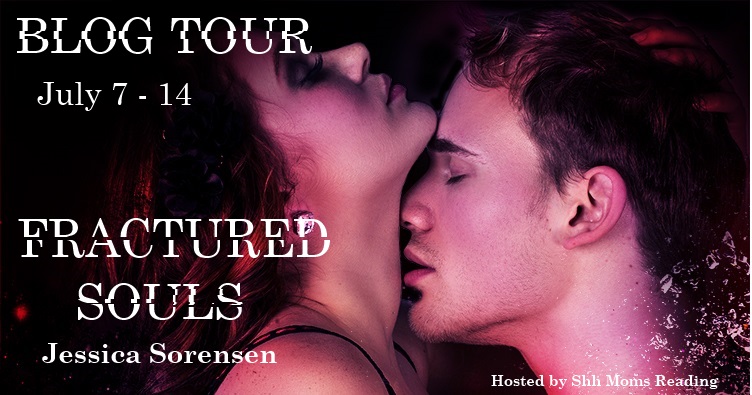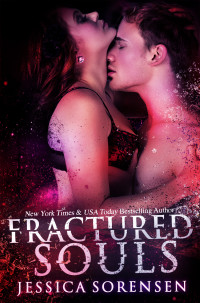 Today we welcome Jessica Sorensen to our blog as she celebrates her new book Fractured Souls which released on June 30th.
Check out a teaser from book 3 – Broken Visions below – add to your TBR list today!!!
Enter for a chance to win a copy of this book using Rafflecopter below.
---
4.5 STARS!!!
Synopsis
Gemma thought she had said her good-byes and had felt every possible emotion she could before her soul was detached again. Deep down inside, she hoped she'd never wake up from it because, in her eyes, life without emotion and memories isn't worth living.
But she does wake up and discovers she can still feel and remember everything she experienced over the last few months. Alex is also telling her that everything's okay, that he didn't betray her, and that what she thought happened really didn't.
Gemma isn't sure if she can trust Alex, so she tries to keep her distance from him, even though the electric connection and her desire make it nearly impossible. The only person she can trust is Laylen, but even that becomes complicated when the lines of their friendship begin to blur.
While Gemma struggles with her emotions and relationships, she searches for her mother, entering a dangerous world of secrets, seduction, and evil. The further she digs into her mother's secrets and past, the more she wonders what waits for her at the end of her search and if maybe some things are better left in the dark.
**Mature Content Warning** 17+ for language and sexual content.
(this is a re-imagining of my Young Adult Paranormal book, The Underworld (Book 2 in the Fallen Star Series) told as a New Adult Paranormal)
Christine's Review
I LOVE Alex,Laylen and Gemma and couldn't wait to dive right back into the Shattered Promises Series.
Fractured Souls picks up where Shattered Promises left off where Alex and Gemma have escaped from his father Stephen to Las Vegas to hide out.  At first, I am skeptical of Alex's intentions and question whether I trust him or not because of things that happened in book 1.  But Alex immediately puts my anxiety to rest as he reveals that he lied to Gemma to protect her.  Gemma will take some time to recover from the betrayal as she has been through a lot and has a lot of trust issues and I not only understand how she feels but sympathize with her as well because she has never really had anyone she can rely on in her life.
Fractured Souls continues Gemma's story in finding out the truth and most importantly her mother who was taken to the Underworld.  Gemma will encounter many obstacles in finding her mom, namely Nicholas the devious Fairie and Stephen's continued pursuit of her and her friends.
So Jessica knows how to write love and sex and the scenes in this book are NO JOKE!  There is a love triangle with Alex, Gemma and Laylen and I can't even tell you how damn HOT some of these scenes were.  Though I do feel that the relationship between Alex and Gemma is the one based on love, feelings, and connections – there is something between Laylen and Gemma that you can't deny.  All parties in this love triangle bring something to the table and ultimately I wonder who Gemma will choose and just hope that no one gets hurt in the process.
What exactly is Stephen after and what is his plan for them?  Will Gemma be able to find her mom in the Underworld and rescue her?  And what will become of this love triangle – will anything ever be resolved for these three?
Well you will have to read this book to find out!  Yes, this is a cliffhanger – it was suspenseful and entertaining and the love was magnificent – I could feel it through my kindle.  The ending filled me with such powerful emotions and doom and book 3 – Broken Visions can't come soon enough!   Jessica has provided us with a teaser for book 3 that will hold us for a bit – so enjoy it below!
Great job as always!!! <3
Book 3 Teaser Broken Visions

"What the hell happened to you?" Alex asks, jumping to his feet when I land in the living room of the beach house, perfectly centered between the two sofas. His brown hair is disheveled, his green eyes look dull, and his grey shirt and jeans wrinkled.
I have a knife tucked behind my back and numbness in my chest, begging me to do something sinister. "I got lost."
He winds around the table and heads toward me. "Got lost. Gemma, you've been missing for almost a week."
I pretend to be deeply sad as he approaches me. "I know. I'm terrible with direction."
He stops just short of me, his forehead creasing as he reaches for my face. He assesses me while he tucks a strand of my long brown hair behind my ear. "You look… strange."
I feel strange. "I feel fine." I grip the knife with my fingertips, so tightly that the blade splits open my palm. Blood drizzles out, but I don't move, feeling the triangular mark on my arm singe with hunger.
He lowers his hand to his side, seeming even more confused. "Tell me what happened… where you were?"
I shake my head, wanting to get this over with, so I can move onto the next person. "Don't worry about that right now." I lean in, moving my lips toward his. "Just kiss me."
Shaking his head, he starts to pull back, but I grip the bottom of his shirt with my free hand and pull him roughly toward me. "I said kiss me," I demand and tug his lips to mine.
The contact of our mouths is surprisingly soundless and I wonder if it's that way for him. It doesn't seem to be since he goes from being conflicted to needy in two seconds flat, his hands sliding around my pack and pushing me against him as he crushes our lips together. His tongue slides into my mouth and he tastes familiar, welcoming, and desirable in the most repulsive way. I need to get the feeling out now.
Arching my back, I line our bodies together as close as I possibly can, causing him to groan. His eyes are shut, but mine are open as I move my hand out from behind me. As his tongue and hands explore every inch of me, I raise the knife behind him, aiming it at his neck. With zero hesitance, I bring the knife down, but right as I'm about to reach him, I'm suddenly shoved back.
I fall to the ground hard, smacking my head and elbows on the floor, the knife flying out from my hand. Blood drips from my palm and onto my arm and the floor.
Alex stands over me, quickly bending over to jerk my sleeve up. "Shit," he says with wide eyes as he takes in the Mark of Evil branded on my skin.
I move my mouth toward his hand, ready to bite him, but he falls to his knees, positioning one on each side of me and then forces me to roll over into my stomach.

"Get off me!" I cry, writhing my body to get away.
He lowers his weight on me, pressing his chest against my back. "How the hell did my father put this on you?"
I laugh an evil, sharp, full of loathing laugh. "It doesn't matter. All that matters is it's on me and I'm going to kill you."
About the Author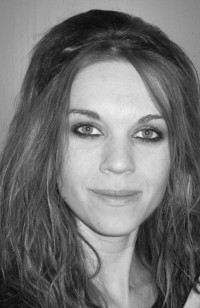 The New York Times and USA Today bestselling author, Jessica Sorensen, lives in the snowy mountains of Wyoming. When she's not writing, she spends her time reading and hanging out with her family.