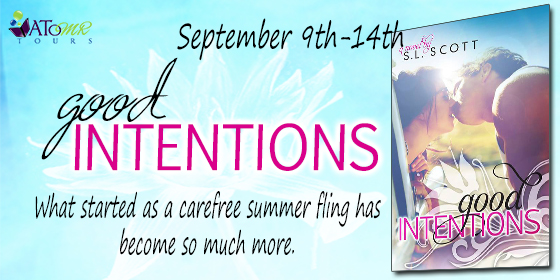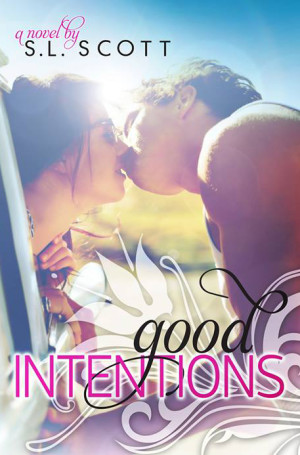 Today we welcome S.L. Scott to our blog as she celebrates her new book Good Intentions which released on September 9th.
Enter for a chance to win some amazing giveaways using Rafflecopter below! Good luck!
---
5 STARS!!!
Synopsis
Two words sum up my summer in paradise: Evan Ashford.
I have a life back home I must return to, though my heart battles this reality. What started as a carefree summer fling has become so much more. Evan has become so much more. He's become everything. Cupping his face, I stare into his deep blue eyes, wanting to lose myself once more… needing to know he feels this too.
Although our connection won't stop the summer's end from rushing toward us or silence the demons Evan battles, I have faith our love can overcome the obstacles that will undoubtedly arise from us choosing to be together. I still worry… Will our good intentions be good enough? But I'm all in, willing to take the risk, knowing he can destroy my heart if I'm wrong.
Like a riptide, I was forever changed by one woman: Mallory Wray.
Our eyes meet and we spend a moment looking into the others', reading the fear and the love that mingles within. I move slowly down and kiss her forehead, her nose, her eyelids, her cheeks, and her chin before I kiss her lips again—soft and gentle, not rushed, but sensual. She smiles and I die inside knowing that I won't get to see her face every day. I've been spoiled by this sweet angel giving me all her days and nights. I possessively take hold of her wrists and like so many times before, the air stills as our connection intensifies. I can't help myself when it comes to her.
I kiss her.
Rain pours down harder and I wrap my arms around her, engulfing her body, her love, her soul.
Kim's Review
Good Intentions the follow-up to Good Vibrations~ yes we get more of Evan & Mallory!!!! I was totally…
S.L. didn't hold back with the opening of Good Intentions. Man she pulled a huge punch! We already met Mother Ashford and she is the…
and I wanted to ….
her upside her wealthy pristine head! It's the 4th of July and the Ashford's are throwing a party, not a party that most normal folks would attend, a hoity-toity affair. Mallory is there at the house with Kate, Evan's sister and Sunny. The girls have gotten ready and they are just waiting for their "men" to arrive. You know the saying you got to strike while the iron's hot? Well, Mother should did. She knew when opportunity came knocking and I was literally…..
a little reminder from the time Mallory & Evan first made eye contact as arrived. A hidden agenda and a vicious intent had me………….
We all know a few shots to loosen up is one thing but when both people have had a few all hell breaks loose. Evan arrives and that's when the
starts! Mallory has to get out there. She had already declared her feelings via words to Evan in Good Vibrations and the situation is going downhill fast ~ enter in the ever present Noah and we learn the one thing Evan has kept to himself for the past four years a secret that made me…..
and when the memories were relived I …
would this be the straw that broke the camel's back? or would Mallory & Evan take that chemistry that they have with one another and develop into a deeper relationship? Time's running out since Mallory has to return to Colorado in a month. Well, the hot hunk of a surfer lays out on the line and I was ….
this is where the book is like a dream for me. It was fun to watch the two of them develop into a deeper relationship and move forward with open & honest communication. They realize what they have is precious and sure they are pretty hot…
but can this relationship survive when they both go their separate ways? Mallory returns to college and Evan heads to New York to work for his father and I start getting ….
there were points in the book where I just wanted to…
different time zones, classes, work and doubts start to interfere. New people are introduced and are they just meant to be friends? Old friends crop up, old money, old crowds and expectations from the family all start to weigh in and I felt like I was watching the beginning of the end.
I have to say that the end of the book had me…
and totally…..
and doing a little
oh yes! That was freaking AWESOME left me needing more pages to turn. Well damn I got more pages to turn a sneak peek into the third book and I was …
and totally ….
and a heck of a lot intrigued so even though I just finished a book that hasn't been released I'm now stuck wanting NO needing the third book ~ I'm fully vested in Evan & Mallory's relationship and I've been left….
and hanging and I could admit I had the…
air knocked out of me after reading the teaser for the third book! UGH!!!!! I think I can honestly say …..
Good Intentions is the continuation of Evan & Mallory's journey ~ it starts off with a bang and then we get to see a sweet, romantic, tender side as they both really get to know each other but I'm left wondering will time/distance cause them to separate, can they survive outside forces and is the differences in their lifestyle's going to be the ultimate demise or will they fight for what they want. Well I have no clue cause that's what the third book is going to be about!
A 5 solid star read! It kept me engrossed and had me laughing and fanning myself but left me biting nails. If you haven't started this series I recommend you do so immediately! I highly recommend both Good Vibrations and now Good Intentions ~ which believe both Evan & Mallory do have good intentions but whether that will be enough remains to be seen.
About the Author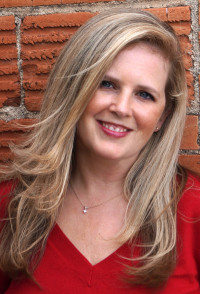 S.L. Scott has a degree in Journalism and is the author of Amazon bestseller, A Prior Engagement, her debut novel, Naturally, Charlie, and several novellas, including Amazon best seller, Sleeping with Mr. Sexy, and Morning Glory—all currently available on Amazon. Pursuing her passion for telling stories, she spends her days escaping into her characters, letting them lead her on their adventures. She is a Contributor to Huffington Post as well as writes for her own blog along with several other popular sites.
Travelling, music festivals, and surfing are a few of her hobbies she loves, but she doesn't get to enjoy on a regular basis. She has an obsession with movies, a varied taste in books, and collects Fitz & Floyd teapots. With a memory full of useless trivia facts, and a Keurig addiction, she loves a fun night in with her family as much as a loud night out with her friends.
Scott lives in the lively city of Austin with her husband, two young sons, and two Papillons, enjoying life in the beautiful hill country of Texas.