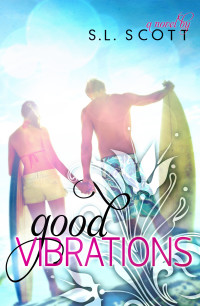 Today we welcome S.L Scott to our blog as she celebrates her new book Good Vibrations which released on June 10th.
Enter for a chance to win a giveaway using Rafflecopter below!
---
5 STARS!!!
Synopsis
I grab her exploring finger just as it reaches my happy trail—a trail that if I let her wander down further will lead us to do things we can't take back. Things like three-word phrases being confessed that would end me if I was rejected. Things like selfishly wanting to own her body and doing things to her that would make my fantasies blush. And things like making her promises too soon that won't do either of us any good. She makes me want a future that's not possible, and one I don't deserve.
Listening to my ego got me into this situation. Will listening to my heart get me out?
Age Group: New Adult
Genre: Contemporary Romance
Kim's Review
It's pretty darn awesome when you literally stumble across a gem of a book not really knowing what to expect but find something that's a heck of a read and a new author that you can't wait to get your hands on their other works.
Good Vibrations was one of those books that will grab your attention from the get go and leave you turning the pages so fast to see where this train wreck, at times, is going but also knowing there is so much hidden depth to the characters that you want to know EVERYTHING about them and you want the whole shebang now!
Mallory decides to spend the summer in Hawaii with her best friend Sunny. This is quite out of the norm for Mallory but not as daring as what happens when she locks eyes with a gorgeous creature in the airport. Mallory's taking some down time from her life at CU in Boulder, Colorado and what a perfect escape this will be for her. She's already had her share of crap from one man so a little, sun, sand, water and a hot freaking gorgeous man is just what she needs but wait a minute is this what she ordered? or is she about to get more than she bargained for.
Evan locks eyes with Mallory at the airport after his latest week vacation fling is in the process of giving him a long lip lock goodbye and like the lothario he likes to be he makes eyes with Mallory while entangled in a another woman's arms. Evan doesn't do relationships. PERIOD. Nope Evan is about the hook up and believe me he has nor problems hooking up but what happens when what you thought was going to be a hook up and your usual M.O. goes south and you find that the perfect of beauty & brains turns out to be what you want no matter how hard you fight it. Well, I'll tell you what happens a huge freaking wave that has the potential to knock your arse off the board is what happens. Brown hair, mesmerizing green eyes and a night of passion is all it took for Mallory to get under Evan's skin and the fun begins ~ well sometimes it's the games but not everything is as it seems.
Just to make the twists and turns a little tighter Mallory meets Noah the hot local man, also a surfer, who has a past with Evan. These boys are no longer tight and you can feel the tension oozing between the two of them. Noah is the nice guy who is falling for Mallory but is Noah what Mallory wants or what she needs or perhaps neither?
I can't answer all those questions for you ~ this is one book you NEED to check out yourself and be prepared ~ put a life jacket on cause at times I felt I was going under and other times I was blissfully floating on the surface of the beautiful ocean but the entire time I itched to learn the secrets that has Evan running like a dog with their tail between his legs at the first sign of something electrifying and potentially life changing ~ but ladies I hate to tell you not everything is wrapped up so prettily in a tight little bow in just book! Oh no we get 3 books and I'm thinking three to die for chemistry between the sheets, angst ridden and eye popping, jaw dropping NO way I didn't just read that books!
Total and complete 5 SOLID star read for Good Vibrations and as the Beach Boy tune floats through my head as I type this review I'm praying that time flies by so I can get my hands on the next book because until I see what transpires NEXT I will be completely obsessed ~ even though I'm pretty darn slap happy over the ending ~ yes I like books that don't serve it up on a silver platter at the end!
About the Author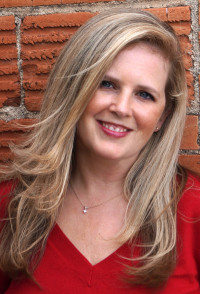 S.L. Scott has a degree in Journalism and is the author of the novels—Naturally, Charlie, and A Prior Engagement as well as several novellas, including Sleeping with Mr. Sexy and Morning Glory–all currently available on Amazon. Pursuing her passion for telling stories, she spends her days escaping into her characters, letting them lead her on their adventures. She is a Contributor to Huffington Post and writes for her own blog along with several other popular sites.
Travelling, music festivals, and surfing are a few of the hobbies she loves, but she doesn't get to enjoy on a regular basis. She has an obsession with movies, a varied taste in books, and collects Fitz & Floyd teapots. With a memory full of useless trivia facts, and a Keurig addiction, she loves a fun night in with her family as much as a loud night out with her friends.
Scott lives in the lively city of Austin with her husband, two young sons, and two Papillons, enjoying life in the beautiful hill country of Texas.
She welcomes your notes at sl@slscottauthor.com.