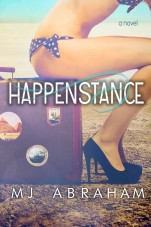 Today, we welcome to our blog MJ Abraham as she celebrates the release of her debut novel, Happenstance, which released on February 16th.
Enter using Rafflecopter below for a chance to win some amazing prizes!!
3.5 STARS!!!
Summary
When Victoria Rivera got married two years ago, she thought she was going to get her happily ever after.  Instead, she ended up divorced at twenty-five.  Heartbroken and lost, she packed up her bags and moved away from her family and the only life she's ever known for a fresh start.  She is ready for a change and new opportunities that come her way.  Victoria is definitely not looking to find love.  She doesn't want to get burned again.  But then she meets Jared through mere happenstance and little by little he gets under her skin and in the way of her plans. 
Can she learn to open herself up again and give love a second chance?
Sometimes what you are not looking for finds you anyway.
Christine's Review
Happenstance is MJ Abraham's debut novel and it was a quick fun read!
Victoria Rivera is 25 years old and is divorced after 2 years of marriage to Eric.  She caught him cheating on her and rather than trying to work things out, he tells her that he doesn't know what he wants anymore and if he even wants to be with her.  Instead of dwelling on the sadness and heartbreak, Victoria decides to start over and move away from Miami to Orlando to get a new teaching job and live closer to her best friend Maggie.
On her way to shop for school supplies, she hits a dog and enter Jared Owens, 32 year old charming veterinarian who wears funny sayings on his t-shirts!  I liked Jared from the start!  He let it known right away of his interest in Victoria.  He is a bit of a smart ass but I found their flirtation light and funny!
Victoria isn't looking for a relationship nor is she ready for one but Jared gets under her skin in a good way.  She can't stop thinking about him.  I must admit here that I thought that some things seemed rushed – that Victoria is already thinking about a future with him but in a situation where there is divorce and where you question the intentions of others, maybe this is the correct way to handle/deal with these things?  There were also things that completely frustrated me in this book – I understand her issues with mistrust and being able to move forward in a new relationship – but I just felt that Jared never really gave her any reasons to question him so much and at times I wanted to shake her into her senses!
There is definitely a good amount of drama and suspense. Both main characters have their fair share of mistakes in the past.  But will Victoria be able to move past her insecurities and let her guard down to let Jared in?  Will she ever be able to trust anyone again after everything that she has been through?
Circumstances shouldn't always set your happiness, sometimes you have to look within your heart. Love conquers all.
You will have to read this book to find out!  I look forward to reading more from this author.  If you are looking for a quick read filled with drama, comedy, love and some hot sex scenes, then pick this one up today!
GIVEAWAY
About the Author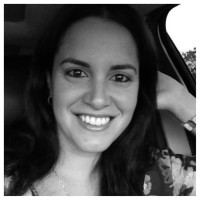 MJ Abraham lives in bipolar weather Florida with a husband that makes her laugh and a superhero son that calls her Princess. She has a degree in Business Administration from Nova University but finds the people in her head to be much more interesting. She is a lover of clever words, reading way past her bedtime, and zombies. She may or may not be as random as her bio. 
Twitter  https://twitter.com/MJAbraham12
Facebook www.facebook.com/mjabraham12
Goodreads  http://www.goodreads.com/author/show/6693551.M_J_Abraham