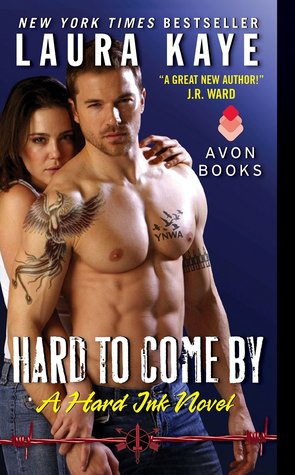 Hard to Come By

by Laura Kaye
on November 25, 2014
Pages: 384
Buy on Amazon
Goodreads

Caught between desire and loyalty…

Derek DiMarzio would do anything for the members of his disgraced Special Forces team—sacrifice his body, help a former teammate with a covert operation to restore their honor, and even go behind enemy lines. He just never expected to want the beautiful woman he found there.

When a sexy stranger asks questions about her brother, Emilie Garza is torn between loyalty to the brother she once idolized and fear of the war-changed man he's become. Derek's easy smile and quiet strength tempt Emilie to open up, igniting the desire between them and leading Derek to crave a woman he shouldn't trust.

As the team's investigation reveals how powerful their enemies are, Derek and Emilie must prove where their loyalties lie before hearts are broken and lives are lost. Because love is too hard to come by to let slip away…
Today we welcome Laura Kaye to our blog as she celebrates her new release HARD TO COME BY! Laura has written a little about the elements of sexual tension and has provided us with an excerpt to share with you below. Stop by the other blogs participating in the tour this week to see what else Laura has in store for you and make sure to enter the giveaway below. GOOD LUCK!
Dec. 1-Shh Moms Reading
Dec. 2-Vilma's Book Blog
Dec. 3-Grownup FanGirl
Dec. 4-Reading in Pajamas
Dec. 5-Schmexy Girl Book Blog
The Elements of Sexual Tension
I'm very excited to be here today to celebrate the release of my new book, Hard to Come By! This book is part of my super sexy and suspenseful Hard Ink series about the surviving members of an Army Special Forces unit investigating the suspicious circumstances that got them dishonorably discharged from the military. Hard to Come By is about amputee hero and team techie Derek "Marz" DiMarzio, who finds himself falling for the sister of one of their known enemies.
One of the most fun things about writing this book was the unrelenting sexual tension between Marz and heroine Emilie Garza. Stolen kisses, public sex scenes, quickies up against a window, and dirty talk galore characterize the sex in this book! *grins* So I thought I'd share some of the elements that I think create great sexual tension between romantic characters. Here we go:
Delayed Gratification. The longer you have to wait for that first touch, that first kiss, that first loosening of restraint, the better it is when it finally happens! Delaying gratification (for the reader and the characters!) makes you ache and yearn and long for it. And that builds sexual tension, literally.
Internal Debate. Another element that creates good sexual tension is the characters themselves giving in to what they want, and then pulling back. Maybe their body wants something their head or heart knows is no good for them. Or maybe they're attracted to someone they know they can't—or shouldn't—have. That's Marz, in Hard to Come By! This two steps forward, one step back internal debate builds sexual tension.
SlowMo. Giving readers every step, every detail, in the midst of a tension-filled moment makes it that much more intense. Describing the lean-in for the kiss, the eyes meeting, the pressing together of bodies, the way his breath caresses her lips…all before their lips ever touch? Yeah, that builds sexual tension.
Near Misses [aka c*ckblocking! LOL] Finally, finally they lean in for that first kiss….and someone walks into the room. Or something explodes. Finally, FINALLY they're going to DO IT ALREADY and the hero gets an urgent call that tears him away or the bad guy arrives on the scene. All these near misses—otherwise known as being really, really mean to your characters—create sexual frustration that make readers and characters really, really want it!
Engaging the Senses. If you think about kissing someone…yes, go ahead, and pause for a moment, I'll wait… *winks* …kissing is such an intimate experience that you register how that person feels, how they smell, how they taste, what their eyes look like up close, what sounds they make low in their throat, how they hold you, how their body moves. Engaging readers' senses helps create sexual tension by giving them the sensory input to know exactly what it is that is so attracting between the characters, on the most physical level. Not to mention, it puts the reader into the moment with the characters, immersing them in the tension.
The Dance. Building sexual tension involves a process of escalation. In how the characters look at one another, how they talk to one another, how they touch one another, how they move around one another, and how they think about one another. If a strange man just walks into a store, steps around the counter and kisses the woman, that's not all that sexy. But if the strange man walks into the store, he and the female clerk trade glances across the room, he asks for her help picking out lingerie, and together they look over sexy scraps of material, occasionally brushing hands or shoulders, and she notices how good he smells, and he notices how blue her eyes, and now they're wondering about one another, and she asks if this is a gift for a girlfriend, and he says it's not, that he's noticed her before and just needed an excuse to come in to her store. THEN if he pushes her up against the wall and kisses her, it's sexy. Sexual tension is built by the dance as much as if not more than by the acts. And, oh man, is there a lot of sexy escalation in Hard to Come By!
Emotion and Sex. Finally, good sexual tension is built by a ramping up of both the characters' emotional reactions and desires and physical reactions and desires. Knowing that the physical acts have major emotional risk and rewards makes them so much more meaningful, and the gradual development and correlation of both over the duration of a story create sexual tension.
The Payoff. The more a book promises you in terms of explosive sexual tension, the bigger the explosion better be when they finally do the deed! After lots of urgent build-up in Hard to Come By, it's not surprising that Marz's and Emilie's first time ends up being absolutely urgent and intense. The resolution of the sexual tension has to match the intensity of the tension when it remained unresolved. And, sometimes, that first resolution…actually ups the sexual tension ante!

How about an excerpt to show some of that tension in action? Here you go, from Hard to Come By:
Emilie stood between Marz's knees, her face so close to his that the fallen tendrils of hair from her braid created a thin curtain around them.
And inside that bubble, the air suddenly sparked red hot. Marz held back, not wanting to take anything she wasn't ready to give.
But then she whispered, "Kiss me."
He didn't need to be told twice.
The kiss was blistering in its intensity. They clutched at one another tightly, lips crashing and sucking and pulling, swallowing each other's gasps and moans. Marz was rock hard in an instant, and nearly out of his mind with desire. Every masculine urge within him demanded that he bury himself deep inside her and never let go.
"God, Emilie," he rasped, pulling away from her lips to taste her neck, her collarbone, the skin along the vee of her shirt. His hands dragged down her back, landing on her ass. "Do you know how fucking crazy this skirt has made me all day?"
She shook her head and pressed herself closer. "No," she said, rubbing her thighs together.
His fingers bunched the soft material higher and higher, until his hands landed on totally bare skin. "Oh, fuck. Tell me you're wearing panties."
Her nails lightly scratched down his back, and even over the T-shirt, it set every one of his nerve endings alive. "Thong."
"Yeah," he said, his fingers finding and tracing the thin silky line downward, to where her cheeks met.
Emilie moaned. "Derek," she said, her hips jerking toward him.
"What, baby?" He massaged and lifted the round globes of her ass, allowing his fingers to inch closer and closer to her heat with each teasing squeeze. He licked up her neck. "What?"
"I know we don't have time," she whispered as she pressed herself backward toward his exploring fingers.
"Time for what?" he asked, kissing up over her jaw and claiming her mouth again. The pads of his fingertips caressed her opening.
"Oh," she moaned, her face a mask of pleasured torment. "Time for you to get inside me."
Fuck. That.
In a few quick moves, he pushed her from between his legs, crossed to shut the door, and plastered her front against the window looking out over a vast black nothingness.
"Oh, God, oh, God. Hurry," she whined, helping him tug up her skirt and push down her thong.
Marz tore open the front of his jeans and shoved down his boxers, and his cock spilled out in his hand, long, hard, and inked with the heavy black lines of two Chinese characters. "Fuck." He pulled back and his muscles ached at the retreat. "Do you have a condom?"
Emilie pointed behind them. "In floral bag on top the suitcase."
He tore open the zipper and grabbed one, and then he was all about tearing the wrapper open and rolling the rubber up his length. He returned to her heat again, his weight pushing her up against the glass. "Are you sure, Emilie?"
"Never been more sure in my life," she said, peering over her shoulder.
On a groan, Marz penetrated her opening, gliding all the way home on one long, slow thrust. She was so wet it was a fucking dream, and the tight heat of her made him tune out everything else. He didn't hear the rain battering the window. He didn't feel the weight of the ticking clock. He didn't know anything except his cock inside the tight welcome of her body.
"Oh, Derek. Yes, yes, yes."
His balls already ached with heaviness, and he bit down on the tendon that sloped upward to her neck.
Her cry made him harder, and he reached around to the front of her dress and tugged at the neckline until he freed her breasts to the glass. "I'm not going to be able to go slow, Emilie. I'm strung too tight for wanting you."
"Do it," she rasped. "Take me however you want."
"Oh, baby. Hands on the fucking glass."
Did you have a favorite line from the excerpt? Thanks for reading!

Buy at Amazon | Amazon.ca | Amazon UK | B&N | iTunes | Kobo
Purchase before December 2, and get awesome bonus content!
♥READ THE OTHER BOOKS IN THE SERIES♥
Book 1 – Hard As It Gets
Book 2 – Hard As You Can
Book 2.5 – Hard to Hold On To

Enter for a chance to win a signed copy of this book (open US and International) by leaving a comment at the bottom of this post below by sharing this post (include link to share) and answering Laura's question – Did you have a favorite line from the excerpt? Winner to be picked on Tuesday AM and notified via email.