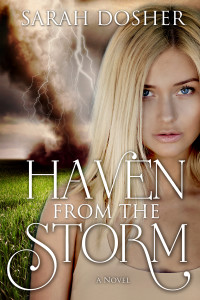 Today we welcome Sarah Dosher to our blog as she celebrates her upcoming book Haven from the Storm, scheduled for release on March 30th!
Enter for a giveaway using rafflecopter below!  Good luck!
---
4 STARS!!!
Summary
"If you're going to make me cry, at least be there to wipe away the tears…"
Most were asleep in their beds the night Lily Grace's entire world was ripped apart, leaving only darkness and torment in its place. The only remaining person she depended on abandoned her without a second thought…or so that's what Lily has believed for the past four years.
Dean Haven has returned for one reason—to win Lily's love again. He's already broken her heart because of the demons that haunt him. Can his desire for Lily keep him from succumbing to those demons again?
Dean has no idea what awaits him when he tries to fight his way back into Lily's life. Everything he remembers has changed, including Lily.
Is love enough when you're forced to weather the storms life has blown your way?
Due to content and subject matter, suggested for readers 16 years of age and older.
Christine's Review
I received this ARC from the author for an honest review.
I was fourteen years old and I was alone.  All I had was a miserable, abusive father who would rather work his way to the bottom of a whiskey bottle than love or protect me.  I was completely alone with no one to depend on, so I had to learn to depend on myself.  I knew I'd never lose anyone again, because I'd never allow anyone that close again.
I could protect myself…I had no other choice.
What a great book about a girl growing up into a beautiful woman, discovering herself and finding the strength to overcome.  This is a beautiful story about second chance love.
Lily Grace's world was turned upside down the day she lost her beloved mother and brother, Easton in a deadly and destructive tornado.  And all she had left was her drunken abusive father.  Her only saving prayer is her brother's best friend Dean Haven who she has always had a crush on.  Much to her dismay, Dean, the one person she thought she could rely on, leaves their small town of Kolby after the tornado to escape small town life and his sadness in losing his best friend.
Upon his return many years later while attending college, Dean tries to reconnect with Lily only to find that she has changed completely from their childhood; she is now filled with so much hatred, mistrust and animosity towards him for abandoning her.
I am so completely heartbroken for all of the things she has experienced growing up with her father.  Without revealing too much of this relationship, I can't help but feel hatred for a man who should have offered his only child complete love, devotion and protection rather than torment, bitterness and hate.  Because of these actions and because of feeling complete guilt over the passing of her mother and brother so many years prior and that she was the only survivor; she feels that she doesn't deserve happiness.
Dean has always run away from conflict and this first time of chasing Lily and getting her to trust in him again, to believe in him again, shows the reader how much he has grown up.  Many unexpected things happen throughout this couple's journey towards happiness that kept me on the edge of my seat!  Will this broken couple be able to find true love and happiness again?  Why does Lily continuously protect the father that abuses her and how can this relationship get better?  Will Lily ever realize that she does deserve complete happiness?
You will have to read it to find out if there is a happy ending!  I am very much looking forward to book 2 in this series – Sanctuary from the Darkness scheduled for release September 2013 featuring the much loved secondary characters of Adley and Derek!
Excerpt
The look in her eyes made my stomach turn; she looked exactly like I had anticipated, except for her eyes.  They were stormy, like they'd seen more miles of heartache than anyone her age should possibly witness.

"Well, dear, it's about time you got here.  We've been waiting for you. Right, Lily?" She gave Lily the biggest smile I'd ever seen.

Lily looked quickly at me and then back at Grandma Violet. "Um, I…uh, we…what?" she stuttered.

"Oh, sweetheart, didn't I tell you Dean would be arriving today?" Lily shook her head.  "Well I can't be expected to remember everything. I am older than dirt." She waved her hand in the air, effectively dismissing her apparent forgetfulness.

Lily shot daggers at Grandma Violet with her eyes. "No, Violet, you didn't.  Actually, I can't remember the last time you even mentioned Dean's name.  I'm pretty sure I would remember it since I've spent so much time and energy trying to avoid anything even remotely related to him." She turned to walk away.

My heart dropped. My mouth went dry and I didn't know what to say. "Sunflower?" was the only word I could force out of my mouth.

She immediately stopped and looked right into my eyes.

"No. You don't get to call me that," was all she said as she pointed her finger at me, then continued to walk away.
Character Inspirations
About the Author

Avid reader and lover of many, many books.
On September 28, 2012 I got my first ever idea for a novel…it pretty much smacked me in the face. Two weeks later I decided to attempt writing my first novel. I am currently about half way done and hope to finish in January 2013 and then self-publish on March 30, 2013.