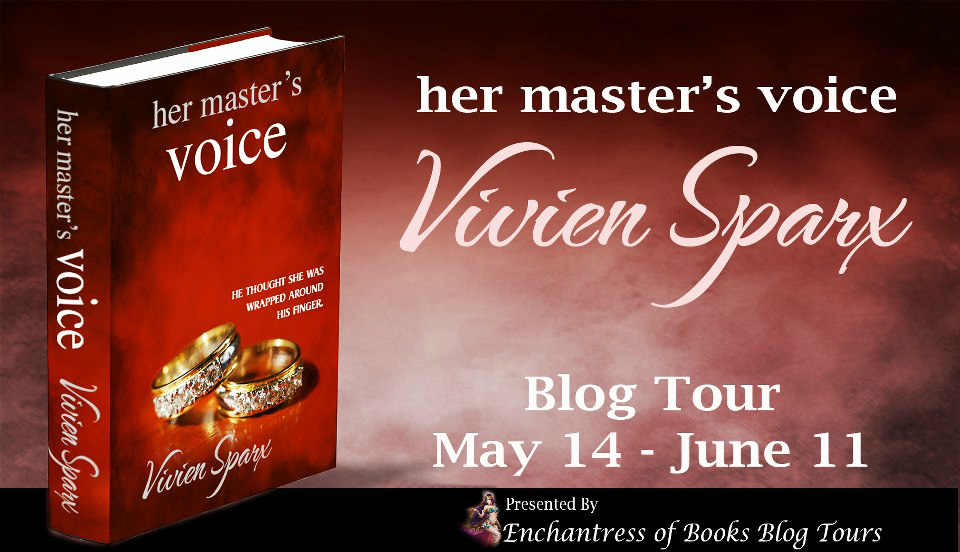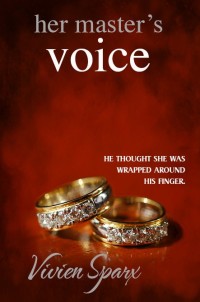 Today we welcome Vivien Sparx to our blog as she celebrates her book Her Master's Voice.
Enter for a chance to win an ebook giveaway using Rafflecopter below!
---
5 STARS!!!
Synopsis
When young Kate receives an anonymous text message she doesn't realize how much her world is about to change. Surrendering to her inner most desires Kate soon finds herself submitting to the erotic, sensual and sensitive demands of her mysterious Master.
Drawn into a world of erotic love Kate quickly realizes all that matters in her world is Her Master's Voice.
Excerpt
Kate got to her knees on the living room floor and tied the red scarf around her head to blindfold herself.

In the sudden darkness Kate's senses seemed heightened. Every small sound made her flinch, and her mind quickly became overwhelmed with erotic images. Her naked skin felt cool, and yet she felt as though she was on fire. She rested her hands on her thighs. Her palms were sweating.
The silence seemed to slow time. She became aware of every new sound, and each small noise took on greater importance. Her attention was tuned to the sound of the front door, and when she heard the scrape of distant shuffling her body suddenly tensed in anticipation. A shudder thrilled through her body and her breath caught in the back of her throat.

Then she heard the door swinging slowly open.

He was here!
Kate's body tensed. She heard his soft footsteps as he crossed the room. She could feel him nearby, standing somewhere in front of her. She gulped and licked her lips nervously.

"You are perfectly safe," her Master said, and Kate felt herself literally melting at the deep confident assurance in his voice.

She nodded, not trusting herself to speak.

More footsteps. Kate sensed him walking around her, as if he was inspecting his new property. She straightened her back.
"You are beautiful," he said. By the sound of his voice, Kate knew he was standing close behind her. She stayed silent, and now he was here, now it was all really happening… her mind was blank. Her whole focus was on the sound of his voice and the sense of him being near her.
Kim's Review
Her Masters Voice really surprised me in a way I wasn't expecting ~ sure I knew I was going to be reading a very steamy read and I admit I love those but what really shocked me was how much I really enjoyed the WHOLE premise behind this very quick read ~ maybe it was quick because of how much I loved it and couldn't put it down ~
Imagine being in Kate's shoes and receiving a text message from an unknown stranger who you immediately connect with and then you start to receive instructions from this "stranger" telling you to do things beyond your comfort level but you do them because you can't bare for him to cut off all further communication~ That's what happens to Kate and she quickly learns how submissive she is to a very dominant man and how beautifully submissive this dominant man thinks Kate is.
Your first meeting is blindfolded and you receive pleasure beyond your imagination, second meeting far surpasses the first and again your blindfolded ~ all you know is the intoxicating voice but not the man behind the voice. Well Kate soon finds out who that man is and part of this intoxicating read is 'who' is behind this and what feats Kate will go to prove to him she wants him and only him and what he asks of her is from a past that is imprinted on him and he refuses to allow history to repeat itself.
I highly recommend this 5 star deliciously sexy read which will have you fanning yourself and at times blushing for Kate and then jaw dropping when "he" is revealed. This is one super sexy read that will stay with me for quite some time!
About the Author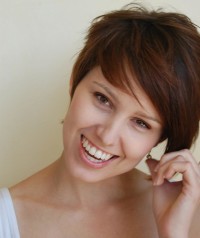 As a writer of erotic romance, the beauty of the genre is not in creating lavish settings for my stories.
Nor is my fascination for erotic romance drawn from the opportunity to create handsome heroes and beautiful heroines.
My real love for the genre stems from the opportunity to take my readers on a journey and engage as many of their emotions as possible.
I believe writing erotic romance gives authors the most influence over how a reader feels as we engage them in our stories.
Writers of action books, or horror books certainly can create compelling situations, but with erotic romance we writers can immerse our readers in a multitude of emotions unprecedented in any other form of creative fiction.
I can frustrate readers, make them laugh, make them cry, delight them, intrigue them, inform them – erotic fiction is a total emotional experience, and it is gratifying to hear readers respond to stories with passion.
I believe readers want to be engaged and drawn into the pages of a story, and as a writer of erotic romance, we have the greatest opportunity because our stories are always relatable. They may be fictional worlds and fictional characters, but the themes of love and romance and erotica are so universal, and so personal to each of us that we all respond to stories in different ways.
But we all respond.
And that's the true joy of writing erotic romance. It matters not so much how you respond as you read… it matters only that you do respond. If a writer can engage you and make you feel, then the story's journey is one well worth taking.