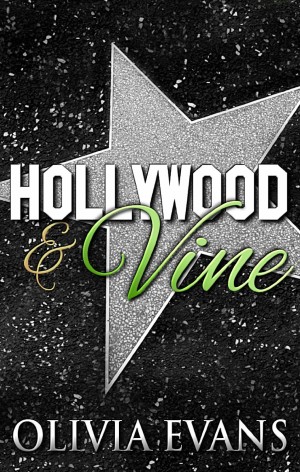 Hollywood & Vine

by Olivia Evans
on December 15, 2014
Buy on Amazon
Goodreads


In the land of Hollywood, bright lights cover lies, truths hide in shadows, and the lives of the rich and famous are illusions created by smoke and mirrors.

When costume designer Josie Bane first lays eyes on Anders Ellis, she hates him instantly. Conceited and arrogant, he's the epitome of a Hollywood playboy. So it's much to Josie's dismay when he becomes the star of her sexual fantasies.

Never expecting to see him again, she gives in to her desires for a night she'll never forget. However, Josie soon learns that life is full of surprises. When their paths cross again, sparks fly. With three little words, Anders changes everything.

He's after one thing.

She refuses to give it to him... again.

When Josie realizes she's falling for a man that will never let her in but refuses to let her go, she must decide if the risk is worth the reward.

With a relationship shrouded in secrets and outside forces poised to tear them apart, did they ever stand a chance? Before the smoke clears and the curtain falls, Josie and Anders must distinguish between what's fact and what's fiction in a place where the truth is never black and white.
I was asked to read this book in the midst of complete chaos with the holidays approaching and my schedule of TBR books out of complete control. I was assured that it would be GREAT and was sent the first couple of chapters. And OMG after reading the prologue, I dropped EVERYTHING and devoured Hollywood & Vine in 2 days. It was so freakin' good that I immediately recommended it to all of my friends and took over the tour lol…I am a FOREVER Olivia Evans fan!!!
So from the blurb we know that Anders never sleeps with the same girl twice but he hasn't met anyone like Josie before. Anders is our a-hole movie star while Josie is the costume designer on the set. Anders is relentless while Josie is stubborn and it made for such an entertaining read.
Anders will make poor choices and I want to blame his history for this. Because he is an ass, he wants to control all situations in his favor when it comes to Josie. Thankfully she is a pretty strong independent chick to stand up for herself and what she believes in. It's hard being in the limelight and Josie will need to realize and learn that not everything is always as it seems.
Watching this man grow and change for the better for the woman he opened his heart to and began to love was heartwarming.
What worked for me:
the attraction between Anders and Josie is palpable. the push and pull and angst was exhilarating, exciting and fun
Josie and Anders bantering conversations and engaging sex – some of these scenes had me laughing out loud and the sex – HOLY HOT!
the Hollywood life – always so alluring and interesting. This was the perfect back drop for this story as it sucks you in and the reader becomes like the paparazzi – wanting to stalk, follow and embed yourself into the scenery and lifestyle
the best kiss scene with the truth or lie game…best scene EVER!
As a debut author, there were definitely some things I would recommend for future works:
I LOVE alt POV's – but not within the same chapter because it could get confusing. It didn't bother me once I got into the story but I definitely recommend this being different in the future
I adored these characters but I think I would have liked a better description of them because I had a hard time imagining them in my head. I am a visual person so I would have liked more of this.
Totally captivating and engaging and so WELL WRITTEN for a debut novel – I will read everything and anything this woman writes. For anyone looking for that next angsty read, that enjoys that push and pull between two strong headed individuals and who enjoys a full complete read (this book is LONG!) then look no further than Hollywood & Vine. Trust me..this woman is going places!!!

Hollywood and Vine Book Trailer from Heather Maven on Vimeo.


"Hello?"
"I don't know what kind of place Argent is running, but they need to get a handle on their employees." Anders' voice was stern and playful, making Josie laugh then sigh.
"I bet it's the costume department, isn't it? It is, right? I swear," she exhaled. "You can't find good help anywhere these days."
"It really is quite sad. Is it asking too much for the beautiful Costume Supervisor to be in my trailer wearing only a tie when I walk through the door? For modeling purposes, of course."
Josie laughed, her heart skipping. "Of course."
"It feels weird being back." He spoke quieter, his tone softer.
"I walked outside this morning and my makeup didn't slide off my face from sweating. It was very disconcerting."
"Get your ass to my trailer and I'll have you sweating in no time."
"Mr. Ellis, that sounds highly unprofessional," she chastised, grabbing her clipboard and heading toward his trailer. "We both know how you feel about remaining professional on the job."
"Well I see your smart mouth found its way back to LA." Anders shook his head, a small smile tugging up the corner of his mouth.
Josie grinned and pushed open his door but continued to speak into her phone. "If I didn't know better, I'd swear you sound relieved."
Anders snapped his head to the side, a wicked gleam in his eyes as he stood from his chair, his phone still pressed to his ear. "Relieved is a bit of a stretch. Although, I must admit, I've thought of some creative ways to shut you up."
Josie licked her lips and dropped her phone to her side. "Creative?"
Anders tossed his on the vanity and crossed the room. He wrapped his arms around her waist and kissed her before whispering in her ear.
"You have no idea."
"I have a few." Josie grinned and hugged him close, her eyes falling shut and the tightness in her chest loosening for the first time that day.
Anders leaned his forehead against Josie's. "Is it weird that I missed you?"
"Totally weird. You're such a freak." Her tone was playful, but the strain in her voice and the softness in her eyes showed her true feelings.