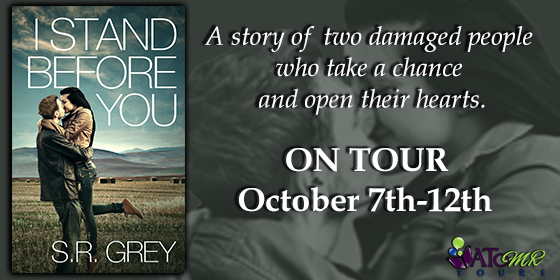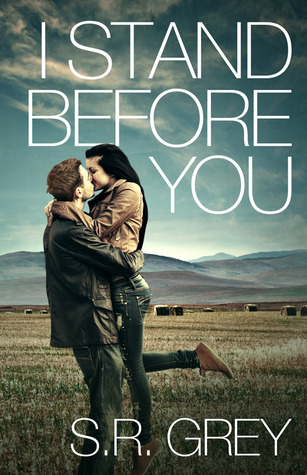 Today we welcome S.R Grey to our blog as she celebrates her new book I Stand Before You which released on September 3rd.
Enter for a chance to win some amazing giveaways using Raffelcopter below!
---
3.5 STARS!!!
Synopsis
When it comes to tattooed bad boys, Chase Gartner is the real deal. Partying, engaging in meaningless sex, getting into fights—Chase indulges in it all during his late teen years, thus firmly solidifying his status as a heartbreakingly gorgeous but way-too dangerous-to-trust guy in his hometown of Harmony Creek, Ohio. Then, following one fateful night of reckless decisions, Chase's actions finally catch up to him and land him in prison.
Now, four years have passed and Chase finds himself a free man. He returns to Harmony Creek, ready to pick up the pieces and start rebuilding his shattered life.
Things are off to a promising start when he meets Kay Stanton, a young woman with a tragic past of her own. Despite a powerful attraction, Chase and Kay are naturally hesitant to become involved. That's why friendship feels like the safest option. But when passions ignite and love blossoms, a relationship that is destined and meant to be can only be resisted for so long. When Chase and Kay finally succumb to their feelings they realize being together feels more right and true than anything they have ever experienced.
But their love is soon tested. Chase's wild past still haunts and tempts him, and Kay is keeping a secret that could tear them apart.
I Stand Before You is a journey of hope and forgiveness, coming to terms with the past and moving forward. But mostly it's a story of two damaged people who take a chance, open their hearts, and find true love.
New Adult/Contemporary Romance genres. First in a series.
***warning: contains graphic sexual situations, drug use, some violence, and profanity***
Jen's Review
I was given an ARC of this book by the author, in exchange for an honest review The synopsis of this book is what enticed me to pick it up and start reading. There's nothing like a tattoo'd bad boy looking for redemption to peak my interest, and have me jumping into a story!
The book begins with Chase Gartner…Life for him had been good, until one night a tragedy hits his family, and they will be forever changed. After moving away from his Mom and Brother in Las Vegas, Chase's Grandmother takes him in, and gives him a home in Ohio. It doesn't take long with all the guilt over losing his family, that he turns to a dangerous lifestyle of hard partying, including drugs, alcohol, and living life on the edge. Then in an instant, that lifestyle lands him in jail to pay for his wrong doings. Four long years later, Chase has paid for his sins as he rotted in his cell, and decides it's time straighten his life out.
Kay Stanton has had her share of heartache, the feeling of being broken and unloved was becoming all to familiar. When fate steps in, Chase and Kay "bump" into each other, and these two broken souls have an instant connection. Kay is hesitant at first to let him in, given his rocky past, the stories she has heard in the small town in which they both live, and the secrets of her own past that she keeps to herself. She ultimately decides on giving their friendship a try. I really enjoyed how Ms. Grey developed the storyline and chemistry with this couple. Having built a solid foundation of being friends first for these two troubled characters, before moving on to something more romantic.
I Stand Before You was written with dual POV's, but it also alternates from past to present quite a bit throughout the entire book. For me, this made it difficult to stay focused with the story at times. The love between Chase and Kay was evident, and I thought the scene between the two, where she finally tells him why she is so broken was written beautifully. As a reader, the biggest obstacle that kept me from fully embracing the way their love story was written, was the use of their "pet names" for each other. I adore when they are used in books, I think it helps connect a reader to the story being told. That being said, the words "Baby Girl" and "My Boy" I felt were a bit overused throughout the book, and thought it took away from an otherwise great storyline.
The ending of I Stand Before You will leave the reader ready and wanting Never Doubt Me, the second installment in the Judge Me Not Series, due out in the Spring of 2014. I look forward to hearing the continuation of this series from Ms. Grey.
Favorite Quotes:
"Because my wings are broken, baby, because I am broken."
"As I stand before you, judge me not."
"Baby, you own my heart, and it's yours forever."
"This Love is full circle. It will only end when last breaths are taken."
About the Author

S.R. Grey is the author of Harbour Falls and Willow Point, first and second novels in A Harbour Falls Mystery series. She is also the author of I Stand Before You, first novel in the Judge Me Not series (New Adult/Contemporary Romance).
Ms. Grey resides in western Pennsylvania. She has a Bachelor of Science in Business Administration from Robert Morris College, as well as an MBA from Duquesne University.
She is currently working on Wickingham Way, the third installment in A Harbour Falls Mystery series, to be released in January 2014, as well as Never Doubt Me, second novel in the Judge Me Not series.
Other interests include reading, traveling, running, and cheering for her hometown sports teams.
---
GIVEAWAY
a Rafflecopter giveaway