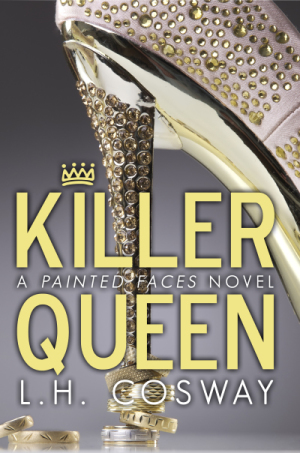 Killer Queen

by L.H. Cosway
on October 20, 2014
Buy on Amazon
Goodreads


Willkommen, Bienvenue, Welcome…

Come inside The Glamour Patch club to see the star of our show, Miss Vivica Blue.

Do you want to read my diary you nosy little devils? Have a glass of champagne (you'll need it) and get comfortable because you're in for some crazy shenanigans brought to you straight from the horse's mouth.

I can be whatever you want me to be: boy, girl, a little bit of both.

If you have a problem with a man in a dress then best be off with you. If males in make-up give you the willies, then I'll say au revoir and don't let the door hit you on the way out.

So, who are we left with? Ah, a fine collection of curious souls. I want to tell you a tale of love, because those are the most glorious kind. I want to tell you about real love, a love that transcends labels and gender stereotypes.

The moment I first laid eyes on my Freda I knew that we were kindred. Well okay, I also knew I wanted to get into her pants, but that's beside the point. My world was a grey place. I was at my lowest ebb. Then she came along and patches of colour began to spring forth. One day the daffodils were yellow and before I knew it, colour was everywhere, lighting up my life.

Love is not about how we appear on the outside, it's about the soul contained within.

Our story was not a conventional one, but it was ours, and that's what made it shine.

Killer Queen is a companion novel to L.H. Cosway's contemporary romance, Painted Faces. It contains scenes that take place before, during and after the original story. It can also be read as a standalone.
What can I say that hasn't already been said???
People who know me know I LOVE LOVE LOVE L.H. Cosway books…I want to shout it out loud for all to hear!
Killer Queen is the companion novel to Painted Faces. Now, when my friend Megan insisted I read this book I was skeptical – how could I relate to a man who is a drag queen that loves women? But after reading it, I knew exactly how she felt because I fell completely head over in heels in love with this man and this couple. Yes, Nicholas is a drag queen who loves women but it was so pleasantly different and so out of the box from the norm that it instantly became one of the best books I read this year; it simply took my breath away.
To say I was delighted to get Killer Queen was an understatement. Though you can read this as a standalone…DON'T for goodness sakes! You MUST read Painted Faces first to fall in love with Fred and Viv like so many of us have. You have to know their story, their histories that shaped them to be the people they are. You have to laught and cry so that you can do it all over again and likely more because Killer Queen does tell their story from Nicholas' POV from certain parts of the story of Painted Faces but also gives us so many more never before seen scenes. I might have loved this one even more because of the fact that it was Nicholas' POV. I enjoyed diving into this psyche more, already knowing how troubled he was in Painted Faces but really being in his head in Killer Queen was such a treat.
We get some of our favorite scenes told from his side and I again find myself smiling at my kindle and laughing out loud; never wanting to let this couple go.
So what's it about???
I don't want to say lol 🙂 Because in all complete honestly this was such a beautiful experience to be a part of that I don't want to spoil it for you.
I will however say this…L.H. Cosway has yet to disappoint me. Whenever I'm in a reading slump or in need of something fresh and pure and simply beautiful, I know without a shadow of a doubt that I can rely on her to give me something that is GREAT.
Trust me, many people will agree…L.H. Cosway is a genius and you will fall in love with this quirky cast and just fall in love with love and the romance of it all. I know I did…pick up a copy and get to know Fred and Vivi and all of their vibrant colors. I promise you won't be disappointed. If anything, we will all be fighting who gets to keep them for themselves!

I was sitting on a stool in her kitchen as she mixed orange cupcake frosting; she'd set me to work placing paper cake holders into oven trays. Fred was wearing a royal blue top with a sweetheart neckline that framed her tits to perfection. Needless to say, I was quite happy with the scenery. She was too flustered trying to get everything ready on time to notice my ogling, which was an added bonus.
"This is hazardous work," I said playfully. "A boy could give himself a paper cut. Am I going to get danger pay?"
She raised one eyebrow as she used a big spoon to stir. "You're getting no pay, Viv. This is my reward for going shopping with you the other day. I've never known a straight man who enjoyed fashion as much as you. I've got blisters on my feet and everything."
I chuckled and reached out to dip two fingers in the frosting she was stirring. Then I deviously brought them to my mouth as she watched, forming a "V" as I licked it away, my eyes levelled on her all the while. Her breath hitched, and I saw a tiny hint of red colour her cheeks as she studiously avoided my gaze. She knew exactly what I was imitating, and I hoped it made her think naughty thoughts.
---
♥READ THE BOOK THAT STARTED IT ALL♥
Painted Faces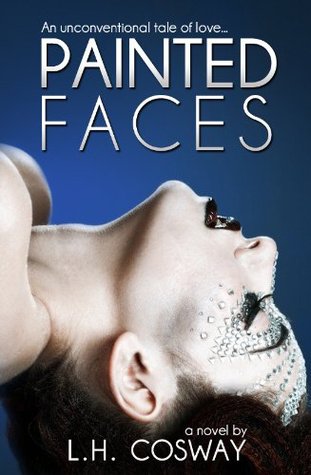 Amazon | Amazon UK | Goodreads