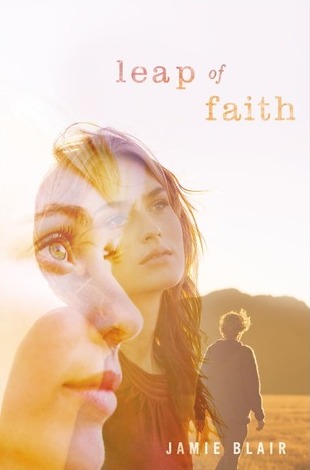 Today we welcome Jamie Blair to our blog as she celebrates her new book Leap of Faith which released on September 3rd.
Enter for a chance to win some giveaways here.
---
4.5 STARS!!!
Synopsis
Can true love be built on lies? A teen on the run seeks relief and redemption in this gripping, romantic read.Leah Kurtz has finally found a place to call home, a town where she and baby Addy can live in peace, far from the drug-infested place she grew up. Chris is one of the best parts of her new life, the only person who's ever made her feel safe. And now that she's found him, there's no way she can tell the truth:
Her real name is Faith, not Leah. She's seventeen, not nineteen. And the baby isn't hers—Faith kidnapped her.
Faith's history catches up with her when a cop starts asking questions and Chris's aunt spots her picture in the newspaper. She knows it's time to run again, but if Faith leaves, she'll lose Chris. If Chris is in love with a lie, though, did Faith ever really have him in the first place?
Trailer

Christine's Review
OMG are the first words out of my mouth as I start reading Leap of Faith.  I started reading around 10pm and what I thought would be a quick look into the book before I went to bed turned into me reading 75% of the book in the first night!  It was THAT good!
What hooked me in this book was that the premise was something that has never been done before.  How often do you read about a young 16/17 year old girl who kidnaps her newborn baby sister to find a better life – away from drugs, alcohol, neglect in the hopes of finding a more promising future?  Often times at this age, you find that young teenagers are self absorbed and thinking of their own things but not Faith.  Faith has no relationship with her mother and the only person she has ever counted on in her life is her sister Hope.  Faith's mother completely disgusted me as she did things solely for her own benefit and no one else's.    I hated how she treated her daughters and even more the lengths she would go to to get her fix and to make money.
Faith (also known as Leah) is strong, independent and a go-getter and it shows as she tries to build a life for herself and Addy in Florida.  In an instant, she becomes a young mom and has to learn the ropes of taking care of a child – and boy it wasn't easy for her.  And yes its hard to be a single mother let alone having to do it completely alone with no support, no money and living with the fear of being caught for kidnapping.  Being a mother, I could totally relate to the things she experienced and I felt that Jamie did a very realistic portrayal and I wanted to jump into my kindle and help Faith through all of her hardships.  Often times I could sense that Faith wanted to just give up but the love for her sister shined through all of her actions and I found her strength to carry on and not give up admirable.
Faith meets Chris in FL – she is renting the apartment in his home.  There is something about him that awakens something in her – something that she never knew existed.  I LOVE Chris – he is nurturing, understanding and completely cares about Faith and Addy.  He gives Faith the things she has never had before – support and love.  In my heart, I adore them together because they both are getting what they deserve – happiness and love.  I also completely LOVED Chris' grandmother as you can finally see a family for Faith and it warmed my heart for her and Addy to be able to experience people caring for them for the first time.
I'll admit that reading this book had me completely nervous as I was afraid of Faith getting caught and what her mom's reaction would be.  The lies that Faith tells are compounding upon each other and I know that something will eventually break.
So will Faith get caught?  Once Chris learns the real truth, will he still accept her for who she is and what she has done?  Will their love be able to overcome it all?
I enjoyed Leap of Faith completely.  It was suspenseful and romantic and had me on the edge of my seat.  It was something that I didn't expect and I think it's a book that many will enjoy.  The only downfall – waiting for book 2 to find out what happens! Ahh!!!
Great job Jamie!  Your debut novel is a complete success, it was beautifully written and I look forward to reading what you have for us next! <3
Leap of Faith Playlist
About the Author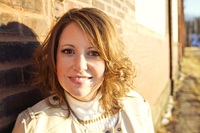 Jamie Blair spent most of her teen years choreographing moves for her dance team routines, kissing boys on the couch after her mom went to bed, and pondering the mood enhancement qualities of Lemon Heads when consumed with Diet Coke. Writing under Kelli Maine, she's the USA Today bestselling author of Taken. Leap of Faith is her debut New Adult novel.