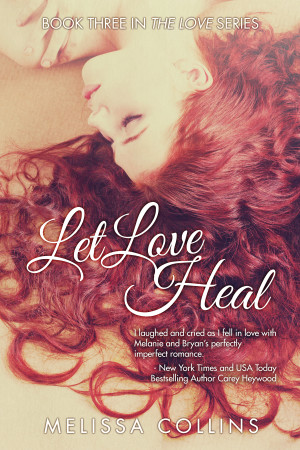 Today we welcome Melissa Collins to our blog as she celebrates her new book Let Love Heal which released on October 22nd.
Enter for a chance to win some amazing giveaways using Rafflecopter below!
---
4 STARS!!!
Synopsis
Perfection. We all strive for it, but what happens when the desire to be perfect consumes you?
What happens when the need to bury your mistakes blinds you?
Melanie Crane has always been the perfect daughter, friend, student – she's been perfect at everything, in fact. But when she lets her insecurities, the ones that she keeps hidden from
everyone, get the best of her, she falters in her pursuit of perfection. Melanie crumples under the pressure and buries her pain. Numbed by sadness and guilt, she is determined never to let anyone find out how broken she really is.
Bryan Mahoney may appear to have everything in order. He's charming, witty and completely swoon-worthy. In short, Bryan has life all figured out, but appearances can be deceiving. When the landscape of Bryan's family changes in an instant, he's left to pick up the pieces.
Not all bruises leave a mark. Now, weary and afraid, Melanie and Bryan must find a way to let love heal their broken and jaded hearts.
Jen's Review
I was provided an ARC from the author, in exchange for an honest review. Let Love Heal by Melissa Collins, is book three in The Love Series. The cover on this book is gorgeous, and that along with the well written synopsis, had me wanting to read this story quickly! Although you can read this book as a stand alone, I highly recommend reading book one Let Love In, and book two Let Love Stay, to better connect with the characters. I have read all three now, adore the series, and love finding new Indie authors to follow!
Let Love Heal tells the story of Melanie Crane, a college student who sees herself as anything but perfect or beautiful, and really doesn't believe she is good enough for anyone to find her attractive. I can't tell you how quickly this book brought me back in time, back to my younger years, and the same insecurities that this character was dealing with. It was very refreshing to read about a character that isn't perfect, and that isn't a size zero! Not being secure or comfortable in your own skin, always second guessing everything, isn't an easy thing to live with, and the way that Ms. Collins wrote the character of Melanie really tugged at my heart. She's not the skinny "model" type girl, she's curvy, and different, and doesn't believe there is a Mr. Wonderful out there for her.
Enter: Mr. Wonderful….Bryan Mahoney ( I loved him!) He is going to the same college as Melanie, and they end up working together. Bryan tries his hardest to arrange his schedule to be around her, it takes a lot of work to get Melanie to realize he is interested in spending time with her. After awhile, things progress into a wonderful relationship, and just as they both seem to be falling in love, her insecurities bring everything crashing down! He has a hard time always trying to reassure her that he wants to be with her, and forced to spend time apart during break, she lets thoughts that will tear them apart seep into her head. After a horribly sad break-up, Melanie will have to be alone to find out who she is, and that she needs to love herself first, before loving another, or having another love her. Will she figure this out to late, that she's worth it, that she's everything that Bryan has ever needed or wanted, and that she really does deserve to be happy? This part of Let Love Heal was my favorite part of the book, finding out who she is, and why she is a beautiful person inside and out!
Ms. Collins does a wonderful job engaging the reader into this story right from the very beginning, and the way she alternated from past to present, was seamless! I also loved the relationship that Melanie has with her Mom Lucy, after losing her father before she is ever born, they only have each other, and I loved the closeness of their relationship! I'm really looking forward to reading more in The Love Series. Let Love Shine is a Novella due out in January 2014, and book four, Let Love Be, Lucy's story is due out in the Spring. I highly recommend this series to readers, they really take the you on an emotional journey, and are written beautifully!
Favorite Quotes:
"Just give me time and I'll prove it to you. You'll see just how beautiful I think you are. You'll understand just how much I like you."
"Believe me, Melanie, if it was up to me, you would be banged very well whenever I'm around. I thought I told you that already."
"My God, Melanie. Do you realize how perfect you are? You are so damned beautiful."
"Why on earth would I want to talk when the alternative is getting lost in my beautiful girlfriend's body for the next few hours?"
About the Author
I've always been an avid reader. Majoring in English Literature was a no brainer. Becoming a teacher and instilling my love for reading into my students was also a no brainer. I've spent the last ten years teaching and I've loved (mostly) every minute of it. When I was home on maternity leave for my third son, I discovered a new genre that sparked my creativity. My passion for writing sprang from my love of reading and once I knew I had a story to tell, I couldn't wait to get it out there. I only hope that my readers enjoy reading my story as much as I enjoyed writing it.
---
GIVEAWAY
a Rafflecopter giveaway

Book 1 – Let Love In

Book 2 – Let Love Stay