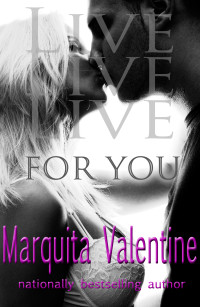 Today we welcome Marquita Valentine to our blog as she celebrates her new release Live For You. HAPPY RELEASE DAY!
Enter for some giveaways using Rafflecopter below!
---
3.5 STARS!!!
Synopsis
On the surface, twenty-two year old Cole Morgan is exactly what any girl would be proud to take home to meet her parents: He's charming, intensely handsome and goal-oriented…Only he has some secrets of his own, which include provoking bar fights and a former drug-addict of a mother slowly wasting away in a medical facility.
At barely twenty, Violet Lynn is Country Music's hottest star, until one night of partying gets out of control. Violet ends up in jail and on TMZ. Suddenly, she's the girl least likely to be invited anywhere. Sick of the drama and keeping secrets, she runs away from the prying eyes of the paparazzi to her grandmother's home in Forrestville, North Carolina.
A chance meeting knocks Cole off his feet, but he doesn't recognize Violet for who she is. In fact no one does and Violet plans to keep it that way.
Circumstances, however annoying, keep throwing Violet and Cole together. Unable to stop themselves they give into the inevitable.
But when Nashville is ready to forgive and forget, Violet is forced to choose between Cole and claiming her spot as the new and improved Princess of Country Music.
Will Violet and Cole have the courage to live for their dreams…Or their hearts?
Kim's Review
I received an Advanced Reader Copy of Live You by the author in exchange for my honest review of the book.
I must admit I liked the premise of the story ~ Country Star Violet Lynn running away from a painful event that took her from country sweetheart to country "reject" in a sense. Violet leaves Tennesse and heads to her Grandmother's house ~ solace away from the ever present spotlight that hounded her sense that night ~ the night her whole world was ripped apart.
She arrives virtually unknown after making drastic changes to her appearance and she becomes Violet Rae ~ which is her real name but is it really her?
One morning at the local Piggly Wiggly she meets Cole ~ that tattooed handsome local boy who has his own demons ~ these demons have chased him his entire life ~ he doesn't feel he deserves anything good in his life and that includes Rae
Well Rae doesn't think she deserves anything good in her life and thus two broken souls come together in what could've been the most beautiful way possible. Like I said the storyline was excellent but I felt the story was rushed or perhaps things just resolved too easily? I like a little angst in my stories and this one definitely had the potential to be an angst ridden read from the get go.
Where there should've been tears I felt them dry too quickly, where there could've been conflict it resolved most times by the next Chapter ~ where the healing began it took no time at all leaving me to wonder what I might have missed and scratching my head thinking things sometimes just came about too easily.
It was a quick read that had me smiling ~ there were some wonderful characters that could potentially develop into a wonderful future stories but in the end I just felt well that I read a "sweet" read and that's no bad but for myself it quickly wrapped in a bow too easily without ever really delving further into all the issues.
This was a 3.5 star read for me ~ it's wasn't awesome and it certainly wasn't awful it was just there. As a reviewer it's difficult when I book I highly looked forward to doesn't end up being the ultimate read I expect but perhaps the finished product will delve more into what I felt was missing for me and given this is noted to be the 1st book in the series perhaps the next book will lay out more for me.
Please note:  *Reviewers received a complimentary Advanced Reader Copy of Live for You by the author in exchange for their honest thoughts/review of the book. The provided review copy was not a finished copy on sale. Reviews should be based on content and not editing as some things were changed in the finished copy.
About the Author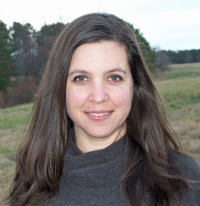 Nationally Bestselling Author, Marquita Valentine, writes small town romances that are anything but small. Lisa Kleypas, Carly Phillips and Rachel Gibson are her favorite contemporary authors. Marquita met her husband aka Hot Builder at Sonic when they were in high school. She suggests this location to all of her single friends in search of a good man — and if that doesn't work, they can console themselves with cheesy tatertots. She lives in North Carolina in a very, very small town with Hot Builder and their two children.
---
GIVEAWAY
a Rafflecopter giveaway