Get ready for NYT Bestselling Author Lexi Ryan's new series Here and Now! The first novel in the series, LOST IN ME, is a sexy New Adult contemporary romance which released April 7th!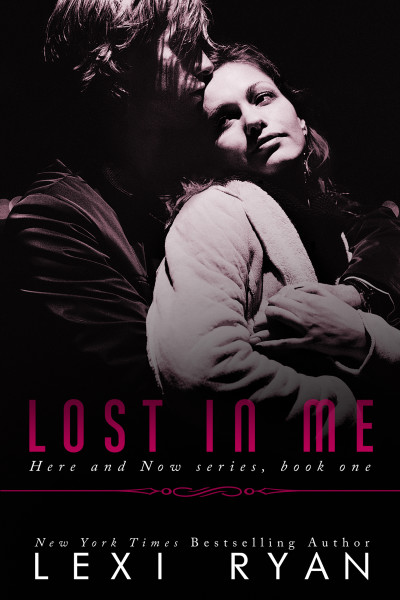 LOST IN ME is the first book in the Here and Now series, a spin-off of the New York Times and USA Today bestselling New Hope series. This sexy amnesia love triangle is intended for mature readers.
The last thing I remember is having drinks at Brady's and trying to avoid eye-contact with my life-long crush—the gorgeous, unattainable Maximilian Hallowell. They tell me that was a year ago, but I have no memories of anything since then. What I do have is this ring on my finger that Max says he gave me, and this much-thinner body I've dreamed of most of my life. Aside from a case of retrograde amnesia, everything seems almost…perfect.
But the deeper I immerse myself into this new world of mine—planning a wedding to a man I don't remember dating, attempting to run a business I don't remember starting—the clearer it becomes that nothing is as it seems. Do I have the life I've always wanted or is it a facade propped up by secrets I don't even know I have?
I need answers before I marry Max, and the only person who seems to have them is the angry, tatted, sexy-as-sin rocker Nate Crane. And Nate wants me for himself.
LOST IN ME is not a standalone novel, as the story continues in Here and Now book two, FALL TO YOU, releasing in June.

I wake up to someone climbing into bed next to me, hot, hard muscle cozying up behind me.

I blink away sleep. Max is in my bed and I want to enjoy it, enjoy him, but sleep has such a tight hold on me I can hardly keep my eyes open. I snuggle as close to him as I can get, but sleep is already tugging me back down.

"Couldn't stay away?" I murmur in the darkness.

"You know I can't," he whispers against my ear. His voice is different somehow. Deeper? Maybe sleepy? I don't have time to think about it because I'm wrapped up in his heat, his bare chest against my back, one of his hands right between my breasts, and I can't fight it when my dreams suck me back in. But somehow, with his heat against me and his arms around me, my fitful dreams fade away and I don't just sleep. I rest.

When I wake again, the room is still dark, but Max's mouth is doing delicious things to the side of my neck. I arch against him and am greeted by the hard length of his erection against my ass. I have to bite my lip at the thrill that rushes through me. Not only can I do that to him, but he wanted me enough that he had to come back tonight.

Under my shirt, his fingertips skim the underside of my breasts, and a soft moan slips from my lips. He cups my breast in his hot hand and grazes his callused palm against my nipple, toys and teases until it's hard and tight under his hand and I am rocking back into him instinctively.

"Jesus, I missed you so much." His voice sounds funny, but I hardly have time for the thought to register before he's squeezing my nipples, sending electric jolts of pleasure from my breasts and right up through my center. His touch is harder than it was earlier. Rougher. But I like it. He's so good at this. He knows exactly how to touch me, exactly how much pressure I like. I wouldn't want him to ever stop touching my breasts if it weren't for this nearly painful ache that's been pulsing between my legs since we were interrupted in my living room—the ache my own touch couldn't quite ease.

I circle my hips and rub my backside against his erection. Thick and wild arousal buzzes through me, electric and sharp with its intensity. He wants me as much as I want him.

"Touch me," I whisper into the darkness. "I need you to touch me."

He groans against my neck and then his fingers are dipping into the waistband of my sleep pants.

I turn in his arms just as his hand meets the hot and needy place between my thighs. Our mouths touch in the darkness, and something niggles at the back of my mind. Something's changed between last night and now. Does he smell different or—

The thought disintegrates as he slides a finger inside me. I can't believe how slick and wet I am. Except that this is Max and I need his touch.

I rock against him, letting him touch me the way I touched myself in the bath. Only this is hotter. Sweeter. More intense. Not just because it's him. It's almost as if he knows what I like better than I do. His finger moves inside me and his teeth nip at my neck almost painfully. But I like it. I want more of this unbridled lust, more of his expert touch.

He withdraws his finger and replaces it with two, stretching me in a way that has my body pulsing around him in response.

"Yes," I whisper. I want this. Need it.

His thumb finds my clit and his fingers curl.

"Oh God…" Am I a screamer? I bite my lip, but holy shit, I can't—

"Let me hear you scream," he growls in my ear, his stubble scraping at the tender skin of my neck. "Let me feel you pulse around my fingers as you come."

I curl my nails into his forearm, not to stop him, but because this pleasure inside me is so intense I have to do something, put this energy somewhere.

His other hand slides up my side and squeezes right at the bruise on my ribs. Pain vibrates through me, and I cry out.

"Hanna?" He pulls away and clicks on the light.

I'm still wincing at the pain from my manhandled bruise when I look at him through squinted eyes.

And then I scream.

I shove the man off me as hard as I can. My mind gropes for the lessons I learned in the personal defense class I took in college. I bring up my knee, aiming for his balls.

He lets out an airy oomph, and I flail, backing as far away from him as I can get. I fall off the bed, and the impact of my already-battered body slamming into the floor has me crying out.

"Jesus, Hanna!" the man—who is definitely not Max—says from the bed. "What the fuck was that for?"

Oh God. He knows my name.

I'm trembling.

My phone is on the bedside table, and I scramble to get to it before he can take it away.

"I'll call the police!" I warn, holding the phone up like it's a weapon.

The man on the bed is white-faced and stricken and looking at me like I've lost my mind.

"You can't just come into a woman's house and get into her bed." Shit. Now I'm trying to reason with a sex offender. Jesus. But he's just sitting there. Is that normal?

His expression goes from confused to desolate as he skims his eyes over my bruised face. "Damn. What happened to you, angel?"

I fumble with my phone, pressing the button on the side and trying to get it to light up. Nothing. It's dead. Why didn't I charge it before I fell asleep last night?

He pushes off the bed, and I back into a corner, arms wrapped around myself. "Leave. Please."

He holds up his hands and takes a step toward me. "Hanna, baby. Tell me what happened. Tell me—"

I press my body as close to the wall as I can. I should have locked myself in the bathroom or something. I am one of those too-dumb-to-live heroines you see in horror movies. Especially since the thing keeping me here—keeping me from running to safety—is the hurt on his face. I've always been the kind of person who tries to make people happy, but this is ridiculous.

Think, Hanna. Okay, I'll need a description for the cops. Tall—taller than Max, maybe—messy dark hair, an Incredible Hulk tattoo on his right shoulder, some numbers tattooed above his left pec. God, is he an ex-con? Don't convicts get numbers tattooed on themselves?

He steps closer, and a shudder runs through me.

"Please don't hurt me." I sink to the floor and cross my arms in front of my face.

His gaze catches on my left hand, and his jaw goes hard. "I see." He backs off and grabs something off the floor. Then he's tugging a shirt over his head. It falls into place and covers that amazing body.

Amazing body? What the eff is wrong with me?

As stupid as it is, I don't believe this man is here to hurt me. There's nothing intimidating about his body language, and even though his face has gone hard and angry, there's no violence in his eyes.

He grabs his jeans. "You could have told me."

"I don't know what you're talking about." My voice cracks.

Jeans unbuttoned and half up his hips, he's heading toward the door. Stupidly, I follow him. My hands are shaking, my head spinning.

He grabs the doorknob and goes still, but he doesn't look at me. "When I was touching you just now"—he swallows—"you thought I was…"

"I thought you were my fiancé." The whisper seems to swell in the small space and vibrate off the walls.

He punches the wall beside the door. "You and Max have a nice life." Then he's leaving, slamming the door behind him and making the whole room rattle. And me right along with it.

 Christine's 4.55 STAR Review!!!
Lexi Ryan is a new author to me – admittedly I have not read the prior series that this was a spin off from (but I do have plans on going back now that I am fully vested in all of these characters!).  The blurb caught my attention and I am SO glad that I picked up this book – Lexi Ryan is another author that I will read anything and everything that she writes!  This book was that good!!
I LOVE books that are different – with new premises and something that has not been done before.  I was captivated by Lost In Me and it held my attention to the very last page; it was hard to put down.
Without revealing too much about the story, Hanna is the overweight awkward girl pining for the gorgeous boy.  To wake up one day with amnesia, not recalling almost an entire year of life is crazy!  Not only that, but to wake up as a whole new woman; not recalling how she got the body, the man and the business she has always wanted would frustrate me beyond belief.
Everything is seemingly perfect but I can't help but question and be suspicious of everyone and everything.  I feel the sadness, I feel the heartbreak and I feel her frustrations because I know like her that we are missing so much of the real story.
As truths are revealed and Hanna begins to remember things, I have so many emotions – I want to cry, my heart is breaking but most of all I want Hanna to find the happiness she deserves.  I want her to be saved.  Hanna makes the best decision for herself because ultimately she has to put herself first, she has to shine without them and get herself better.
So YES, there is a love triangle, YES there is a cliffhanger at the end that I kinda suspected but it was all done so well that I am waiting on pins and needles for book 2 because I HAVE TO KNOW what will happen next.  I absolutely LOVE when books make you think, when you come up with theories in your head and are always second guessing yourself and the characters.  Lexi did this to me and so much more….I'm very much looking forward to the next books to see what happens with Hanna, Nate and Max.  Ahhh!!!!! #teamhannahappiness4ever

Once a college English professor, I now write full time. I live in rural Indiana, where, when I'm not writing, I get to hang out with my husband and two kids–a six-year-old boy and a two-year-old hellion, er, girl. Not surprisingly, reading and writing remain my favorite activities, though both come in bits and pieces these days, not the big hunks of time I enjoyed before I had children. When I'm feeling virtuous, I like to go running (I use that word liberally. I'm really, really slow) or do yoga. Don't worry, I'm always careful to balance out such activities with a hearty serving of ice cream or a chocolate martini.