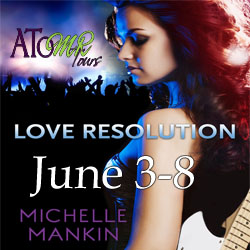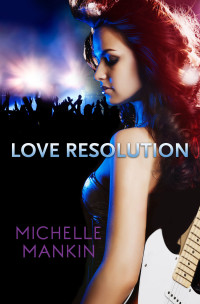 Today we welcome Michelle Mankin to our blog as she celebrates her new book Love Resolution which released on April 16th.
Enter for a chance to win an amazing giveaway using Rafflecopter below!
---
5 STARS!!!
Synopsis
There's a storm brewing at Black Cat Records and lead singer Marcus Anthony and guitarist Avery Jones are at the center of it.
Brutal Strength is leaving Vancouver and heading out on a big stadium tour with reprobate rockers from Tempest as their opening act.
Avery is forced to deal with a troubling figure from her past while being pursued by Tempest's tatted bad boy, Bryan 'Bullet' Jackson.
Meanwhile, Marcus must battle his own internal demons as well as this rival for Avery's affection.
Can Avery and Marcus keep their fairy tale happily ever after together when the prevailing winds of the real world are against them?
Love Resolution is the third and final book in the Black Cat Records Shakespeare inspired trilogy.
**A new adult contemporary novel with mature subject matter**
Kim's Review
Love Resolution by Michelle Mankin is the third book in the Black Cat Records series and a return to the ever so awesome couple Avery & Marcus ~ Now this rocker chick freaking LOVED the book~ I beta read this one, I purchased it in e-book & paperback and I'm reviewing it for Michelle's blog tour!
Avery & Marcus are getting ready to hit the road for Brutal Strength's tour ~ just when we pick up on this ever so perfect couple's life a blast from Avery's past enters her life and shakes up everything she ever believed in and she is faced with finding forgiveness before it's too late.
A new character that enters the picture and totally had me swooning ~ Bryan "Bullet" from Tempest who is the opening act for BS and who do you think Bryan has his eye on yep our girl Avery and what does Marcus think of that well ladies get ready for an emotional rocker book that will leave you stunned at times and down right happy by the end of the tour 🙂
I honestly experienced many emotions while reading Love Resolution ~ Our favorites from the past are back and it's great to catch up with what feels like old friends but it's fun to get introduced to the boys from Tempest who felt like a slightly edgier, wilder, more of a out to get all the girl type rock band but they are younger than the members of BS so these twenty something's are far from settling down.
I had plenty of …….


and an equal number of …..


and whole healthy does of ………


but the most cathartic release for me was when I was……….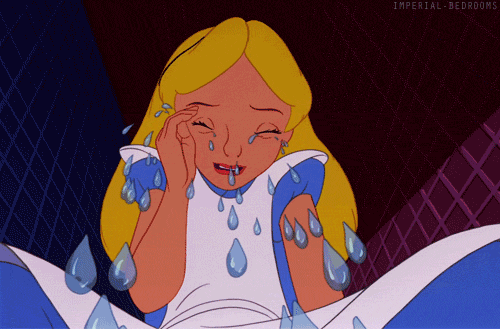 and there was a part of this book where Marcus does something that made me want to …………


but he is a guy and came up with his oh so freaking stupid plan by himself which us ladies know is NEVER smart! I seriously was….


Don't worry ladies I was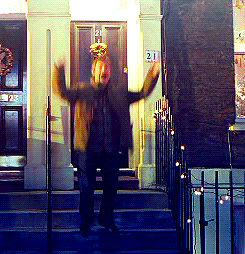 I totally….


and by the end I was…..


Fans of Michelle's will adore Love Resolution ~ a more mature look into Marcus & Avery's life with some steamy scenes and plenty of angst that you will want to re-read the end several times to ensure all is just peachy keen!
5 ++++++ star read for me! I highly recommend the Black Cat record series to everyone ~ with a Shakespearean theme to each book it totally ROCKS in a way no other Rock Star Romance does and it will grab you with the depth of the stories each book brings and I can't wait for Michelle to bring us some more "rockers" and fingers crossed some Bryan ~ the total heartbreakers ladies man that had me drooling!!!!!
About the Author
Michelle Mankin is a young/new adult romance writer as well as a self-proclaimed giant… inside of her own mind!
For many years she worked in the insurance industry as an underwriter. Somehow, the boredom didn't kill her but the hour and hours of looking at facts and figures provided ample time for her mind to wander.
Love Evolution, Love Revolution, and Love Resolution are all part of the Black Cat Records trilogy using the plot underpinnings of Shakespeare combined with the drama, excitement, and indisputable sexiness of the rock 'n roll industry.
When she is not putting her daydreams down on paper, you can find her traveling the world, sometimes for real and sometimes for pretend as she takes the kids back and forth to school.