Today we welcome Jessica Ingro to our blog as she celebrates her new book Love Square which released on July 18th.
Enter for a chance to win an amazing giveaway using Rafflecopter below!
---
4.5 STARS!!!
Synopsis
A love triangle gone bad…
He was the one guy I couldn't get enough of. One look from him would make me melt. He was the one I always wanted to love me, but always seemed so far away. Now he stands before me and he's turning my world upside down.
At one time I would have done anything to be close to him. But will that anything include betraying the man I pledged myself to and that loves me faithfully?
Samantha Monroe had it all. Or at least everyone thought she did. A career on the rise, a gorgeous husband, great friends and a beautiful home. So why does she feel so alone and empty? When she reconnects with an old flame, lines are tested and compromises made in a quest for happiness.
Jacob Matthews always wondered what happened to Sam Monroe. When fate brings them together after all these years, he can't help but wonder if it's meant to be. But when he meets his perfect woman, there is no doubt in his mind she's his soul mate.
Will the search for happiness cost them everything or will their love square show them what really matters?
Genre: Contemporary / Erotic Romance
Excerpt
As I sit back down in the chair, my eyes catch on the next person in line and my breath freezes in my chest. I think my heart is going to explode out of my chest. It is Jacob Matthews. There is no doubt about it. Time has certainly been his friend and he looks even more beautiful than he did sixteen years before. He was my first real love and my first real heart break.

His dark hair is a little long, giving him a bed head look that totally works on him. He appears more fit than he had been as a teenager, muscles rippled under his tight t-shirt. His green eyes sparkle just as I remembered. He is six foot, three inches of pure sex appeal and still has gorgeous man hands.

I could do this right? Sure. Yes. Totally. I wasn't going to freak out in front of all these people and lose it just because Jacob freaking Matthews was waiting to see me. Nope. Not me!

As he walks up to the table, all eyes are on him. He has such grace in the way that he moves. He is a man who is comfortable in his own skin and owns whatever room he is in. His smile widens and I suddenly feel like a shy sixteen year old seeing him for the first time. There is a definite thrill running through by body at the thought of seeing him again. I can't help but give him a small smile of my own.

"I can't believe it's really you, sweet Sam Monroe. When my sister, Emma, told me about your book and that you'd be here today, I have to admit I was skeptical that it was really you." His cheeks flush a little and it appears as though he's nervous.

"Well, it's technically Sam Parker now. How have you been? It's had to be at least sixteen years, right?" I respond coolly and mentally high-five myself for appearing so calm.

"Oh wow! Parker, huh? Guess you're married now…" He clears his throat and continues, "Of course you're married now. You're even more beautiful than you were back then. Listen, I don't want to hold up the line too much, but are you going to be around for a while? I'd love to grab a drink and catch up."

He hands me the book he's holding and tells me to make it out to Emma. I had never actually met his sister but I know they were close. She was away in college when we dated but he spoke of her constantly.

Here was the moment of truth. Do I go for drinks with him and satisfy my curiosity about what he's been up to or do I politely decline? Ugh, I hate decisions sometimes. Well I guess no harm could come from meeting with him. It was just a drink in a public place. He doesn't have the power to hurt me anymore. I look up and into those green eyes and the decision is made – I am going to go and to hell with the consequences.

"I'll be finished around seven o'clock if you want to get together then. I'm staying in the hotel across the street tonight and they have a pub there," I respond while signing his book. I look up at him through my eyelashes and smile. His fingers brush mine as he takes the book from me. It feels like static shock running up my arms from the contact.

"Sounds great! I'll see you then!" He confirms before gifting me with his gorgeous smile.

As he walks away I can't help but stare at his nice, tight ass. Boy does he fill out those jeans nicely! Some things haven't changed, that was for sure.

The rest of the book signing flew by. I tried to be attentive to my fans but it was so hard when I kept getting sucked into the vortex of my mind. Different scenarios played out in my head of how our conversation would go. Seeing Jacob again brought back a rush of memories from when we were younger. The first time I saw him, I was immediately taken with how beautiful he was and couldn't wait to get to know him better. Now here I am years later… taken with his beauty and wondering how I can get to know him better. I feel like a shy, young, naïve girl all over again.
Kim's Review
I certainly had conflicting emotions while I was reading Love Square ~ I mean the synopsis alone should give you an indication that this book deals with a married woman and her high school love finding each other again. When I started the book the tone was set pretty quickly that there was something wrong with Aiden & Sam (Samantha) marriage ~ I have to say I read Sam's thoughts and ….
they had grown apart of many years together! You could tell that they weren't COMMUNICATING and I've said this before in a review communication in any relationship was key but would I've had a book to read if they were communicating ~ Nope. Sam is out on a book tour, yes she is an author, when she comes face to face with her ex-high school her first boyfriend and her first heartbreak ~ He invites her out to drinks and that right there I …
sure getting together for drinks with old friends is not a problem but when Sam is describing oh HOT Jacob is and that frankly any woman would….
with him well I had my hesitation but I can't say Sam didn't either. They meet for drinks and that the first time I ….
I think I could honestly say I was the angel on her shoulder rather than the devil ~ I wanted to tell Sam to…
fast & far. Well the Pandora's box was opened with one…
and then from there e-mails were exchanged and one thing led to another and there was more…
and BAM full-blown affair ~ I'm not saying this occurs that quick in the book. The author does show that Aiden & Sam's relationship was struggling and Sam wasn't feeling love, supported nor sexy when it came to Aiden ~ I think the lack of sex for as long as they went would have me questioning things too. I was literally sucked into the book just waiting for the other shoe to drop! I knew it was coming ~ and I had to …
when Sam thought she could honestly keep her emotions out of the affair. Honey we are women and most women equate sex as an emotional experience. I had times where I wanted to…
some sense into Sam. I just didn't have a good vibe from Jason ~ As I predicted the bottom drops out but I have to say I was …
with the way Aiden handled it at first before everything came to a head. That was one discussion where I was…
I can understand him being upset but words damn those are like knifes and that hurt. Now everything turns around on Sam when Jacob meets Brooke and this is where I was really…
I can't see how one person can be cheating on the other when they aren't in a relationship but oh it gets better. I came to accept that Sam needed to find her happiness and herself ~ she was surely a…
and the book does a great job explaining her feelings and outlining what she did some of the stuff she did mad me think she was certifiably
I was thankful but also …
by something that went down when Sam was at a signing in Vegas. That I think was the turning point but I did have mixed feelings when Brooke decides to rear her ugly head and what Sam planned with her best friend Michelle had me ….
well I think in the end Sam ended up with what she needed and found who she was when she finally came to realize that her actions where certainly the cause of some reactions. I have to say when it got to the very end like Epilogue I was …
and I was totally
and then I started ..
and thought damn that in of itself deserves a 1/2 star increase on my rating of the book ~ I was shocked and NEVER saw it coming! Once my I got over my case of the belly laughs and I finished the book I …
because the author did a wonderful job with ensuring the reader knew that communication was the key and what went down although the affair is totally on Sam in my mind ~ Aiden's turning inwards and essentially ignoring Sam played a part in Sam's emotional health.
A 4.5 star read for me ~ a book that deals with a very serious subject content. The sex in the book was hot, steamy and plentiful but alas I personally had a hard time swallowing some of what I read. I think the fact the author could make me pissed at someone but also feel sorry for them attests to the fact it was well written.
There is another book that will be told from Jacob's POV but from what little blip I read for that it sounds like it starts after everything that went down with this one. I can't say I ever felt sorry for Jacob in this book I just didn't connect with him plus Sam gives a little glimpses of what it was like when she was first when she was in high school and how their relationship ended, if it truly ever did.
If you can deal with a love triangle that is forced into a square (if you read the book you understand) and the fact that one partner is stepping out on their marriage but with in the end someone finds who they are then I recommend this one. I know some people cannot tolerate this subject matter in a read that's the only reason I mention it. At times I forgot I was reading fiction I felt like I was truly reading someone's "real" story. For that I have to …
Kudos to the author I think she did a great job of having me walk a very fine line of love/hate characters but kept interested in the book!
About the Author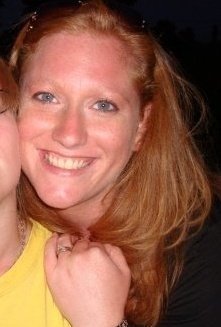 Jessica grew up in Central New York. She spends her days as a Security Analyst at an IT consulting company. She spends her free time reading books and developing ideas for her own stories. Writing is her secret passion that she's been fostering since elementary school, when she wrote her first book about a puppy. Writing has always been one of her secret dreams and she can't wait to share her stories with the world.
She currently lives in New York with her husband and three dogs.