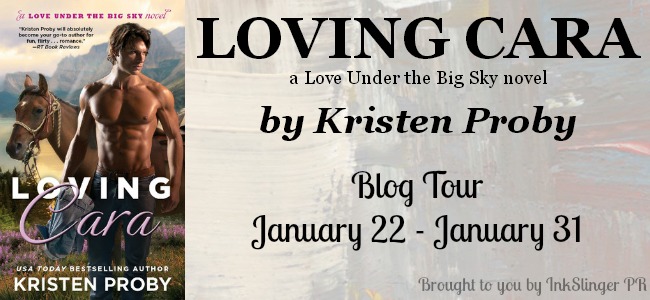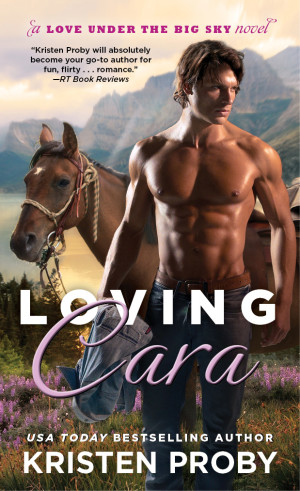 Today we welcome Kristen Proby to our blog as she celebrates her new book LOVING CARA which released on January 21st. Enjoy an excerpt from book 2 SEDUCING LAUREN below and enter for a chance to win an amazing giveaway. Good luck!
---

CHEMISTRY WAS NEVER THIS SEXY IN HIGH SCHOOL.
In her sizzling new series, USA Today bestselling author Kristen Proby sets the stage for a passionate reunion under the breathtaking Montana sky.
Cara Donovan's summer tutoring job is turning out to be a challenge—and not just because of her troubled twelve-year-old student. It's his uncle Josh who's the real problem. If problem is the word for an irresistibly cocky, muscle-bound rancher with a taste for tight Levi's and shameless flirtation. . . .
Cara is nothing like the wallflower Josh King remembers good-naturedly teasing in high school. This Cara is gorgeous, confident, fun. From the moment the fiery teacher steps foot on his family's Lazy K Ranch, the stubborn playboy is determined to corral her. So what happens when his luscious lover takes over the reins?
The first in a steamy trilogy, Kristen Proby's enthralling novel is filled to the brim with one hardworking family's triumphs and challenges, all the wild adventure of the modern West, and a whole lot of titillating fun.
Kristen Proby has proven yet again that she is an amazing writer; truly a brilliant mind, harnessing the voices in her head to create wonderfully entertaining stories with characters who will live in your heart long after you finish reading.
The Love Under the Big Sky series transports the reader to Montana, a small town in Montana. The imaginary of this book pulled me right into this small town and allowed me to see these characters and the landscape.
The prologue of this books opens with a strong emotional pull that had me wanting to know more; it quickly became a book I did not want to put down.
Josh King runs the family ranch and his nephew Seth's appearance at the ranch puts him face to face with Cara Donovan. In typical small town fashion, Josh and Cara know each other, they attended the same high school and saw each other around town but this reacquaintance with each other has sparks flying in a way that the reader can feel.
As Cara tutors Seth, Josh and Cara sharing the same space creates a dynamic that from the very beginning had me rooting for these two to be together. Ms. Proby does not disappoint as these two coming together is hot and engaging
Josh King quickly becomes a man I think any woman would want to pursue. He thinks of Cara's feeling, he wants to make her smile and well he often says the sweetest things. Oh and when Josh shows her his ranch, his home, his property, it gets steamy and sensual and playful all in one scene, something very few writers can pull off all in one scene.
Loving Cara in typical Proby fashion also features some comical moments; you will get a funny game that quickly turns into the hottest word game ever!!
Ms. Proby is a master of character interaction. The dialogue between the characters both primary and secondary will have you feeling like you know there characters as real life people. And again wanting more of all of them, I truly hope this is a series that continues to build becoming a saga of books.
When Josh and Cara come together the connection is powerful, deep and one that others around them can see and feel. Oh speaking of others I want to pause and say I want to know more about Ty Sullivan. Ok back to Loving Cara, Josh's desire to show Cara his feelings are real and will endear him to your heart.  These two finally opening up to each other gives the reader an amazingly hot and heartfelt I love you moment that had my heart in my throat.
Ms. Proby knows hot – from long beautifully written sex scenes to even brief encounters that manage to carry so much emotion.  This book was so well done.
This book for me had one of the most powerful and emotional scenes with secondary characters I have EVER read!!! So yes, I want Zack King's story (he is Josh's twin brother and Seth's Dad) in Falling for Jillian book 3.  Just remember the lake scene and you will know it when you read it!
But when Josh is unable to deal with what loving someone does to him; when the fear of losing everything turns him into someone Cara's never seen, will they be able to overcome it …well no I am not going to tell you that… I will say the end of this book made my heart swell, as it tied old and new and the legacy of the King's family to the future.
I not only loved this book but I love that I have found a new cast of characters who now have a place in my heart!!  This is a must read series for me, bring on Ty in book 2 Seducing Lauren and Zack in book 3 Falling for Jillian.


*Enjoy this glimpse into Lo and Ty's story from book 2 in this series – SEDUCING LAUREN!
"Lo?" He whispers.
"Yeah?"
"I want to kiss you so bad it hurts."
I gasp and watch him with wide eyes as he reaches out and tucks my hair behind my ear, then gently runs his finger down my cheek. The air between us is full of anticipation.
"What's stopping you?"
I bite my lip, waiting for his response. He pulls my lip free with his thumb and brushes it along the tender flesh. Finally, he leans in, moving exquisitely slowly. He cups my cheek in his hand and lowers his face to mine. His lips nibble at the side of my mouth, making my eyes flutter closed as my hand glides tentatively up his arm, over his shoulder and into his thick, black hair.
He's tender, gentle, as his lips sweep over my own to the other corner to tease and tempt some more.
I sigh as he brushes his nose over the tip of my own, and then he sinks into me, his lips moving over me in the sweetest dance I've ever experienced. His tongue brushes over my lips and then slips inside my mouth, not to plunder but to simply tease and slide across my own.
All too soon, he backs away. I open my eyes to find his gray ones on fire. We're both breathing hard, and in this moment, I want nothing more than for him to strip me bare and take me right here on the couch.
But instead, he pulls me into his arms and holds me close, kissing my hair.
"You taste better than I imagined." His hand caresses my back as he supports me against him and we sit here, watching the fire.
"So do you," I reply softly.
His hand stills for a moment, and then resumes its journey across my back.
"You're not staying the night," I inform him sternly.
"No, but I'll stay until you fall asleep." I lean back to look at him, pulling my fingertips down his cheek.
"You don't have to do that."
He pulls my fingers to his lips and kisses each one in turn.
"It's my pleasure, sweetheart."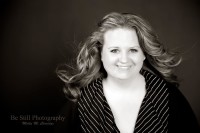 KRISTEN PROBY is the USA Today bestselling author of the popular With Me in Seattle series. She has a passion for a good love story and strong characters who love humor and have a strong sense of loyalty and family. Her men are the alpha type—fiercely protective and a bit bossy—and her ladies are fun, strong, and not afraid to stand up for themselves. Kristen spends her days with her muse in the Pacific Northwest. She enjoys coffee, chocolate, and sunshine. And naps.
---