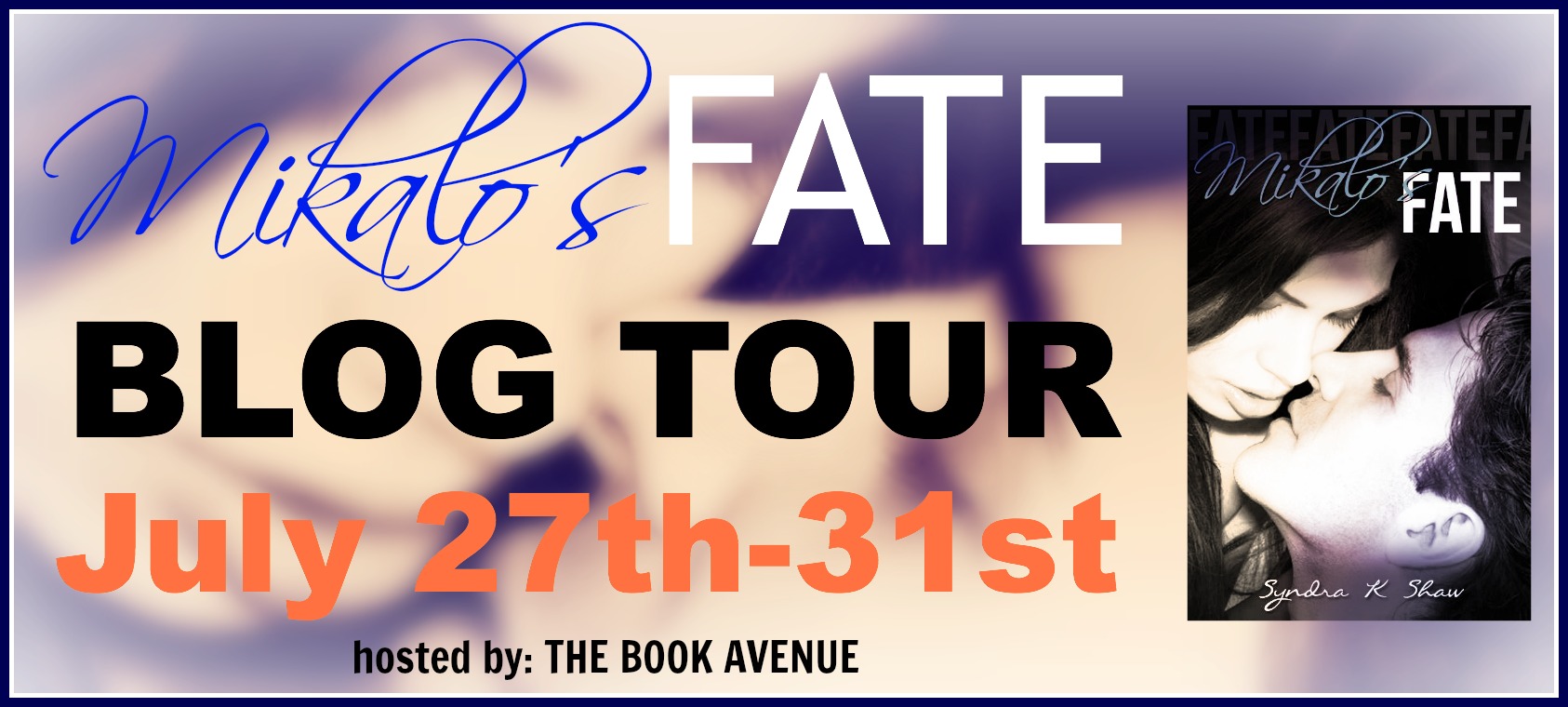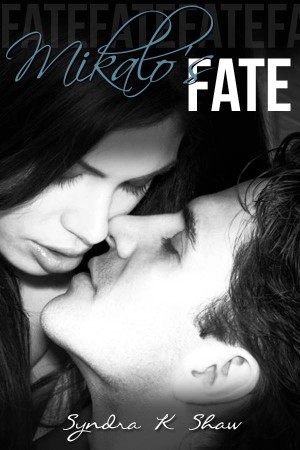 Today we welcome Syndra K. Shaw to our blog as she celebrates her new book Mikalo's Fate which released on July 26th.
Enter for a chance to win some amazing giveaways using Rafflecopter below.
---
Synopsis
"The dream is coming true in this, Mikalo's Fate, the third installment in Syndra K. Shaw's story of Ronan and Mikalo.
After escaping the memory of her failed first marriage and allowing herself to love again, Ronan is finally walking down the aisle with Mikalo Delis, her Greek god in grey wool. But once in Greece, Ronan discovers that not all is as it appears to be with the Delis clan, their judgement and mistrust of her surrounding her every move. Then disaster strikes, an event so shocking it rips Mikalo's family apart, Ronan's dream quickly dying.
Her life with her beloved hanging in the balance, Ronan learns the only thing standing between her and "I do" is a surprise visit from a love lost long ago. But will it be enough? Or will she return to the States alone, her heart once again breaking as yet another love dies?"
Excerpt
His lips touched mine, gently, lovingly.  Almost a whisper of a kiss.

I responded, breathing into him, and then holding my breath as I felt his arms wrap around me, his fingers on my waist, and then moving lower.  Kneading and gripping, all of it gentle and slow as I raked my fingers through his thick hair.

Our lips still touched.  Lingering close, we held still, not quite a kiss, but not yet parted.

Below I felt the familiar, distant thump-thump-thump as I grew wet, my body, my sex, craving him.

Another kiss.

I opened my eyes to see him.

He was watching me, his eyes not yet hooded with lust.

My hand moved lower.  Tracing the back of his head, feeling the soft skin of his strong neck, down the muscles of his back, and finally around the front to his zipper, my fingers wrestling with the button on his pants.

He stopped me.

"No," he said, his voice gentle and kind.

My hand gripped in his, he brought it up to his lips, lightly kissing my fingers and then holding it firm.

I grinded my hips into him, my appetite for him growing.

His lips found mine again.

I eagerly kissed him back, my tongue pushing past his lips.

He playfully refused, teasing me.

"Just this," he then said, his breath in my mouth.  And then he kissed me.  Slowly, patiently, lightly.  With love and adoration.

"Just a kiss," he continued.

I leaned against the wall, the bathroom sink to my left, the huge, infamous shower at the end of the room.  With everything packed into storage, it felt as empty and lonely and strange as the rest of the house.

But the memories lingered.

Of watching Mikalo in the shower, the soapy water running down his back and onto his firm ass, his bicep flexing as he stroked himself, unaware I waited on the other side of the steamy glass.

Of Mikalo lying on the floor, his lips parted, his legs spread, his arms above his head, his hair still wet as he turned his head this way and that, the dark locks sticking to his forehead and cheek.

Of my Mikalo's chest rising and falling as he fought for breath, his stomach clenching and unclenching as his hips moved, pushing himself, his hardness, his throbbing thickness, into my hand.

And the feel of him in my fist.  In total control, his desires rising and ebbing as my strokes dictated, teasing him, edging him close, only to back away, hearing him whimper and beg, his white teeth biting his lips as his brow knitted and his fists clenched.

Now we stood chest to chest, my hand in his, his lips near mine, the hardness in his jeans pressing against me.

And all he wanted to do was kiss.
About the Author
Would you guess the quiet girl sitting in the corner of the cafe would write steamy romance? That behind her rather conservative skirts and jackets and the no-fuss-wash-and-wear haircut is someone who's creating true love and heartbreak, earth shattering orgasms and heartache?
Well, that'd be me. Mikalo's Grace was my first book, Mikalo's Flame my second. Mikalo's Fate is coming up soon (Summer 2013) and, after that, I'll be releasing a companion series. More books will follow, I'm sure.
And, still, I'll do what I do and let the world pass me by, completely unaware of the smoldering volcano of lust bubbling in their midst.
Born in France, educated in England, Syndra K. Shaw now lives very quietly in Paris and New York.