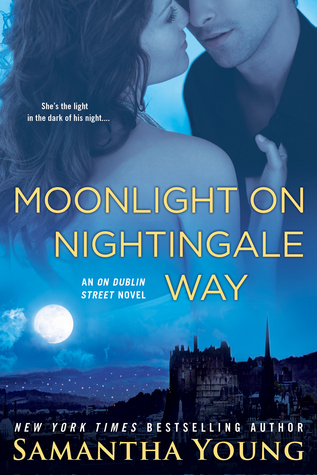 Moonlight on Nightingale Way

by Samantha Young
on June 2, 2015
Pages: 352
Buy on Amazon
Goodreads


Last in the Series

Logan from Echoes of Scotland Street is back with his own smoldering story, as the New York Times bestselling On Dublin Street series returns…

Logan spent two years paying for the mistakes he made. Now, he's ready to start over. He has a great apartment, a good job, and plenty of women to distract him from his past. And one woman who is driving him to distraction…

Grace escaped her manipulative family by moving to a new city. Her new life, made to suit her own needs, is almost perfect. All she needs to do is find her Mr. Right—or at least figure out a way to ignore her irresistible yet annoying womanizer of a neighbor.

Grace is determined to have nothing to do with Logan until a life-changing surprise slowly begins turning the wild heartbreaker into exactly the kind of strong, stable man she's been searching for. Only just when she begins to give into his charms, her own messy past threatens to derail everything they've worked to build…
I want to start by saying if you have not read Samantha Young stop reading this review and 1-click On Dublin Street, as it is one of my all time favorite books!
It is standlone with an HEA so if it somehow doesn't hook you on Ms. Young's writing, you will still have a complete story for the couple in that book.
OK, the male lead in this book Logan, was first introduced to the reader in the prior book of this series, Echoes of Scotland Street and he was not really part of the story, so this book is easily read stand alone if you choose.
Logan is a man with a past, but a past I think many readers will respect, some may think he deserves a medal for the act he had to pay two years of life for (yes, I fall into this category.)
The first meeting between Logan and Grace is adorable; you can feel the connection and their banter brought a smile to my face.
Logan and Grace's relationship starts out as adversarial and it was so much fun to watch their relationship bend and morph. Ms. Young uses a wonderful plot twist to move this relationship from feuding neighbors to friendship.
She then truly takes the reader on a journey as that friendship deepens and grows. And when the friendship gives into the physical, this book gets hot!
But is hot enough to risk what they have built? Well I wont tell you how they work it out, but I will tell you the struggle felt read and true to the characters created.
Such a powerful story!!!!
Though the book is about Logan and Grace…. I adored the use of Maia, watching Logan fall in love with her. Watching Logan protect Maia was so powerful; it softened this man whose soul was affected by this time in prison. Trust me it works and it does not take away from what Logan and Grace have; if anything it adds to it.
For those readers like me to have read and loved this whole series, the end of this book brought a huge smile to my face and the perfect goodbye for each couple!
Thank you Ms. Young for an amazing series and for characters who will stick with me years to come!

"There is nothing wrong with a good chick flick," I argued, but I did it laughing at her assessment of the chick flick. "But unfortunately, I can't vote because I can't come over tonight."
"Why?" Maia looked disappointed.
"I have plans."
"Oh. Well, change them."
I laughed, but Logan said her name with warning and shook his head at her. "Perhaps Grace is spending time with her other friends, Maia. Remember she has those."
Maia snorted. "Oh yeah. I forgot she had a life before we took it over."
The two of them smiled mischievously at each other.
"You two are so funny," I said dryly. "And wrong."
"About?"
"My plans. I'm not seeing my friends." I felt a fluttering in my belly and I knew it was part nerves for the date tonight and part excitement that tonight might mean the end of my infatuation with Logan. "I have a date."
My announcement was met with utter silence.
Maia was looking at me horrified, and Logan's face had gone blank.
"A date?" Maia spat out as if it were a dirty word.
I gave a huff of laughter. "Yes, a date. I do go on those sometimes. I have to hide my horns and cloven feet to do it, but somehow I manage."
"With who?" Logan practically barked from across the counter, his expression no longer blank. He was glowering. Hard.
I blinked rapidly in surprise at the bark. What was this? Was Logan daring to play protective big brother?
Oh God, could my life get any more pathetic? I'd been relegated to "familial" in his book.
"A colleague of Chloe. She set us up. She said he's wonderful."
Apparently, he was a divorced father of two, and he was looking for something serious again after a year in the dating pool. As soon as Chloe heard that she said she knew she had to set us up. She said he was just what I needed.
I felt another burst of butterflies at the thought of meeting him.
"A blind date?" Logan was still scowling.
"Yes."
"Because you've had such great luck with those in the past."
I made a face at his reminder that he'd saved me from the last one. "Witness one bad one and you think you know everything."
Maia suddenly marched across the room toward the door. "I'm going to pick a film," she threw over her shoulder before disappearing.
"Maia?" I called out, concerned by her reaction. In response I heard nothing but the slamming of my front door. I shot a confused look at Logan.
He shrugged. "Don't ask me. I'm still trying to figure out half of her moods."
I chewed on my lip and slid onto a stool. "Maybe she feels like I'm abandoning her by not staying to watch the movie with you."
"Maybe."
"I hate disappointing her, but she has to appreciate that I have friendships outside of you two and that when I see other people it doesn't mean I'm abandoning her."
Logan nodded. "I'll talk to her about it."
"Thank you."
He sighed and got up off his stool. "It's like another language and there's no one to teach it to me."
"Teenage girl?" I smiled sympathetically.
"No. Women in general."
"Well, that's because we're far more intelligent than men. It's hard for you simple creatures to keep up." I smiled beatifically.
He narrowed his eyes on me. "Very droll, Grace." He turned to go and then seemed to think better of it. "So who is this guy you're seeing tonight?"
"His name is Colin. He works at the estate agency with Chloe."
"He sounds like a dick."
I snorted. "How did you get that from those two pieces of information?"
"The only Colins I've ever met have turned out to be dicks, and estate agents are no better than smarmy salesmen."
"He has a good job, he's divorced, and he has children. He's not a dick."
"That makes him sound like even more of a dick." Logan turned fully around now to argue.
"He sounds like he's responsible and willing to commit!" I felt my temper genuinely start to rise at his overprotectiveness.
"Really? Responsible? So who is looking after his bloody children while he's out on a date with you?"
"I imagine his ex-wife is. He divorced her, Logan. He didn't kill her."
"No, of course not. Why kill her when he can keep her around as a glorified nanny while he fucks beautiful, impressionable women." He gestured to me in irritation.
I was stunned silent for a moment.
There was an undercurrent of true anger under his ridiculousness, and I felt stifled by the way he saw me. I might as well have been Shannon for the proprietary way he was treating me and talking down to me.
"I am not impressionable!" I snapped, and hurried from the room. "You can see yourself out! I have a date to get ready for."


Samantha Young Moonlight on Nightingale Way Giveaway

♥READ THE SERIES♥
Book 1 – On Dublin Street
Book 1.5 – Until Fountain Bridge
Book 2 – Down London Road
Book 2.5 – Castle Hill
Book 3 – Before Jamaica Lane
Book 4 – Fall From India Place
Book 5 – Echoes of Scotland Street
Book 5.5 – Valentine
Book 6 – Moonlight on Nightingale Way