Today we welcome Alexandria Rhodes to our blog as she celebrates her new book More Than You Know which released on May 14th.
Enter for a chance to win some amazing giveaways using Rafflecopter below.
---
4 STARS!!!
Synopsis
After surviving a devastating car accident that took her father's life, Bryn Woods feels like she has nothing left in her hometown of Savannah, GA. Along with losing her father, her boyfriend, Tyler, unexpectedly leaves town the same time of the accident. Feeling alone, broken and confused, Bryn leaves Savannah for college in New York City to escape her heartbreak.
Four years later, Bryn returns to Savannah to live in her childhood home. Slowly, she begins to let the people of her past back into her life. She lets the protective walls she's built to protect herself crash down around her. As she begins to find love again with Tyler, secrets start to unravel themselves about his past. Tyler has secrets of his own. Secrets connected to the death of Bryn's father. Secrets Tyler didn't even know he kept.
Kim's Review
A wonderful romantic story filled with heartbreaking moments that ultimately lead to a second chance and a twist that was beyond amazing.
Bryn lost everything in the span of a week 5 years earlier ~ The loss of her father to a devastating car accident and the loss of her long time boyfriend Tyler a week prior to well let's just say unknown reasons. She escapes her hometown of Savannah and heads to the NYC to attend college. She is two weeks away from graduating when she receives a phone call that will force her to make a decision that will ultimately lead her to face her past. I was literally….
when I read what poor Bryn had went through before she left Savannah to start over and find "home."
Tyler the boy Bryn grew up with as he was the older brother of her best friend Charlotte. The boy who decimated Bryn completely out of the blue with a text message stating they needed to talk and a meeting at a park that led to the end but no real explanation as to why it was ending. After reading this part of the story I admit I was…
But when Bryn returns to Savannah after graduating college she finds things have changed but something's are there waiting for her and she needs to decide if she can trust Tyler as well as Charlotte who she hasn't heard from for 5 years. Accompanied by her best friend and college roommate Olivia there were times I ….
There were twist and some turns in this book along with a strong potential to really be angsty if the author had decided to expand further on that. There were times were I was
by admissions as to what led to Tyler leaving Bryn. There were a few
as Bryn recalled her life with her father. There were also times where I just wanted to ..
a couple people to get them to admit what happened. A night out with friends that ends with something horrific happening had me…
but that didn't even trump the secret that comes out towards the end. I admittedly figured this twist out fairly early on but I still admit it was …
with how it was handled by both Bryn & Tyler. But this isn't an author that left you hanging no by the end this book will leave your feeling..
This was 4 star read for me ~ it was a good read that held my attention but there were times I wish the "issues" that occurred where played out a little more with a little more angst but that's just my opinion not everyone needs that out of a book. If you are looking for a second chance romance with an HEA then More Than You Know is the book for you!!!
About the Author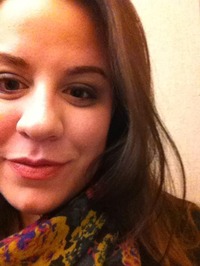 Alexandria Rhodes is a first time novelist from the good old state of Ohio. She is a recent college graduate with a degree in English and Creative Writing. Alexandria has always known she needed to write and has been doing so ever since she bought a typewriter at a garage sale when she was nine. With hundreds of pages of plot ideas, scripts and character descriptions, it is no surprise that she finally came around to writing a book.
Alexandria enjoys reading, writing, reviewing, spending time with family, tweeting (a little too much) and traveling, especially to Savannah, GA and New York City. Her writing is heavily influenced by her surroundings and the people in her life. She hopes that her stories will touch the hearts of her readers.