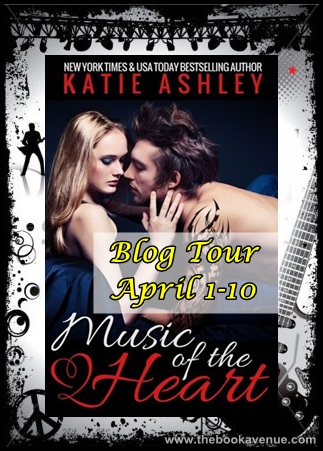 Today we welcome Katie Ashley to our blog as she celebrates her new book Music of the Heart which released on March 24th.
Read a fun interview Denise and Kim had with the band on the tour bus below!
Enter using Rafflecopter for some amazing giveaways!!!!
---
4.5 STARS!!!
Synopsis
For Abby Renard, the plan was supposed to be simple—join her brothers' band on the last leg of their summer tour and decide if she's finally ready for the limelight by becoming its fourth member. Of course, she never imagined stumbling onto the wrong tour bus at Rock Nation would accidentally land her in the bed of Jake Slater, the notorious womanizing lead singer of Runaway Train. When he mistakes her for one of his groupie's, Abby quickly lets him know she sure as hell isn't in his bed on purpose.
Jake Slater never imagined the angel who fell into his bed would resist his charms by promptly kneeing him in the balls. Of course, the fact she seems like a prissy choir girl makes her anything but his type. So he is more than surprised when after betting Abby she wouldn't last a week on their tour bus, she is more than willing to prove him wrong. But as Jake's personal life begins to implode around him, he finds an unlikely ally in Abby. He's never met a woman he can talk to, joke with, or most importantly make music with.
As the week starts comes to a close, neither Abby nor Jake is ready to let go. Can a sweetheart Country songstress and a bad boy of Rock N Roll actually have a future together?
Denise's Review
I truly enjoyed Music of the Heart.  Ms. Ashley paints a picture of Jake Slater, a hard core rocker and then opens his heart up to the reader as he entangles himself first physically (oh not what you think) and then emotionally with Abby Renard.
This book is told in alternative POV's and given how different these two characters appear on the surface, I appreciate seeing both sides of the story.
As the story builds and Abby and Jake interact, the reader can feel the connection between these two. When these two start to collaborate (again not what you think) the sparks fly and as a reader you will be rooting for this couple to find a way into each other lives.
Ms. Ashley's use of secondary characters was so well done, I loved the other boys Runaway Train, Jake's band.  They were well constructed and each has their own story.
Brayden, is a married man with two kids, who has complete devotion to his family will melt your heart.  The use of his family to bond Jake and Abby created for a series of scenes I will not soon forget.
The band was also used to show Jake's big heart; he always speaks of the band, there are even references to find standing up the label when they pushed for it to be about Jake as front man.
The use of Jacob's Mom was masterful, her character and her struggles provides the reader with a deep range of emotions.  Ms. Ashley uses Jacob's Mom, Susan to not only open up Jake's heart to the reader but also due to the circumstances allows Abby to bond with her. All of these scene were well written and powerful on various levels.
Finally I have to say Jake's nickname for Abby will touch your soul.  He names her, and then over and over again the reader is reminded about how deeply his nickname affects him.
I really do not want to give away how these two find their way to each other so I will just say enjoy the journey.
I adored the ending to this book.  It not only continues to show the reader the size of Abby's heart but it also highlights how Jake has thought about their future and how to make the lives of two musicians meld together.
I can't wait to read the rest of the books Ms. Ashley is planning for the band. I wanted to know about AJ and Rhys (the other two members of Runaway Train) and yes I want to see Jake and Abby in the background continuing to make it work.
---
Interview with the Band!!!
Conversation Key
ShhMomsReading – bold font
AJ- response in red font
Rhys- response in blue font

Jake – response in green font
Brayden- response in indigo font
Narrative – standard font
Hi boys! Thank you for taking the time to meet with us today! We are so excited to meet you in person after everything we have heard about you from Katie!  We know you are busy touring so let's get started!
Q: (except Brayden) What's it like in your bunk with a girl when it's not your night in the bedroom?
AJ: *laughing* Uncomfortable as hell. I always end up bruised the next day and not in a good way. 
Rhys: I try to avoid getting busy in a roost. I might "entertain" a girl backstage before getting on the bus if I don't have the bedroom.
Jake: *shrugs* I kinda like being tight like that. It makes you work to find interesting and different positions.
Brayden: *groaning* God, you guys sound like a bunch of animals.
Rhys: Dude, don't even go there. You know we always defer to you and let you have the bedroom for days on end when Lily visits.
AJ: *nodding* Yep, and I end up bruised that way too because Jude usually sleeps with one of us. If that kid doesn't become a rocker, he's got soccer player written all over him. He knows how to kick the shit out of you.
Q: How did Frank become Commander of the bus?
Jake: *grinning* Because he's a badass.
Rhys: *laughing* Jake, you need to elaborate more and explain that Frank is ex-military and should probably be in charge of security, rather than our roadie.
Brayden: It doesn't hurt that he raised four sons either. He knows exactly how to put us all in our place. 
Q for Rhys: How does the bus compare to dorm life?
Rhys:  It's not a whole lot different. During high school, I attended boarding school through the week, so I'm used to the tight as hell quarters.
Q for Brayden: What is something you keep on the bus to remind you on Lilly and the kids?
Brayden: *smiles* In my roost, the top of the bunk is covered with their pictures. So at night when I'm going to sleep, I can stare up at them. It's too hard to keep anything tangible.
Jake: *coughs* Wuss
Q for Jake: What's something you did to make "your bus" special for Abby?
Jake: Um, I try to clean-up after myself more than I did with the guys. Just having the privacy with her is the most important thing for me—as well as getting to sleep in a bed each night, rather than a roost.
Q for Brayden:  Where do you go when one of the "boys" are entertaining on the bus?
Brayden:  I go to the kitchen/living room area. I usually try occupying my time by Facetiming with my wife or texting with her. Ear plugs help too.
AJ: See, you guys are getting the impression that Bray's this poor ol' dude who never gets any. Seriously, he and Lily go at it like rabbits when they're together.
Brayden: I'm so kicking your ass for that comment when we're done.
Q for AJ:  How often do you play your "salsa" music that Jake seems to love so much?
AJ: *grins wickedly* As often as I can. Not just to irritate the guys, but because it's my roots.
Q for Jake: Before Abby, was it your custom to bring someone back to the "bus" with you or did even make it back to the bus?
Jake: *coughs* Um, I'm not sure I should answer that question. I'm probably already in trouble for my earlier comment about "roost sex". 
AJ: *snickering* You're not even married yet, but she's already got you whipped.
Q:  Who does the majority of the cooking & cleaning on the bus?
AJ: Since Rhys grew up with a full-time maid and cook, he doesn't know shit about cleaning.
Rhys: That's so not true, asshat! I'm used to not living in filth, so I like it when things are clean.
Brayden: I probably do the most cooking. My grandparents owned a restaurant when I was growing up—Southern food—so I grew up around preparing good food.
Q: What's the worst thing about the living together on the bus?
AJ: One bathroom, four guys, and lots of greasy diner food…you do the math!!
Brayden: Dude, that is disgusting.
Jake: *snickering* It's so true though.
Q: What's the best thing?
Jake: Just hanging out together—playing video games or shooting the shit.
Rhys: Yep, the brotherhood.
Thanks for speaking with us today!  Enjoy the rest of your tour!!!
---
About the Author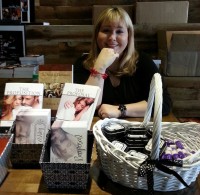 Katie Ashley is the New York Times, USA Today, and Amazon Best-Selling author of The Proposition. She lives outside of Atlanta, Georgia with her two very spoiled dogs and one outnumbered cat. She has a slight obsession with Pinterest, The Golden Girls, Harry Potter, Shakespeare, Supernatural, Designing Women, and Scooby-Doo.
She spent 11 1/2 years educating the Youth of America aka teaching MS and HS English until she left to write full time in December 2012.
She also writes Young Adult fiction under the name Krista Ashe.
---
GIVEAWAY