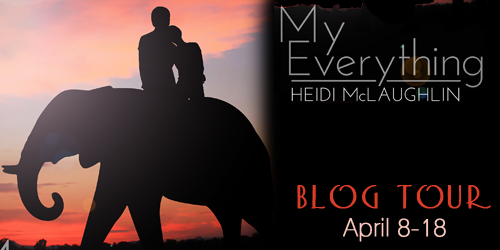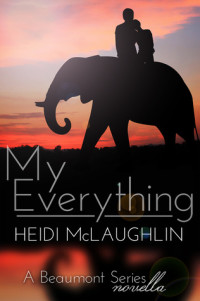 Today we welcome Heidi McLaughlin to our blog as she celebrates her new release My Everything which released on March 18th.
Enter using Rafflecopter below for a $25 Gift card to your book retailer of choice!  Good luck!
---
3.5 STARS!!!
Synopsis
When Nick Ashford lost his friend, Mason, he didn't realize he was going to lose his family as well, but that's exactly what happened. Alone and in a foreign country, Nick is working on rebuilding his life one patient at a time, that is, until a striking volunteer makes her presence known.
Can Nick finish his year in Africa without risking his heart being broken again, or is he willing to start a new chapter in his life before his return to Beaumont?
Christine's Review
This was a sweet companion novella and addition to The Beaumont Series.  I loved Forever My Girl and I couldn't wait to read this story about Nick Ashford in the hopes that he too would be able to find his HEA.
I have to admit that I felt bad for Nick in Forever My Girl.  He was a great boyfriend and father figure to Josie and Noah and I knew in my heart that when Liam returned that he would be pushed to the side.
In My Everything, we see more of Nick's thoughts and memories while he struggled throughout Forever My Girl.  It saddened me to see his lack of fight for his family – maybe it was because he too knew that Liam, Josie and Noah deserved to be together.  But I wished he did more – not for Josie but for the son he adopted in his heart – Noah – who deserved more than no goodbye when Nick left for Africa.
In Africa, Nick pours his blood, sweat and tears into providing medical care for the needy and underprivileged children.  Though I feel that Nick took this job in Africa to escape, I felt that he needed to heal his heart and become whole again.
At his job, Nick meets Aubrey.  At first he is hesitant with her because of her age and because he wants to protect his heart.  But as they get to know one another more, they both realize that they want something similar – a meaningful and true love relationship.
I will say that the flashbacks of Nick's life with Josie were very painful because I truly felt in my heart the love that Nick and Josie had for one another.  Maybe in a different time or place and if Liam wasn't in the picture it could have been something more.  It hurt me even more to read his thoughts about leaving Noah behind.  Being a mother of three, I could only imagine what he was going through and I wished with all of my heart that he would be able to see Noah again, to explain what happened, to apologize for his error and to continue building upon the relationship they once had.
Will Nick be able to move past his hurt from Josie and allow a new woman into his heart?  Will their age and the fact that he is from Beaumont and she is from South Africa create another obstacle in their relationship?  And will Nick ever see Noah again and what will happen once they do?  You will have to read this book to find out!
Another great job Heidi – I can't wait to read My Unexpected Forever to see what's going on in Beaumont!
About the Author
Heidi is the author of USA Today, Digital Book World, Amazon and Barnes & Noble Bestselling novel, Forever My Girl
Originally from the Pacific Northwest, she now lives in picturesque Vermont, with her husband and two daughters. Also renting space in their home is an over-hyper Beagle/Jack Russell and two Parakeets.
During the day Heidi is behind a desk talking about Land Use. At night, she's writing one of the many stories planned for release or sitting court-side during either daughter's basketball games.
---
GIVEAWAY
a Rafflecopter giveaway