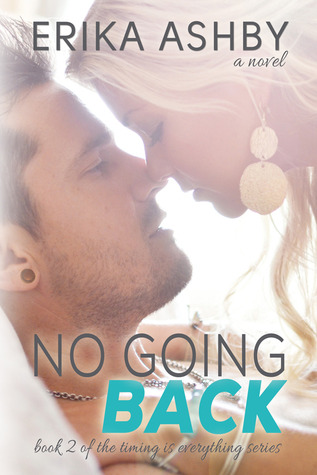 Today we welcome Erika Ashby to our blog as she celebrates her new book No Going Back which released on June 30th.
Enter for a chance to win some amazing giveaways using Rafflecopter below!
---
5 STARS!!!
Synopsis
Life isn't always about fairytales and happily ever-after's according to Seth Jordan. After having his world shattered and heartbroken beyond repair, he had always sworn off the idea of love. He was perfectly content with continuing his life with worthless one night stands and no strings attached sex. That was until one blue-eyed blonde managed to seep into places he thought were cemented shut.
Like a jack hammer, Mallory Prentice came into Seth's life and cracked the hard exterior that surrounded his heart. She's the one woman he was starting to feel might be worth taking a chance on.
But life doesn't always hand you the easy road. Sometimes you are constantly hit with the bad and have no hope of any good ever showing up.
Will Seth and Mallory realize that ultimately they are the ones who are in control of their life's outcome? Will they embrace the future and fight for their own happiness, or will they keep lingering in past mistakes and let it keep them apart?
Life is all about forgiveness and second chances. Once you come to that conclusion and just go for it, there is…no going back.
Kim's Review
No Going Back is the second book in Erika's Timing is Everything series ~ we had a glimpse of Seth & Mallory in Erika's first book Moving Forward! What I wasn't expecting from No Going Back is the ANGST ~ Jay-sus the freaking angst had me spending more time…


than I truly expected. Erika has the knack to make a reader …


and that I did ~ A LOT! But whew I wasn't expecting to walk right into a freaking mess that would have me ….


at times and downright …


at other times. We all know Seth that sexy as sin lead singer and Derek's brother was going to be one word H.O.T. and we already knew that his take on relationships was ~ well there are NO relationships ~ he says he doesn't do "LOVE" and there were so many times I wanted…


some ever loving sense in that boy. Mallory & Seth truly had it going on when they were..


yes there were no freaking problems in that department! They had chemistry the whole black your arse off when the final moment arrives and I have to admit I was a wee bit..


of our girl! Mallory admits her feelings to Seth in an attempt to save him from the ultimate "biatch" yes Allison made me want to ..


and then turn around and


her classy trailer park ass. I was astounded at some the events that occurred during No Going Back truly I was..


there were times while I was reading this book that I FELT like I totally was going to ..


I thought there is no way I can survive this and I totally…


for both Seth & Mallory to overcome every obstacle in their way and own up to their feelings. I was …


and I know I did so much ..


that I could clear a room out in a millisecond. We were blessed with the story being told in both POV's ~ Thank God so I knew what was going on in both their heads. We knew that Mallory was a strong woman that I truly felt deserved a freaking break but I could say the same about Seth. They both weren't dealt a fair hand in life when it came to their childhood.
I guarantee that once Erika gets down throwing your arse on an emotional rollercoaster (She totally kicked my ass of the rollercoaster) you will be left …


and


Of course that's totally after you want to …


Seth a few times. I admit he had me down right ..


and at times I was so …


that I had to take twice as many smoke breaks reading this book than I normally do just to calm myself down.
No Going Back is not a 5 star read for me ~ Hell NO it was a 10 FREAKING OUT, SCREAMING, PUNCHING, CURSING, OH THE HEARTBREAK read that delivered EVERY DAMN THING I want out of a book. It is my FAVORITE book out of the series thus far ~ Heck, this made my all-time favorite book list!
Now I want you to get that little one click finger one clicking and buy NO Going Back NOW and then you put aside EVERYTHING and read it now and grab a huge stash of Kleenex, Toilet Paper or use your sleeve cause you are going to need it and when your done come to me so I can say "I told you so"
Kudos Erika you DELIVERED and DAYUUUUMMMMM did you ever give me one of the best reads of the year!!!
I was provided an ARC by the author in exchange for an honest review of No Going Back ~ I also purchased the book ~ cover is to die for and I just HAD to have this one as my own!!!!
About the Author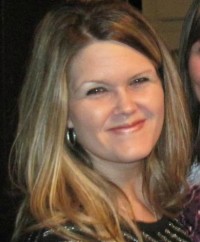 Being born an "Army Brat", Erika Ashby has been residing in Oklahoma the last 10 years finally putting an end to the nomad tendencies she had grown accustomed to. She's a happily married woman who has 5 kids between her and her husband. She has an insane passion for music and embraces her Inner Groupie any chance she has. It wasn't until the age of 29 that she realized she also had a hidden passion for reading; before then she claimed to have hated it. Six months after unlocking that deep desire she never knew she held, she turned the key to another chapter of her life which has become the desire to write. And the rest is still history in the making.
---
GIVEAWAYS
No Going Back (US ONLY)
No Going Back (US and INT)
Erika Ashby and Friends (US ONLY)
Erika Ashby and Friend (US AND INT)