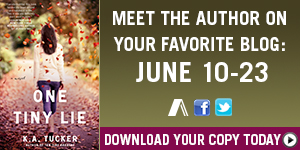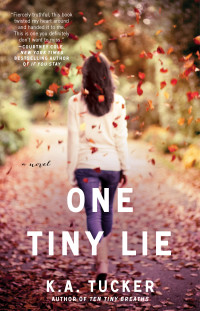 Today we welcome K.A. Tucker to our blog as she celebrates her new book One Tiny Lie which released on June 11th.
Enter for a chance to win an amazing giveaway using Rafflecopter below.
---
5 STARS!!!
Synopsis
Livie has always been the stable one of the two Cleary sisters, handling her parents' tragic death and Kacey's self-destructive phase with strength and maturity. But underneath that exterior is a little girl hanging onto the last words her father ever spoke to her. "Make me proud," he had said. She promised she would…and she's done her best over the past seven years with every choice, with every word, with every action.
Livie walks into Princeton with a solid plan, and she's dead set on delivering on it: Rock her classes, set herself up for medical school, and meet a good, respectable guy that she's going to someday marry. What isn't part of her plan are Jell-O shots, a lovable, party animal roommate she can't say 'no' to, and Ashton, the gorgeous captain of the men's rowing team. Definitely him. He's an arrogant ass who makes Livie's usually non-existent temper flare and everything she doesn't want in a guy. Worse, he's best friends and roommates with Connor, who happens to fits Livie's criteria perfectly. So why does she keep thinking about Ashton?
As Livie finds herself facing mediocre grades, career aspirations she no longer thinks she can handle, and feelings for Ashton that she shouldn't have, she's forced to let go of her last promise to her father and, with it, the only identity that she knows.
Denise's Review
One Tiny Lie is Livie's Cleary's story.  To the outside world, Livie is the sister who pushed through; the one who took her parents death in stride, the one who managed to keep her life on track to make them proud.
But what happens when what you think is your path turns out to be the dream of childhood and not the reality you can embrace as you become an adult?
Live's introduction to Ashton Henley is a smile on your face kind of first encounter.
Ash is everything Livie is not, and everything she thinks does not work for her.
Livie's thinks she has her future planned and when she meets Connor, Ash's friend, he fits her life's plan to a T, he is even from Ireland just like her dad.
As Livie struggles with the chemistry she and Ash share and the reality of life at Princeton; including her first non A grade, she is faced with the question of who she really is.
I have to say Ashton's "gesture" to Livie spoke volumes to me.  It was such a kind and compassionate act.  Ms. Tucker really showed the reader there was something else underneath his stoic exterior.
When Ash's backstory unfolds, I guarantee you will be gripping your kindle, your heart will break and his actions will make so much sense.  Outstanding!!!
Despite the fact that I typically read hotter books, that I don't always adore love triangles and that I usually hate cheaters; I loved this book.
So I think that speak volumes to the masterful writing and amazing story line!
One Tiny Lie was a captivating read, one that will stick with me and that I highly recommend.
I am very much looking forward to book 3 in this series.
Ms. Tucker shares his dream cast with us!!!

I find casting actors to be THE HARDEST thing to do. I have faces in my mind for all of these characters but they aren't people who exist, so when I have to find someone to replace those imaginary faces, it's a challenge. The hair is never exactly right, the eye color is off, I don't know if they can act exactly  how the character does in my head… But hair can be grown/cut and colored, contacts can be worn, and actors are, well, actors. They're supposed to know how to transform.

So… here is a cast I've come up with for One Tiny Lie.  I think my favorite match is Dr. Stayner…  🙂
---
About the Author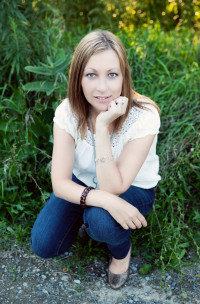 Born in small-town Ontario, Kathleen published her first book at the age of six with the help of her elementary school librarian and a box of crayons. She is a voracious reader and the farthest thing from a genre-snob, loving everything from High Fantasy to Chick Lit. Kathleen currently resides in a quaint small town outside of Toronto with her husband, two beautiful girls, and an exhausting brood of four-legged creatures.