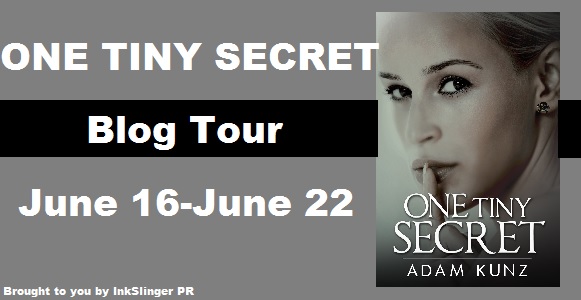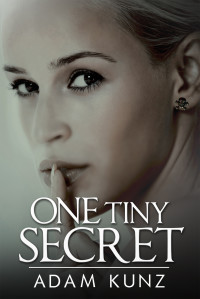 Today we welcome Adam Kunz to our blog as he celebrates his new book One Tiny Secret which released on May 16th.
Enter to win a chance for an amazing giveaway using Rafflecopter below.
---
5 STARS!!!
Synopsis
**Mature Content Warning** Recommended for 17+ due to language, violence, and sexual content.
Just one tiny secret has the potential to ruin everything.
Being the daughter of the sheriff in a small town like Holden Ridge means that eighteen-year-old Danielle "Dani" Marks' life is under constant surveillance. She's made a habit of staying under the radar by being a floater among social circles at school, which has kept her out of trouble—until now.
After a missing persons case stirs up the entire town, Dani finds herself caught right in the middle of the scandal. When she's labeled a possible suspect, things quickly go from bad to worse. The sudden return of her old flame, Parker Reed, manages to make her whole situation even more complicated.
When an elusive unknown person begins to blackmail Dani by threatening to reveal her deepest secrets, Dani refuses to play along. That is, until the person's actions take a violent turn. Holden Ridge loses its sense of quaint town security, and Dani is caught in a deadly game of cat and mouse.
Who can she trust when anyone around her could be a suspect?
One thing's for certain though: Never underestimate the power of one tiny secret.
One Tiny Secret Dream Cast
The Dream Cast post for a book is always one of my favorites to read, and also to write up! I love picking out the celebrity doppelgangers to my characters so that readers know how I pictured them in my head while I was writing. It's like letting everyone in on an inside joke that you're excited to include them in on.

I hope you enjoy my Dream Cast for One Tiny Secret!

 

1)      Dani Marks (the main character): I loved Hayden Panettiere's performance in Scream 4, and her "look" in that movie is exactly how I pictured Dani.

2)      Parker Reed (Dani's ex-flame): Matt Lanter, probably best known from the resurgence series of 90210, is definitely my top pick for his character.


3)      Phoebe Reed (one of Dani's friends and Parker's stepsister): So, I chose Teresa Palmer because I really like her as an actress (especially in the movie Warm Bodies) and she's exactly how I pictured Phoebe!

4)      Alex Bachman (one of Dani's best friends): The first person that came to mind when I started writing Alex's character was Emma Roberts. She has that spunk and snarkiness that Alex has in the book and I think she's a great fit for the character.

5)      Rory Sutton (one of Dani's best friends): I had to choose Matt Dallas from Kyle XY for his character. He is a PERFECT fit for how I see Rory!

6)      Janice Oliver (Dani's friend and next door neighbor): I've been quite impressed with the actress, Saoirse Ronan, and she is literally how I pictured Janice when I was writing.


 

7)      Kevin Warren (one of Dani's friends): Alexander Ludwig is definitely the ideal Kevin!

8)      Daren Marks (Dani's father): When choosing an actor to play the sheriff of the quaint town of Holden Ridge, there really was no question. I just had to choose Andrew Lincoln because I really like him as sheriff Rick Grimes in The Walking Dead!

Kim's Review
One Tiny Secret was ONE HUGE BALL OF FUN for me ~ I love me a good mind f*** with a huge twist and a little who-dun-it thrown in for good measure! I really didn't know too much about the book before hand other than the synopsis ~ I'm not one to follow teasers and such cause the anticipation for a book to come out literally eats me alive so when I started this one I was already thinking I would be …


Dani is an 18 year old high school senior. She's also the Sheriff's daughter and about to come face to face with the one guy she's loved ~ Parker! What Dani doesn't know is her seemingly normal existence is about to get a little creepy and down right scary! I loved that the book is based around Halloween and yes there were thoughts of …


going through my mind. Dani and her best friends Alex & Rory will have you …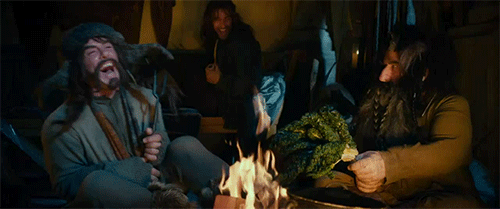 at times but when Parker returns from LA things start to get really interesting. Parker is the same gorgeous boy he was before he left but with a more pronounced "V" ~ I had to throw that in there because I laughed when that part was described! When Dani goes to Gunner's Halloween Party she is just looking for a good time and re-connecting with her old friend and neighbor Janice but when she wakes up the next morning things start to change and they does so in a big way!
While reading this one you can certainly play detective as the cast of characters are all there for you and I certainly had my suspicions of "who" the "Unknown" was but a book worth it's salt will ultimately shock you in the end with a twist that you don't see coming and One Tiny Secret had just that twist. Now how did this book make me feel well there were times where I was literally telling Dani to….


just go girl get the heck outta Dodge ~ there were some downright…


parts that I had the heebie-jeebies! But there also parts where I was thinking if I had Parker in my line of sight I would totally…


Yes I regress back to that gorgeous "V"! Seriously though things get down right freaky at times and I felt Dani's….


with the events going on around her and her father's lack of belief in what she told him. Now there were some …….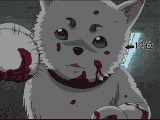 parts in the book that were needed to get the point across of how serious this was and when I got to the end I was…


well I didn't SEE that coming ~ then I was…


since I got to read a book of the beaten path of normal but also had the elements of a good read. One Tiny Secret was 5 stars for me and it was also a book I gobbled up quickly! It had me turning the pages quickly cause I seriously needed to know WHO was behind everything! I look forward to more from this Author who was able to interject some hot sexy males, bad arse female lead and enough creepiness that you might be checking out every little bump, scratch or perhaps scream you here in the night!
I was provided an advance read copy of One Tiny Secret in exchange for an honest review and my review is part of the Blog Tour for this awesome read!
About the Author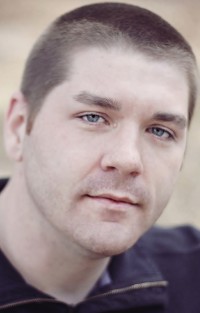 Adam Kunz is the A part of the mother and son author duo C.A. Kunz. Growing up, he always had a fondness for R.L. Stine's Fear Street series. So, it was a no brainer when he decided to write his own novel that it'd be a thrilling mystery with a dash of horror, and some romance thrown in for good measure. When he's not busy writing, Adam enjoys his job at a theme park in Orlando, Florida as a décor consultant. This job brings him face to face with all sorts of nightmarish creatures, especially when he decorates the haunted houses for the park's annual Halloween event. It's been said by many that his addiction to Starbucks coffee will most likely be his downfall later in life.