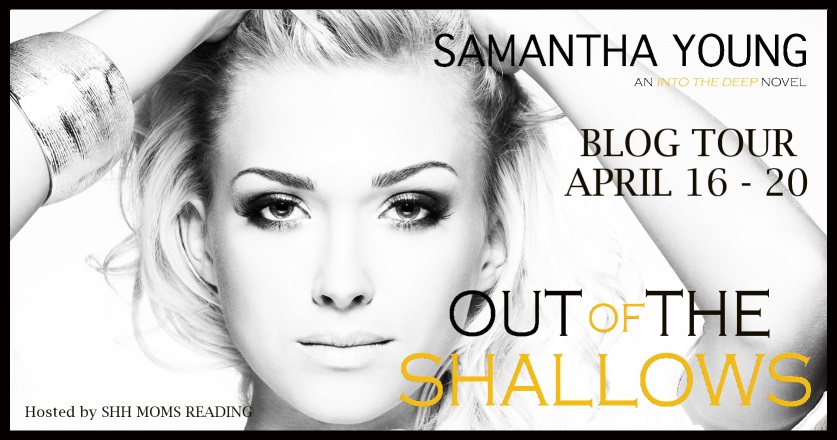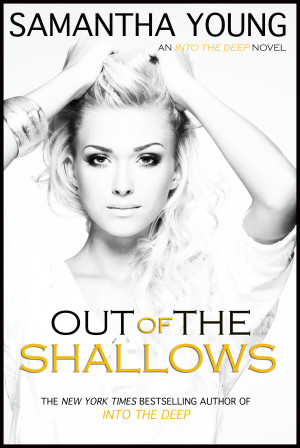 Today we welcome Samantha Young to our blog as she celebrates her new book OUT OF THE SHALLOWS which released on April 15th. Enjoy Christine's 5 STAR Review below and a Deleted Scene from the book.
If that's not all, there are TWO signed paperbacks of OOTS up for grabs – enter using Rafflecopter below. Good luck!!!
---

From the New York Times bestselling author of Into the Deep…
LIVE YOUNG. LIVE HARD. LOVE DEEP.
Charley and Jake's story concludes in Out of the Shallows…
Somehow, after everything they've been through, Jake Caplin and Charley Redford made their way back to one another. But finding each other and staying together are two completely different things.
When Charley's world is flipped upside down, she begins to question the choices and decisions she's made since her arrival in Edinburgh, and in an effort to grip onto what she holds most dear she believes she must sacrifice her love for Jake.
Returning to the States for her senior year, Charley struggles to find peace and happiness. While everyone else seems to be finding themselves in college, Charley is terrified that, along with almost everything else that's important to her, she's lost herself.
While friends and family deal with their own tumultuous lives, there is one person resolved to uncover the reason behind Charley's sudden defection and unhappiness. Refusing to give up without a fight, Jake believes he is the only one who can truly understand what Charley is going through, and this time he's determined to prove he's there for her no matter what obstacles are thrown in their way.
However, as Charley strives to make it through the biggest personal journey of her life thus far, there is no guarantee that the woman she is becoming will still need Jake as much as the girl she once was did…
There isn't anything that I won't read by Samantha Young.  Jake Caplin was one of my book boyfriends of 2013 and I couldn't wait to dive back into his and Charley's love story.
Now I must admit to being SO torn while reading this book.  While I had hoped for butterflies and rainbows, we see this young couple separated for a lot of the book as they struggle with young love. Understandably from Charley's side, after all the hurt she has been through, I see that she is reluctant to give her all and my heart can't help but break for poor Jake who has worked so hard to prove himself to the woman he loves.
There was so much angst and emotion in OOTS – Samantha does this so so well again and again, drawing the readers in and captivating us so deeply that we can't put her books down!
Being young, we all strive to make our parents proud.  We always try to do the right thing sometimes sacrificing our own happiness to not disappoint the ones we love.  Charley will go through a lot of soul searching in this book trying to figure out who she is and what she wants.  For me it was a difficult journey to be a part of because I wanted to help her, I wanted to hold her hand when she was feeling lost and alone.  Charley was so different in this book than from what we came to know from Into the Deep.  She was a shell of her true self but I truly feel that she had to go through this difficult journey to find herself again and truly love herself again and to really love the one she wanted to be with in the end.
There are so many things that were so well done in this book – the dual POV's in past and present giving the readers further insight into their story, the secondary characters who each added so much depth to the story – allowing the reader to care about everyone's happiness not just Charley and Jake.  Reading OOTS and seeing these characters was like returning to family – I am so vested into each and every one of their life stories and yes for each of them I do hope we will see more for them in the future (hint hint!).
The best thing of all is Samantha's message that shines through this book so loud and so clear…life is too short to waste time.  In life, there is always uncertainty, you can never guarantee a clear outcome.  It's about taking chances, taking risks and knowing who you are and what you want out of life.  When you figure those things out, you fight for what you believe in.  And I truly felt that these characters did just that.
In the end, we get the perfection that is Samantha Young drawing us into another magical story of hope and love, where we will experience the gamut of emotions and in the end come out with more love in our hearts for these beautiful characters she gifted to us; always wanting and hoping for more to come…so YES I do hope that one day we will see these characters again as I would like to spend more time with them as they will not be easily forgotten and are embedded deeply into my heart. <3
Job well done as always!!! <3 <3

Enjoy a deleted scene from the book!
Edinburgh, March 2013

Although it was past three in the morning and even the nightclubs had closed, I could still hear obnoxiously drunk people below my window on the Cowgate. Beside me—tucked tight between the wall and me in my very small bed—Jake slept through it.
I, on the other hand, couldn't sleep. My brain was too full, every little thing, issues, racing through it. It had been such a long day—my dad turning up, Jake discovering the truth about Alex and then me hurting him, again, by not telling him I loved him back.
Realizing I wasn't going to sleep any time soon, I carefully slipped out of Jake's arms and padded across the room. I shivered in the cool air, pulling on a robe to cover my short shorts and tank top.
As silently as possible, I made my way into the dark kitchen, switching on the light and blinking against the too-bright florescent bulb. I shuffled toward the kettle, feeling the drag of exhaustion in my body, despite my wide-awake brain.
I was just about to settle on the chairs by the window with a mug of hot cocoa when the kitchen door creaked open and Claudia darted in wearing pink flannel kitten-print pajamas. Her dark hair was piled in a messy ponytail that bounced as she walked.
I smirked at her jammies. "Look at you, all adorable."
Claudia smiled wearily. "I couldn't sleep. Heard you get up."
I lifted my mug. "Do you want me to make you cocoa?"
"I can get it."
I watched her as she did just that. "Why can't you sleep?"
She shrugged. "We're going to Barcelona in a few weeks. I'm starting to get really nervous. It doesn't help my stepdad found out about it and actually has a opinion."
"I'm guessing it's not a good opinion?"
"No," she snorted. "He thinks I'm wasting my time and his money."
God, I hated that guy. "He's a real prince."
She shot me a smirk over her shoulder. "I'm actually kind of glad I'm not related to him. It never added up."
"Do you mean that?"
Claudia nodded, taking the seat beside me. She sipped at her cocoa, staring out the window. "I know people have it way worse than me, Charley, but I can't remember a single time in my childhood where I felt truly happy. I was always trying to be perfect for them, for him, so that he would finally notice me." She looked at me sadly. "And he never did. And apparently, I'm adorable."
I smiled. "You are. And he missed out big. He doesn't get to have an opinion about this."
"You're right." She nudged my foot with hers. "So I didn't get a chance earlier to ask you how you are. Jake told us your dad's here."
If Claudia were anyone else, I'd feel awkward about talking about my dad to someone whose own father was a class-A prick. My dad, so freaking concerned about me, flew over an ocean. But this was Claud. She got it. "Yeah. He was worried. You're coming to lunch with us tomorrow—or today, actually, right?"
"Of course." She cocked her head to the side, studying me. "Why can't you sleep? Is it your dad too?"
"My dad, Jake, you, Beck, Lowe. I haven't seen Rowena for a while."
"She's still hanging out with Denver, but she's also still pissed at Matt, so she's not really keen on the group-hang right now. I wouldn't worry about it."
"I don't blame her."
"So." Claudia frowned. "I'm cluttering your worried head. Why?"
"Because you're dealing with a lot and sometimes I think I'm too preoccupied with my own problems. It bothers me."
"You're allowed to have your own problems and unfortunately, there is nothing you can do to fix mine. And I know that must drive you crazy, but it's true."
"I could smack Beck upside the head?"
Claudia snorted again. "Oh yeah, because I saw you doing a great job of that when you melted under his puppy dog eyes at Teviot yesterday."
I wrinkled my nose. "Sorry. It's just so obvious that he cares about you that I can't get the proper fire under me to kick his ass. He and Jake are very similar that way. It's like they glamor you or something."
She laughed quietly. "I know, believe me. But you should stop worrying about Beck and me. I've been talking a lot to Lowe and I think I had an epiphany."
Intrigued, I leaned forward. "Do tell."
"Well, did you know that Lowe was once in love?"
Completely taken aback by this revelation, I silently shook my head.
"Yeah," Claudia nodded. "He told me all about it. Her name was Valerie. They were in high school. They started dating sophomore year but they'd been friends since they were kids. Just before they graduated, she broke it off. She'd met someone at college orientation months before and had been chatting with this guy online the whole time running up to graduation. Lowe doesn't even know if she technically cheated on him because she was totally callous when they broke up and didn't tell him a thing. She just told him it was over. No other explanation. And he said that up until that point, there were no signs. He thought she was amazing and that they were perfect together. After they broke up, his friends all told him that they'd always thought she was a bitch. Lowe couldn't see it. He'd known her for so long. Turns out he didn't know her at all."
My chest ached for him. "That's awful."
"Yup. That's why he doesn't do serious relationships." Claudia eyed me carefully. "What he said to you … when we were in Fort William … I think he meant it. He would've gotten serious for you, but he knew it would just be another Valerie situation because you're hung up on Jake. I get the feeling twice burned, he's not coming back for a third try with someone else."
I frowned. "I hope that's not true. He would make some lucky girl very happy."
Claudia nodded. "Well, he told me the story for a reason. Basically, he spent months afterwards making himself crazy trying to work out what it was that he had done wrong. Finally, he realized that it wasn't him, something I could've told him flat out. Which is what I said to him. And you know what Lowe said to me?"
"What?"
"He said, 'You say that, but you can't even see that that's what you're doing to yourself.' And he's right. I'm spending all this time thinking that Beck not wanting to be with me is my fault somehow. And I know that's not just because of Beck—it's my daddy issues rearing their ugly heads." She made a face. "I know you've said the same thing, but it was the way Lowe said it. For a guy who was blinded by his high school sweetheart, he can be crazy perceptive. I never knew the situation was so bad that even Lowe, a guy I hang out with but had rarely spoken to, could see what this whole Beck thing was doing to me. That was a wake-up call."
I could've kissed Lowe. "That boy is a miracle worker."
Claudia smirked. "Beck's my friend. My good friend. But that's all he's ever going to be. That's all I want him to be because I know when I meet the one, there won't be anything that'll stop him from wanting to be with me."
I sipped the last of my cocoa and then asked carefully, "Have you discussed this with Beck? It might help if he knew where your head was at."
She shrugged. "I think he knows. It's not the same between us anymore."
"Are you going to go on tour with the band this summer?"
Claudia grinned. "I've been sending their tapes out and booking them paid jobs and it's satisfying. It's fun and I'm good at it. But touring as their manager? I don't know. I suppose it would look great on my resume."
"Then do it."
"Yeah, but then I'd be stuck on tour a whole summer with guys in a rock band."
I laughed quietly. "True. But it might be fun."
Her smiled turned mischievous. "I didn't say I wasn't thinking about it."
We were silent a moment, staring out onto the empty courtyard below.
"So you and Jake?" Claudia asked tentatively.
I shrugged unhappily. "He wasn't happy to learn about Alex."
"You finally told him?"
"Technically, my dad did."
Claudia chuckled. "Way to go, Jim."
"Yeah. Despite my dad and his misgivings, I thought Jake and I were going to get past it but …"
"But?"
I frowned. "He said I love you again."
She scowled. "And you didn't say it back? Again?"
"No." I flinched at the disapproval on her face. "It's not that simple." Sensing an argument on the horizon, I swiftly changed the subject. "You know it makes sense now why Lowe was always on my side last semester. I guess he kind of knew what I was going through. No wonder he cast Jake as the villain."
Claudia studied me a moment and I waited to see if she'd pursue the whole "I love you" topic or give me a pass. She sighed. "Yeah, it had nothing to do with the way your boobs look in that tight Pearl Jam shirt."
I smiled gratefully at her. "It is a sweet shirt."

Samantha Young is a New York Times, USA Today and Wall Street Journal bestselling author from Stirlingshire, Scotland. She's been nominated for the Goodreads Choice Award for Best Author and Best Romance for her international bestselling novel ON DUBLIN STREET. ON DUBLIN STREET is Samantha's first adult contemporary romance and has been sold in twenty six countries.
---
Series Reading Order
Book 1 – Into the Deep

Book 2 – Out of the Shallows