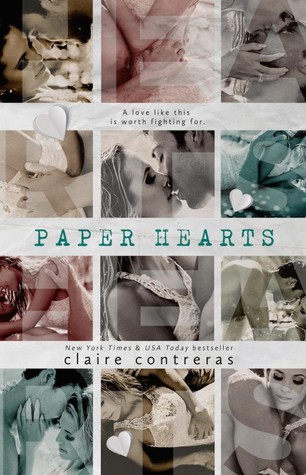 Paper Hearts

by Claire Contreras
on September 9, 2015
Buy on Amazon
Goodreads


I lost her.

No, I didn't lose her. I threw her away.

She was my best friend.

I was never supposed to fall in love with her.

I was careless.

She was heartbroken.

I was doing fine until she came back into my life and reminded me what love was supposed to feel like.

When it's all said and done, she may not want to stay, but this time I'm going to do everything in my power to not let her go.
I devoured this book while on my tropical vacation a few weeks back…the kids were with my husband and I got to step away and immerse myself into the beautiful story that Claire created. I LOVE LOVE LOVE second chance love stories and the way that Mia and Jensen ended up in each other's path in life again after so many years was so fitting and just complete perfection to read and experience firsthand.
Jensen Reynolds and Mia Bennett's story began when they were children. They grew up together, fell in love and ended up broken hearted (their story was published in a short novella titled Torn Hearts where the reader goes back to the beginning to where it all began – Paper Hearts is the continuation of their story..where we find out if they can ever repair what was broken).
What I love about second chance romances is that idea of soulmates, that though circumstances could tear couples apart, that even when time passes that the feeling of love and attraction is still present…that fate happens beyond our control and what is meant to be is meant to be. I do believe that there is a higher power that determines who we are meant to be with and despite the hardships and heartbreak, beyond dating other people who were not right for them – that Mia and Jensen were always meant to be together.
Jensen…wow…Jensen was the best guy EVER! He never forgot his first love, always hoping that they could find their way back to each other again. I wanted to hate him for what he did to Mia but I didn't..it was honestly hard to because he loved her so much, he showed her in so many ways and he was relentless in his pursuit to make her his again. He wanted her to trust him again and his honesty, kindness and the way he poured his heart and soul to her, to show her how much he has grown up and changed touched my heart. I LOVED him IMMENSELY.
I have said it before and will say it again…Claire Contreras grows as an author with each and every book that she publishes. Love is worth making sacrifices for. Paper Hearts is a love story that was real, touching and heartwarming and I will read everything and anything this author writes. I can't wait for more stories from the characters in this series <3
"My life has changed. I've changed, but my love for you is constant."
P.S. I absolutely LOVED the use of "Jensen Talks" – I won't tell you what that is because you have to read the book but I loved being in his mind and his words and thoughts definitely put a smile on my face.

Prologue
Jensen
I don't take ownership in a lot of things. I rent an apartment, lease a car, and go to a no-contract gym. I have a wandering heart—an incessant mind. It's hard for me to look at something and see forever; though I had a forever once.
I let her go, not because I loved her too much to ask her to stay, but because I couldn't bear to hear her tell me she wouldn't. Still, every once in a while I wonder.
And nothing is more haunting than regret.

♥READ THE SERIES♥
Book 1 – Kaleidoscope Hearts
Book 2 – Paper Hearts