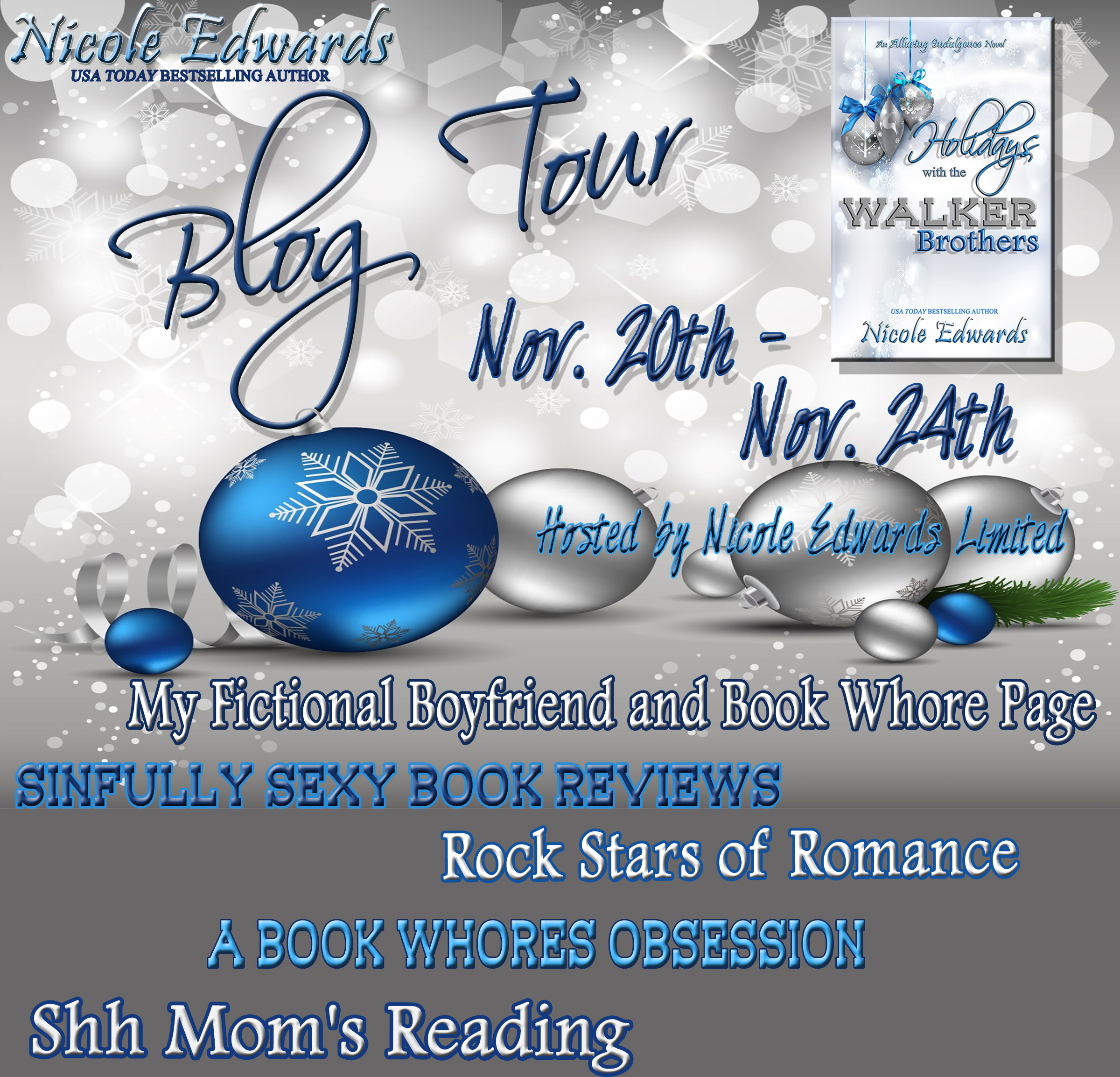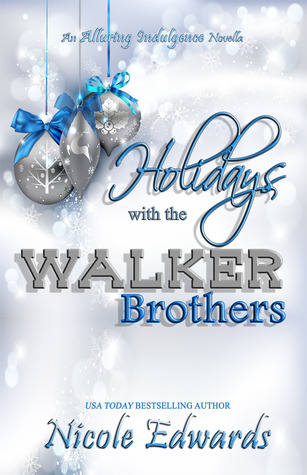 Enjoy part 2 of our day with Nicole Edwards and the Walker Brothers with the exclusive below.  We are BEYOND ECSTATIC to share this with you.
You can read Denise's 5 STAR review for Holidays with the Walker Brothers here.
Enter for a chance to win some amazing giveaways using Rafflecopter below!
---
And for the news we have been DYING to share with you……
We've been informed by Nicole that ETHAN will be the next book in the Alluring Indulgence series!!! ETHAN will be Alluring Indulgence Book #5!
Nic hasn't shared a release date as of yet, but she has promised to let us know as soon as she has one!!!
Let the excitement begin!!!
Enjoy the teaser below!!!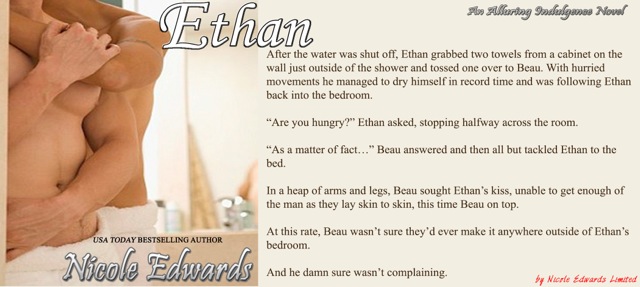 Permission is NOT granted to re-post this content anywhere, so please don't do it. You may link to this page if you want to share it with others.
Unedited excerpt – may be modified and/or deleted prior to publication
The sensual moans that escaped Beau's mouth had Ethan increasing the tempo until he was lunging forward deep, retreating slowly, over and over. Faster, harder, until they were both breathing hard, unable to sustain the kiss because the need for oxygen was just too great. Their eyes were locked on one another and something ignited deep in Ethan's chest.
This… this was different.
Right here with Beau, Ethan felt a connection he'd never felt before. As though not only was he making love to Beau's body, but he was also making love to his soul. The two of them the only people in the world. The only thing that mattered was the way their bodies slid together, a sense of fulfillment overwhelming the loneliness that Ethan had felt for so long.
Needing to pull himself back from the unacceptable possibility that Ethan was getting in over his head, he began pounding his hips against Beau, holding himself above him with his arms while Beau gripped his hips, pulling him in deeper with every downstroke.
"Fuck," Ethan growled. "It's too good." Better than anything he could recall and the way Beau's body gripped him even tighter had Ethan's breath catching in his chest. Oh, fuck. He was going to…
"Come for me," Beau urged. "Come inside me, Ethan."
The way Beau said his name, it was like coming home. Finally, a place to end up that wasn't empty and desolate, despite all of the fancy furnishings. This was what it meant to feel complete. A man who looked deep into your eyes and connected with your soul.
Ethan wasn't able to hold out any longer. "Stroke your cock," he demanded. "I want you to come with me." Although, Ethan wasn't sure he could wait long enough for Beau to make that a reality.
Beau gripped his cock with one hand, the back of Ethan's neck with the other and stared deep into his eyes. Ethan began slamming into him, the friction and heat of Beau's amazing body taking him higher than he thought possible.
"I'm gonna come," Ethan said, biting his bottom lip, praying that Beau was close. "Come for me, baby. Come with me."
The deep growl that emanated from Beau's chest sent a shiver igniting at the base of Ethan's spine and racing upward at lightning fast speeds. Beau's hand stilled, his cock jerked and spilled semen onto his perfectly defined stomach at the same time Ethan erupted in his ass. His entire body was consumed by sensation, a strange feeling that he was floating overpowering him until he could hardly hold himself up any longer.
Beau's arms wrapped around him and Ethan realized he'd collapsed onto Beau's chest, the sticky warmth of Beau's cum coating his stomach. They were both breathing heavy. Ethan knew he should move. He knew he was supposed to detach himself from this man, to keep that well implemented distance between them but he couldn't find the energy to move.
By the time the world stopped spinning, Ethan had no idea how much time had passed, but the gentle stroke of Beau's callused fingers down his back was soothing him into sleep and he wasn't quite ready for that.
Forcing himself up, his muscles immediately argued with his brain's decision, but he ignored them. He needed to get a wash cloth and dispose of the condom. Maybe after that he could return to the warmth of Beau's arms.
When Beau abruptly shifted off of the bed as soon as Ethan was off of him, he wondered if maybe he was already in over his head.
And worse, he wondered if he was the only one.
About the Author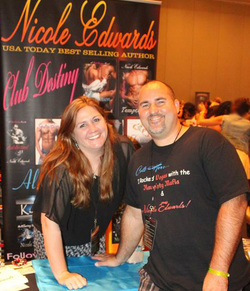 Nicole lives in Texas with her husband, Colt, three kids and four dogs. It's quite the household and most of the time you'll find her locked away in her office… writing. When she's not, you'll likely find her reading, swimming, or hanging out in the yard with the dogs, doing her best to keep them in line. (And no, it doesn't usually work)
Ever want to let that other part of you loose? The part that has secret desires and taboo fantasies? Well, that's what brought about Nicole Edwards. She's an alter ego. In truth, she's a full-fledged part of me. The secret part made up of sinfully hot desires and erotic thoughts. Get to know how Nicole's naughty mind works by checking out her books!
About me… hmmm…
Ok, I've been asked to provide a little bit of "real" information about myself. That's harder to do than you think it is, especially for someone who has difficulty talking about themselves. 😉 But, here goes…
I've been writing for as long as I can remember. Ever since I was a kid, I loved creative writing and as I got older, I got acquainted with those voices in my head and that led to putting my stories on paper. And now, here I am all these years later, spending my days doing what I love most. I decided to give myself over to writing full time in 2012 and I haven't looked back. I spent nearly 13 years in the corporate world and I have to say, this is a bit of a change (just a little) and I am loving every second of it.
I live in Texas with my husband and three amazing kids and our four beloved dogs. If I'm not writing, I'm usually reading. I devour everything I can get my hands on. I love romance of any type and being an Indie author myself, I'm always looking for new Indies to support. I haven't always been into reading, but about eleven years ago, I picked up a book – I'm pretty sure it was by Nora Roberts – and from there, I haven't stopped. Before I began writing full time, and my characters started taking up so much of my time, I was reading about 200 books a year. That has dwindled somewhat, but there isn't a day that goes by that I don't read.
An interesting fact… I don't watch television – aside from the occasional news anyway. I will go see a movie or two rarely, but for the most part, I get all of my entertainment from a book. Some of my favorite authors include J.R. Ward, Suzanne Brockmann, Lora Leigh, Jane Rylon, Lori Foster, and Jaci Burton just to name a few.