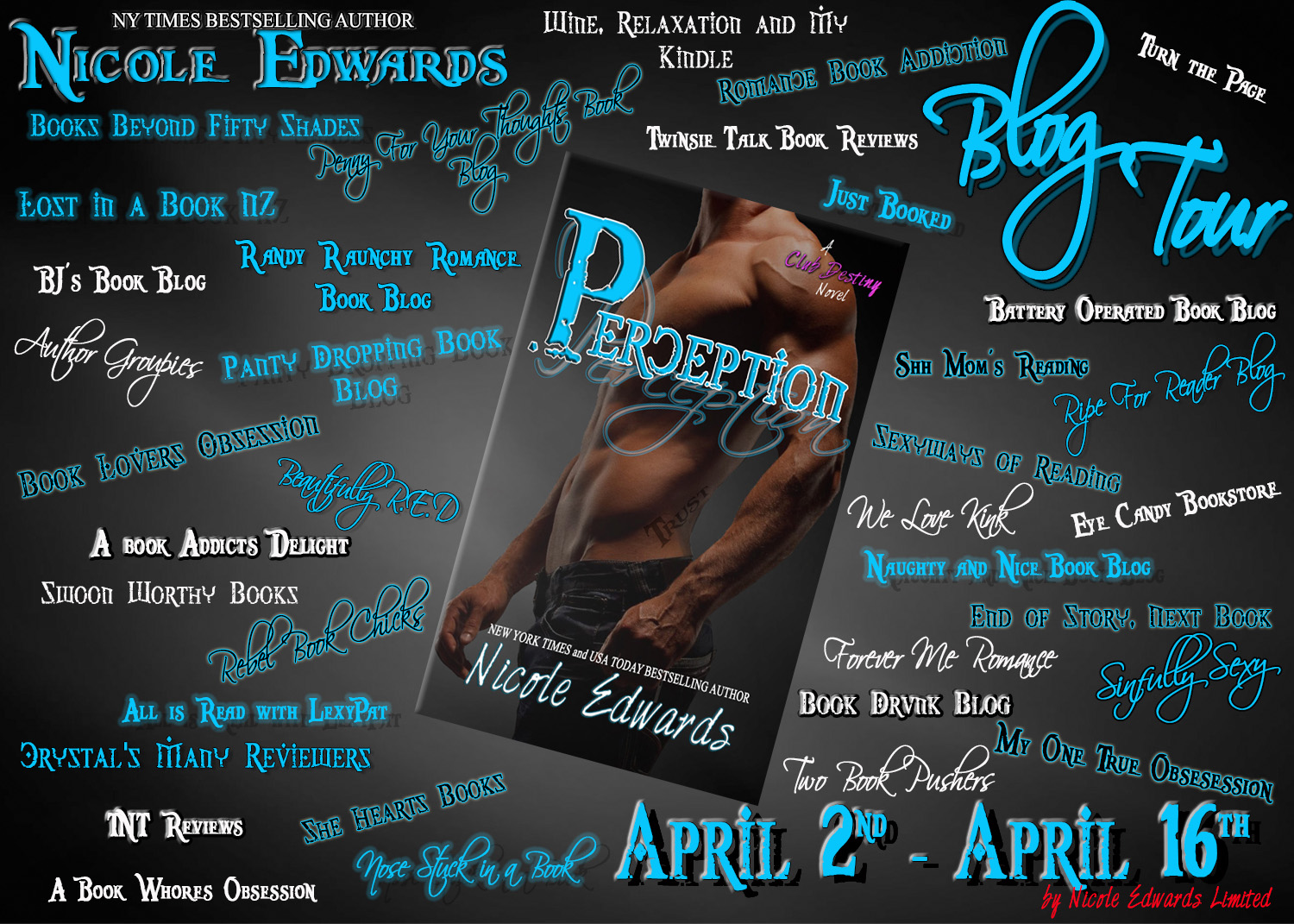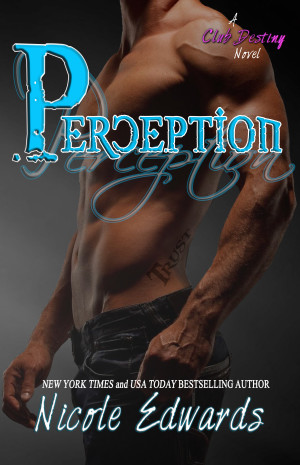 Today we welcome Nicole Edwards to our blog as she celebrates her new book PERCEPTION which released on April 1st. Make sure to enter the giveaway below – GOOD LUCK!!
AND…if that's not all….Enjoy a sneak peek into Entrusted (Club Destiny #6.5) below!!!
---

Xander and Mercedes both know firsthand what it feels like to be in total control. The question is… who really holds all of the power?
Xander Boone has never had a problem going after what he wants. In fact, he has built his life around doing just that. And he has a rather impressive track record. But Xander finds himself up against his biggest challenge yet. As fate would have it, Xander's greatest desire is a woman who has always been off limits to him. One he wants more than his next breath. Nothing about her is easy, but then again, things that are worth it never are. So, when the perfect opportunity presents itself, Xander knows it's time to call in a favor. Mercedes Bryant believes there is only one way to do something. She also knows what Xander wants isn't possible. But she's about to learn that you shouldn't always believe what you think you see. And Xander is going to be the one to teach her that lesson.
Warning: This ebook contains sinfully hot encounters between consenting adults. This book includes voyeurism, public exhibitionism, and mild elements of BDSM. Contains graphic material that is not suitable for anyone under the age of 18.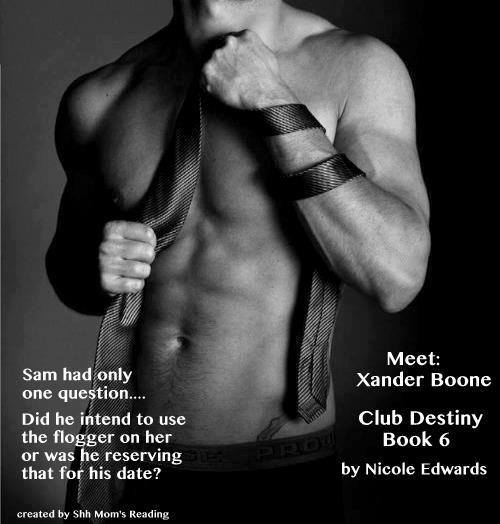 Perception is the story of Xander Boone, a man readers of the Club Destiny series met in Devotion and readers of the Alluring Indulgence series meet in Travis; both have him in critical scenes at the end of both books. Since I have read both books I was awaiting Xander's story with bated breath and Ms. Edwards did not disappoint.
This sexy and very large man that is Xander Boone or X as Mercedes calls him was I think one of Ms. Edwards' top male characters to date. I absolutely loved Xander; he is successful, accomplished, he knows what he wants and he is so well dressed; yes shh I am a sucker for a man in a custom suit. I also love that Xander was not broken, this story was about Xander wanting what he feels will make his life complete, Mercedes.
Ok I should probably say this book is about Xander Boone and Mercedes Bryant. Mercedes is hinted at in prior books but you get to meet her in this book and you truly get to see why X thinks M is the missing piece in his life. I really liked Mercedes, a strong career driven woman who thinks, I stress the word thinks she knows what she wants out of live.
So you ask how does Xander pursue someone who is already in his life; well I will not tell you his master plan but I will say it tied right into a scene in Devotion. It was so well done, a scene in Devotion that left so many readers wanting more was completed here and truly became critical to the plot of this book.
As the book progressed, I love that despite the best laid plans Xander was still taken aback by Mercedes and his feelings for her and how all encompassing M becomes to him.
There were so many wonderful scenes in this book; scenes I know will stick with me long after closing this book.
The scene with many of the men from this series having guy's night at a Cigar Lounge allows glimpses into these men that truly had me feeling like I was sitting in the room with them.
This scene and many others not only allowed me to visit with a cast I already loved, it gave me new characters to adore; yes I wanted to know more about Trent Ramsey and Shane Gibson (Shane, X's best friend made for many wonderful scenes and memorably dialogue between Shane and Xander both as it relates to business and pleasure).. and oh please do not get me started on Elijah Penn. I am pleased that Elijah is getting his story told very soon in Entrusted (Club Destiny 6.5).
The way old and new characters were woven together truly made me feel like I was part of Mercedes and Xander's world.
Speaking of Xander's world; I adored Mr. and Mrs. Boone, Stella and Stan, Xander's parents made for amazing scenes, they truly helped the reader understand Xander and in the end the way Xander looked at this father is something I hope many sons see in their own fathers.
As this book approaches the end, the reader gets to witness a scene that for me had all the pieces falling to place and I have to say I smiled from ear to ear; trust me when you get to the scene you will know why for me it sealed the deal, I loved Xander and I knew Mercedes had his heart, mind, body and soul.
This book allows the reader to really think about what could happen when you are willing to open your bed and your heart to the person who already means so much to you.
Between 92 and 95 percent Xander stole my heart! The end of this book and epilogue of this book truly tied so much together for me, I know M and X are meant for each other and their relationship is truly what both need to feel complete.
As a reader and reviewer I am continually amazed at how Ms. Edwards improves and hones her craft. Her development as a writer over the course of this series is truly something she should be proud of.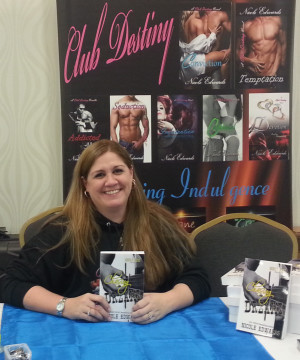 Nicole lives in Texas with her husband, Colt, three kids and four dogs. It's quite the household and most of the time you'll find her locked away in her office… writing. When she's not, you'll likely find her reading, swimming, or hanging out in the yard with the dogs, doing her best to keep them in line. (And no, it doesn't usually work)
Ever want to let that other part of you loose? The part that has secret desires and taboo fantasies? Well, that's what brought about Nicole Edwards. She's an alter ego. In truth, she's a full-fledged part of me. The secret part made up of sinfully hot desires and erotic thoughts. Get to know how Nicole's naughty mind works by checking out her books!
About me… hmmm…
Ok, I've been asked to provide a little bit of "real" information about myself. That's harder to do than you think it is, especially for someone who has difficulty talking about themselves. 😉 But, here goes…
I've been writing for as long as I can remember. Ever since I was a kid, I loved creative writing and as I got older, I got acquainted with those voices in my head and that led to putting my stories on paper. And now, here I am all these years later, spending my days doing what I love most. I decided to give myself over to writing full time in 2012 and I haven't looked back. I spent nearly 13 years in the corporate world and I have to say, this is a bit of a change (just a little) and I am loving every second of it.
I live in Texas with my husband and three amazing kids and our four beloved dogs. If I'm not writing, I'm usually reading. I devour everything I can get my hands on. I love romance of any type and being an Indie author myself, I'm always looking for new Indies to support. I haven't always been into reading, but about eleven years ago, I picked up a book – I'm pretty sure it was by Nora Roberts – and from there, I haven't stopped. Before I began writing full time, and my characters started taking up so much of my time, I was reading about 200 books a year. That has dwindled somewhat, but there isn't a day that goes by that I don't read.
An interesting fact… I don't watch television – aside from the occasional news anyway. I will go see a movie or two rarely, but for the most part, I get all of my entertainment from a book. Some of my favorite authors include J.R. Ward, Suzanne Brockmann, Lora Leigh, Jane Rylon, Lori Foster, and Jaci Burton just to name a few.
---
Club Destiny Series Reading Order
Book 1 – Conviction (paperback)

Book 2 – Temptation (paperback)

Book 2.5 – Addicted

Book 3 – Seduction

Book 4 – Infatuation

Book 4.5 – Captivated

Book 5 – Devotion

Book 6 – Perception

---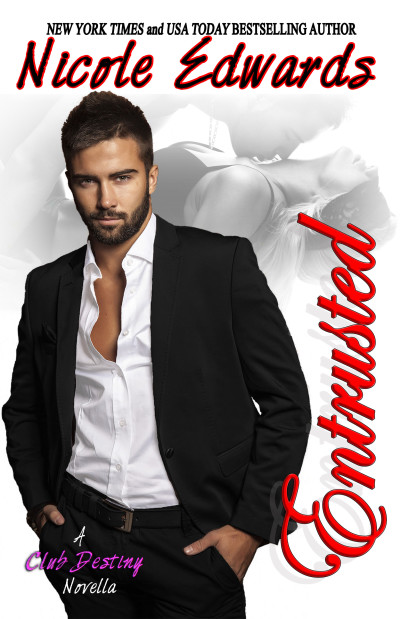 Note from the Author:

As many of you know May is National Mental Health Awareness month and with Nicole's own daily battle with depression, this topic is very close to our hearts. Last year we had honor of being invited by Denise Milano Sprung to team up with the Keith Milano Memorial Fund,  a fantastic organization that brings awareness to Mental Health issues, education, and support through the American Foundation for Suicide Prevention. We feel that with the help from you and all our fantastic readers, we did a tremendous job last year fundraising!!

This year Denise has extended her invitation to us again to join forces with her, Keith Milano Memorial Fund, AFSP and many other fantastic authors to make this May even better than last year! We are honored to be able to participate again this year!

With that being said, to kick off our donation drive on May 1st, we will have a Club Destiny Novella being released for May Mental Health Awareness! A portion of not only that book but all our Club Destiny sales in May will go towards the fundraiser.

Entrusted, Club Destiny #6.5, is coming out May 1st. It will be a Novella for Sam and Logan. It does follow Perception in the time line of the Club Destiny Series.

Elijah Penn

Handsome. Successful. Single.

And looking for a polyamorous relationship.

It has been four years since his wife died, but Elijah knows that there will never be another woman who will claim his heart and he isn't willing to replace her. He isn't interested in marriage, but he is interested in something with a future.

Logan and Samantha McCoy

Attractive. Ambitious. Married.

And looking for a polyamorous relationship.

Logan and Samantha spent the last year and a half avoiding a very specific desire that neither of them can quite let go of. They aren't interested in a casual fling with a stranger, so they've been holding back.

PREORDER HERE

Disclaimer: May be edited or deleted prior to publication.  Permission is NOT granted to re-post this content anywhere, so please don't do it. You may link to this page if you want to share it with others.

"So, fucking sexy," Logan told Sam, smiling down at her while he held tight to the nylon straps suspending her from the ceiling. "I'm going to get one of these for the house."
Sam smiled up at him, her hips undulating as though she might actually be able to control the swing. Logan held firm, not allowing her to move.
"You feel so good," he told her.
"Not as good as you," she moaned again. "Please, Logan! Fuck me!"
He never could resist her when she got demanding.
"My pleasure, baby."
With slow, rhythmic movements, Logan put the swing in motion. As he pushed gradually on the straps, his cock pulled out of her until only the head was inside. And when he pulled her back toward him, using the momentum of the swing, he thrust his hips forward, driving himself into her.
He wasn't sure how he managed to keep his legs from going out from beneath him, but long minutes passed as he continued to maintain a steady pace, unwilling to go too fast because she felt so fucking good.
Logan was just about to increase the tempo when Sam's attention moved toward the door. Without looking behind him, Logan felt the presence of another person. When Sam's eyes darted up toward him and then back to the person, Logan knew exactly who was there. Even if Sam didn't know who he was.
Natural possessive instincts kicked in, putting Logan on alert. He was all for Elijah Penn watching them, it was part of his overall plan for the evening; however, because this was their first interaction, he wouldn't allow Elijah to get too close.
Wanting to pull Sam's attention back to him, Logan began to increase his tempo, driving into her as he jerked the swing back at him, lodging him deep. "So tight, baby. I want to feel you come on my cock. Can you do that?"
"Yes," she whispered, her eyes locked with his once more.
Logan could see the interest, the obvious arousal from the added audience, but he refused to let his attention stray. At least for now.
"Do you want it fast and hard? Or slow and easy?" he asked Sam, knowing he was going to be pushing his luck if she went with the latter.
"Slow. And deep. God, it feels so good."
Sam's breaths were labored as he continued to thrust into her, fighting to maintain a steady pace, but as more time passed, as his balls drew up to his body, Logan knew it was only a matter of time before he was going to lose it.
Sam's eyes diverted once more and that's when Logan noticed Elijah moving into his peripheral vision. As he had been last night, Elijah was nicely dressed, his black slacks and jacket contrasted with the white shirt he wore. The man was nice looking as far as Logan was concerned – but he also didn't look like the type of guy who would walk in on them like this.
Just because he looked that way, didn't mean he wasn't that way. Logan already knew what Elijah was looking for.
Another part of the plan.
"Your wife is very beautiful," Elijah said with only a brief hint of an accent.
Logan didn't respond.
"What do you want me to do, Sam?" Logan asked, focusing his full attention on his wife. This was exactly how Logan had intended tonight to go.
Logan knew Sam. He knew that she was mollifying him with her agreement to try out BDSM. Although Xander might've thought this would deter Sam from wanting a threesome, Logan had known better. And the way she was watching Elijah confirmed his suspicions. This was what she wanted.
As far as he was concerned, the swing was certainly the type of bondage he could get on board with, so he wasn't opposed to experimenting, as Sam had referred to it. But he had also come to the conclusion that the type of interaction he'd seen between Xander and Mercedes just wasn't for him. He could bring himself to spank Sam on occasion – with his hand – but anything else was out of the question. It just didn't do it for him. Granted, he might find a few other BDSM related activities they could try, but he wasn't sure it was even necessary.
Logan had the feeling Sam was still more interested in a threesome. He knew he certainly was.
"Fuck me," she said on a breathless moan, her eyes transfixed on their visitor. "Fuck me hard, Logan."
"You like being watched?" Elijah asked, and Logan noticed Sam's eyes flare with what was definitely heat. His wife did like an audience. More importantly, she liked the idea of a threesome.
"Yes," she responded, the single word punctuated by Logan's thrust.
"Then I'll watch," Elijah confirmed, his hands in his pockets as he stood casually by.
Logan could no longer wait. Elijah's presence, his eyes on Sam's gloriously naked body while she was being fucked was more than he could stand.
"Look at me, Sam," Logan ordered.
Her eyes moved to his quickly, a radiant smile breaking out on her face.
"Hard and fast." It wasn't a question, but he said the words anyway.
"Yes, please."
"When you come, I want to hear my name on your lips," he told her, his voice steady as he increased the pace of his thrusts.
It could've been a minute, it could've been ten, hell, Logan had no idea but when Sam screamed his name, her pussy gripping him like a velvet fist, Logan lost all control. He slammed into her once, twice, three more times before he came violently, his thighs trembling from the intensity.
To his surprise, Elijah didn't leave when they were finished. Logan made quick work of cleaning himself up, tucking his spent cock back into his slacks and then tending to Sam gently. After helping her out of the swing, and assisting her back into her dress, they found themselves face to face with…
"Elijah Penn, I'd like you to meet my wife, Samantha," Logan introduced them.
Sam's eyes widened as her gaze strayed to his face. Yes, he'd certainly surprised her with that one. If he had to guess, Sam had assumed this man was merely a voyeur, a complete stranger just willing to watch.
He intended to set her straight. "I invited him here tonight."
The smile that tipped his wife's lips was barely noticeable, but Logan saw it. This was exactly what she wanted and based on her response, she approved of his choice.
At least on a physical level.
"Very nice to meet you, Samantha. Would you mind if I buy you a drink?" Elijah offered when Sam didn't speak.
Glancing down at Sam, Logan waited for her response. He didn't have to wait long.
"I'd like that," she said sweetly, linking her fingers with Logan's tightly and squeezing. Her signal that all systems were go.
Yes, they definitely would, Logan thought to himself.