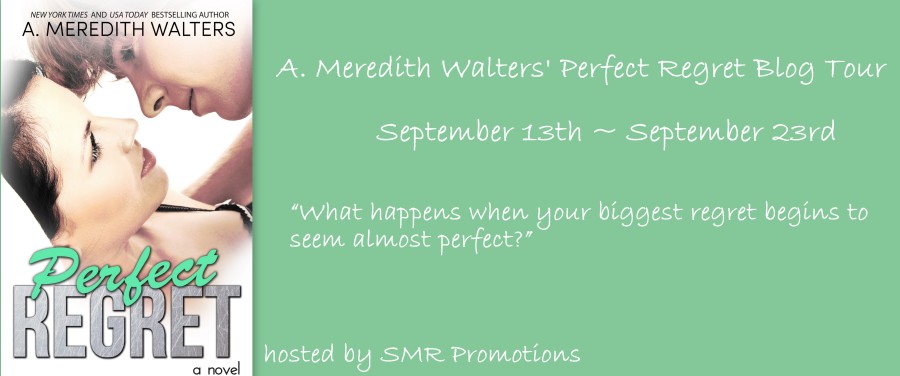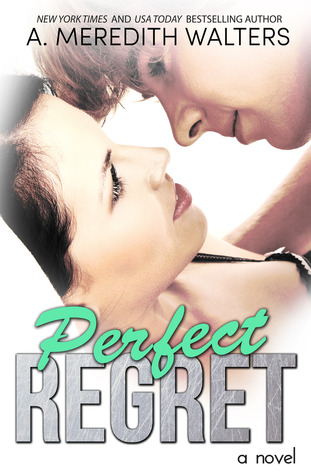 Today we welcome A. Meredith Walters to our blog as she celebrates her new release Perfect Regret.
Enter for a chance to win an amazing giveaway using Rafflecopter below!  Good luck!!!
---
5 STARS!!!
Synopsis
Riley Walker makes all the right decisions and knows exactly where her life is headed.
Riley Walker does not make mistakes.
Riley Walker certainly doesn't make spontaneous decisions.
But then Riley Walker gets dumped.
Spectacularly, gut-wrenching, stomp all over her heart dumped. And she is feeling more than a little angry. And a whole lot bitter. And suddenly the girl who has always done everything right feels like doing something completely wrong.
Garrett Bellows, lead guitarist for the local band, Generation Rejects, is going through life without a plan. Trying not to think past the next gig or the next party, he has worked hard to not become too attached to anyone or anything. So he is shocked to find himself drawn to the snarky girl with a chip on her shoulder. She pisses him off and puts him down. He knows she's nothing more than a self-entitled college brat who thinks she's better than the townie boy without a future.
Alcohol and a hefty dose of lust leads to a night both Riley and Garrett immediately regret. Her embarrassment, his pride and the weight of rumors and misconceptions convince Riley and Garrett that their one-time indiscretion will never be repeated. Particularly when their harshest critics are each other.
But how do you reconcile a head that wants to let go with a heart that keeps holding on?
And what happens when your biggest regret begins to seem almost perfect?
Excerpt
I turned around and grabbed Garrett by the front of his shirt and gave it a tug as I moved backwards into my dark living room. I didn't turn on any lights; I just continued to tug Garrett as I moved toward my bedroom.

I kicked open the door and pulled him inside. "What am I doing? Why am I doing this?" I said under my breath as Garrett took me in his arms and placed one solitary kiss on the underside of my jaw.

We stood there for an endless moment, breathing deeply as though readying ourselves for this step we were about to take. I wish I could explain why this felt monumental. Why it felt as though I were about to jump out of a plane without a parachute.

But everything, every look, every touch, every heartbeat felt full of purpose.

And it made me want to scream.

I didn't want purpose.

I didn't want meaningful.

I wanted this man to screw my brains out. I wanted him to pull my hair and show me who was boss.

I wanted to forget the perfect linear thoughts in my head and rush headfirst into the irrational.

But it didn't stop the way my heart thudded in my chest to an uncertain rhythm…one that only Garrett could play.
Kim's Review
I was honored when I received and ARC of Perfect Regret from A. Meredith Walters' ~ I freaking ADORE her to the moon and back ~ I also purchased this one cause well I loved it! When I started it I literally…..
yep those pages were turning so fast I couldn't get ENOUGH! Riley (if you read Bad Rep then you know this is Maysie's BFF & roommate) has just ended her year long relationship with Damien ~ yep she is downright doing a little ….
she thought they were PERFECT together! The whole break up for her was way out of left field and she was certainly…
what do you do when you want to get over heartbreak and move on? well, of course you get your pretty little arse drunk and hook up with Garrett ~ you know the sexy as sin guitarist for Generation Rejects who loses his shirt by the end of the night ~ yep ladies I would so..
with this sexy Rock God and if he noticed me I would totally….
Well Rylie was MORTIFIED the next morning when she wakes up and finds whose bed she was in~ She couldn't remember exactly what transpired but I had to…
at the way she reacted to Garrett. Sure I bet that walk of shame was freaking embarrassing but GOOD GOD GIRL look who you woke up with. Ladies and this is JUST the beginning of the story. There were times I wanted to …
and
and
Riley and her "ways" ~ she was sarcastically mean to Garrett well she was down right RUDE to him and she had me beyond…
a time or two. I continually was …
at her actions. DAMN I just wanted to shake the girl and her "plans" and perceptions. When something occurs that has the opportunity to bind Garrett & Riley together I totally broke down …
it broke my heart as did Garrett's back story. Garrett is a hell of a stand up guy and so many times I know he just needed a ….
or two or three. I will admit that….
was downright HOT! These two had chemistry and there was no lack of lust but Riley needed to get out of her own damn way. I was totally..
when something occurs and I was kind of conflicted by Garrett's actions although I understood why he did what he did I just was …
how Riley would react. I really didn't want to….
at her anymore! I was shocked that her regular m.o. was to ….
when faced with something unpleasant as she always seemed in your face to me but on flip side I think she needed to run versus opening her smart mouth a time or two. I'm happy to report that by the end of Perfect Regret I was totally….
and
I was a very, very happy girl! Perfect Regret is a 5 star read for me but be forewarned Riley is beyond snarky and she has driven and will drive people crazy but she has to be that way. I felt this was a great example of someone finally taking a step back and realizing that "first impressions" and "perceptions" can be totally incorrect and you should NEVER judge a book by it's cover. Bad Rep was the first book but you don't HAVE to read that before Perfect Regret although I recommend you do! I guarantee you will have a few ….
while reading Perfect Regret ~ I did and some of the things that come out of Riley's mouth totally had me ….
I loved that she remained the same Riley from Bad Rep just amped up x 10 since it's her book!
I'm happy to report that we will see more of the gang as A. Meredith Walters' has announced that this series will continue and next book is Cole & Victoria and I have a feeling that one is going to be one HELL of a ride filled with sex, fighting and lots of drive you crazy!
About the Author
The New York Times and USA Today bestselling author of Contemporary and Paranormal romance including The Find You in the Dark series, Bad Rep and its upcoming sequel.
A. Meredith spent ten years as a counselor for at risk teens and children. First working at a Domestic Violence/Sexual Assault program and then later a program for children with severe emotional and mental health issues. Her former clients and their stories continue to influence every aspect of her writing.
When not writing (or being tortured with all manner of beauty products at the hand of her very imaginative and extremely girly 6 year old daughter), she is eating chocolate, watching reality television that could rot your brain and reading a smutty novel or two.