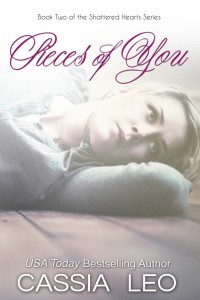 Today we welcome Cassia Leo to our blog as she celebrates her new book Pieces of You which released on May 17th.
Read an ENTIRE chapter of Book 3 in the series – Bring Me Home below.
Enter to win some amazing giveaways using Rafflecopter below. TWO lucky winners will be selected for an ARC copy of Bring Me Home!!!!  Good luck!
---
5 STARS!!!
Synopsis
The story that began in the USA Today bestseller RELENTLESS continues. Which team are you on
In Relentless, college student Claire Nixon and surfer Adam Parker each had a painful past too heavy to carry alone. Claire tried to push Adam away, but Adam's relentless pursuit of her heart and her secrets made her walls come crumbling down.
Though their hearts will never be whole again, Claire and Adam now know they are stronger together than they are apart.
But now Claire's attending college a hundred miles away from Adam. With their relationship already hanging by a thread, Adam is sent to Hawaii on business.
And rock star Chris Knight is back in Claire's life.
Chris wants his ex-girlfriend back and he knows just how to get her: only he has the power to mend the final missing piece of Claire's broken heart. Now Claire must choose between a long-distance relationship with Adam and a second chance at love, family, and home.
New Adult Contemporary Romance: Due to strong language, drug use, and sexual content, this book is not intended for readers under the age of 18.
Christine's Review
*Please note that you MUST read book 1 – Relentless first before you read Pieces of You!!!*
I started Pieces of You following Relentless and am immediately catapulted back into the life of Adam, Claire and Chris.  They have become so dear to me in this short period of time that I have known them and I feel for them in a way that I have not felt for others in a series of books before.  I was privileged to have helped organize this blog tour for Cassia Leo.  I have never met such adamant fans who so strongly support either Adam or Chris and who have felt what I have felt since day 1 – that Cassia Leo is an AMAZING author who writes emotions and feelings so well that we have all fallen in love with this special cast of characters and don't want to let them go.
You have already read from the previous stops on this tour what this book is about.  So I won't sum it up for you again but will instead tell you more about how I felt while reading this book.
In Relentless, I was an Adam lover.  He saved Claire from a dark place, he told her corny jokes and made her laugh – he was good for her…he reminded her that life was worth living and that you should enjoy every moment.  Also in Relentless, we are introduced to Claire's ex – Chris.  He and Claire grew up together in a foster home and had an undeniably strong bond and connection.  Though Chris is from the past, there is a love there that is so strong and deep that it is immeasurable and boundless.
In Pieces of You, the story is again told in the 3 points of view which I enjoyed because I love hearing everyone's thoughts and feelings.  And though I loved Adam for Claire in Relentless, as I read more and more about Chris, I fell in love with him as a person – not only because he wanted to help her and protect her but because he would go leaps and bounds to make the world turn for her.  He has a huge heart and will do anything and everything to win her back.  He is also sweet and every time he calls her "babe" my heart just melts even more for him.  Because I know he loves her with his whole being.  And I am not saying that Adam doesn't because I know in his own way that he does…Adam is a great guy but he is not the guy for Claire in my opinion.
No one can really say what they would do in Claire's shoes.  She has had a tough life starting from her youth until now.  Dealing with these heavy issues at such a young age would cause anyone to go a little crazy.  Claire has dealt with it in the best way she can to this point with the support of her best friend Senia, Jackie and of course Chris and Adam.  And though people will have their opinions as to who Claire has to end up with, in my heart and mind, I just want her to end up with who will make her the happiest, who will complete her life and make her whole again…the person who will bring her home.
So yes, Cassia Leo has done it again and created such an amazing cast of characters that you don't really know who to root for because you want a HEA for everyone.  I can't wait until Bring Me Home releases so that we can finally see how it all turns out for them.
So thank you Cassia for being such an amazing author and person.  I am proud to say that I know you even better than before and that you are one of my favorite authors of all time and I look forward to continuing to help promote your wonderful books and writing in the future!
Job well done!  Enjoy this special chapter teaser from Bring Me Home scheduled for release in August!
Chapter Teaser from Bring Me Home
Synopsis

The third and final book in the Shattered Hearts series is expected to be released August 2013.

Claire Nixon is a college student with a past full of secrets and heartbreak. She was saved once by her first love, and rock star, Chris Knight. But when she encouraged Chris to leave town to pursue his dreams, both Claire and Chris didn't realize it would be the biggest mistake of their lives.

After a devastating year apart and thousands of miles of distance between them, Claire met sexy surfer Adam Parker. With his awful jokes and profound patience, he helped Claire pick up the shattered pieces of her broken heart for the second time.

But now Chris has returned and he is willing and determined to make Claire's dreams come true—the same way she did for him when she let him go.

With Adam's former girlfriend in the picture, Claire finds herself torn between the new, passionate love she shares with Adam and the family she shares with Chris.
Chapter Six
Chris
Once the studio was booked, the only thing left for me to do was to reschedule the physical therapy for my leg. I can't do that shit right now. The screws holding the rod in my shin make my knee hurt like a bitch, but no one will ever hear me complain about it—especially not Tristan or Jake.
I enter the control room at Reverb Room and immediately set down my guitar on the floor, propped against the control desk. I sit on the edge of the desk and try not to make it obvious that I'm doing this to rest my leg. Tristan is sitting in the desk chair with his back to the controls and Jake is on the other side of the glass partition, in the main room, setting up his drums.
"Gene and the sound tech are late. Xander snuck off to the lobby to stuff his fat face with donuts," he says, glancing at my leg when I attempt to bend the knee a little.
All this walking around, checking out studios this past weekend, has fucked me up. I've only had the cast off for two and a half weeks. I should be lying in bed with this leg elevated, but I need to get this record finished. My first self-titled album. Sometimes I don't even recognize my life anymore.
"Did they say how long it would be until they get here?"
Tristan shrugs. "I think they'll be here any minute. Hey, do you have the phone number for Claire's friend, Celia, or whatever the fuck her name is?"
"I'm not giving you her number. I don't need you fucking shit up for me with Claire."
"All right. I know her name. It's Senia. Can I have her number now? I want to apologize." I narrow my eyes at him and he raises his eyebrows. "What? I was a dick to her. I want to make things right in case she goes to Rachel's wedding with Claire."
"Did you run out of girls to fuck or something?"
He runs his hand through his brown shoulder-length hair and grins. "Yeah, you of all people should know that will never happen."
"What the fuck does that mean?"
"Nothing. Just give me the fucking number."
"Fuck you. I'm gonna go wait in the isolation room."
I make sure to walk without a limp as I leave the control room and make my way across the main room, past where Jake is setting up, then into the soundproof isolation room where I'll do the voice recordings for each track. Once I get in the room. I shut the door and quickly hop onto the stool under the microphone.
I pull my phone out of my back pocket and see I have three texts: one from Jake and two from random numbers I don't recognize. I deleted all the girls' numbers I had saved in the address book in my phone when Claire and I got back together for those five days. Since then, I get occasional texts from numbers I don't recognize. I usually just delete them, but this last message piques my interest.
Unknown: We're willing to meet next week if your girlfriend promises to not upset Abigail.
This is not a random girl and this is not at all what I expected. Abby's parents have never given me their phone number and they have refused to respond to my adoption lawyer, Tasha Singer's, messages for the last four weeks. I'm beginning to think that maybe it's Tasha who has rubbed them the wrong way and not Claire and me.
I just hope Claire isn't upset that I lied to them and said we were back together. I thought it might increase our chances of getting a meeting with them if we appeared to be united and stable; like we're doing this as much for our love of each other as our love for Abby. This is definitely true for me. Just the idea that Claire might not feel the same way makes me sick.
I look into the main room and see Jake has finished setting up his drums and the studio manager is in there helping Tristan get set up. The sound tech is probably here. I'll have to call Claire later. But, for now, I can't pass up this opportunity. I have to respond to this text.
Me: Next week is great. I promise everything will go smoothly. Thanks for this opportunity. I'll be in touch. – Chris
I then shoot off another text to Claire.
Me: I have good news. You're going to get to see Abby next week. What day/time works for you?
The studio manager, Jerry, signals to me through the glass. I'm not sure if he's asking me to test the mic, but I have to wait for Claire's response first.
Claire: Really? I don't even know what to say. How did you make this happen?
Me: I promise there was no money involved. I did it because I love you and Abby.
There's another pause and I watch anxiously as Jerry approaches the isolation room. He pops his head in and his bushy moustache wiggles when he raises his eyebrows.
"There a problem with the mic?"
"Nope. Just need a couple of minutes. I'm almost ready."
He glances at the phone in my hands and nods before he leaves the room.
Claire: Any time after 4 pm M-Th & after 6 on Fri. Weekends open. Thank u so much. U just made me so happy.
I smile as I imagine her sitting in class with a smile on her face. Nothing makes me happier than Claire's smile. I think seeing her smile while holding Abby might cause me to reach some kind of happiness overload. It will be difficult to see Abby go home with Brian and Lynette Jensen, but it will be worth it to know that Claire will finally get to feel what I felt. Who knows? Maybe then, both of us will be able to move on and find peace knowing that Abby is in good hands. Maybe then, we'll find strength in each other knowing that we were both willing to do whatever it took to make each other's dreams come true.
About the Author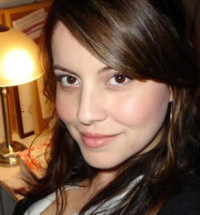 USA Today bestselling author Cassia Leo loves her coffee, chocolate, and margaritas with salt. When she's not writing, she spends way too much time watching old reruns of Friends and Sex and the City. When she's not watching reruns, she's usually enjoying the California sunshine or reading–sometimes both.