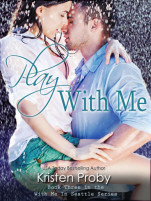 Today we welcome Kristen Proby to our blog as she celebrates her new book, Play with Me, which released on February 26th!
Enter using rafflecopter below for a chance to win an ebook of this AMAZING book!  Good luck!
5 STARS!!!
Summary
Will Montgomery is a successful professional football player and seemingly has it all. He's not used to being told no, and certainly doesn't take no for an answer. So when he turns his charms on his sister's sexy rocker-chick friend Meg, he's not only turned down, but met with open hostility, piquing his curiosity and libido. He's determined to show her that he's not the arrogant jock she thinks he is, and to get her into his bed.
Megan McBride is not impressed with Will Montgomery, his fat contract, fancy car, or his arrogant public persona. She doesn't have time for a relationship, and if she's learned anything in life, it's that loving means losing, so she guards her heart ferociously. But she can't deny the overwhelming attraction to the sexy, tattooed athlete, and when Will starts breaking down her defenses and grabs hold of her heart, will she be able to admit her feelings for him, or will her troubled past cause her to lose the first man she's ever truly loved?
Denise's Review
I have to say Ms. Proby did an amazing job with Play With Me. This thoroughly enjoyable book was a 5 star read for me and is my new favorite of the series.
Ms. Proby does a masterful job in telling Will and Megan's story while moving the With Me in Seattle timeline forward.
The reader is pulled in right from the start as the prologue retells a scene from Fight With Me in Meg's POV and chapter one dives right into a family event were you get to see all of Ms. Proby's characters that at this point in the series you have grown to love!
Will is beyond lovable, a man who says he always knew he would have a family of his own but warms your heart when he replays that he never knew it would feel this way to be in love!  Will is open, honest; and he gives freely of his heart and truly works to understand Megan.
Megan's backstory was well crafted and really allows the reader to understand the why behind her actions, some of which will frustrate you. And at times her actions broke my heart for Will, they were true to character and felt for a journey that made me want to read slowly and savor this read.
I truly enjoy that Ms. Proby's characters are adults with careers and lives, finding the right person means finding a way to make it all work.
Megan is a nurse, Will a high profile NFL football player; the weaving of the story around their professions felt real and truly added to the story development.  Ms. Proby used aspects of their professions to show Will's true character, to push Meg and to add depth of emotion. I will say remember the name Nick – the use of this character layered the story and will break your heart, but it adds to the story in a way that was true to all of the characters.
If you thought the cover of Play With Me was breathtaking wait until you read the scene that inspires it, it will take your breath away.
The use of the cast we have all grown to adore was outstanding.  Yes Nat and Jules' (from Fight with Me) wedding is a prime time family event!  And there is a scene with all the ladies with Matt and Caleb that is laugh out loud funny.   There are a few scenes with the whole family that will make you wish you could just hang out with them.
Megan's backstory gives the readers a new man, Leo Nash. The way Ms. Proby brought this character into the story was really well done.  Leo was used to show Megan's past, and then used again to show how much Will truly loves and cares for Meg.  This will leave you counting the days for the next With Me in Seattle book, Rock With Me, Leo and Samantha's story (yes, Luke's sister)
Ms. Proby has becomes one of my favorite authors and this cast of characters is one I often find myself thinking about. I am very much looking forward to more wonderful reads from her.
Character Inspirations
---
Play With Me Playlist
Catch My Breath by Kelly Clarkson
Run by Matt Nathanson and Sugarland
Love The Way You Lie part III by Skylar Grey
A Thousand Years by Christina Perri
Wanted You More by Lady Antebellum
I Dare You To Move by Switchfoot
I Never Told You by Colbie Cailat
Wherever You Will Go by Charlene Soraia
---
GIVEAWAY
a Rafflecopter giveaway

---
About the Author
Kristen Proby has made a living as a massage therapist, a medical biller, a registrar in an Emergency Room, and a professional photographer. But what feeds her soul is writing romantic, erotic love stories about strong women who don't necessarily need saving, and gorgeous, alpha-type men who want to save them anyway.
Kristen lives in the amazing Pacific Northwest where, conveniently, her muse lives too.