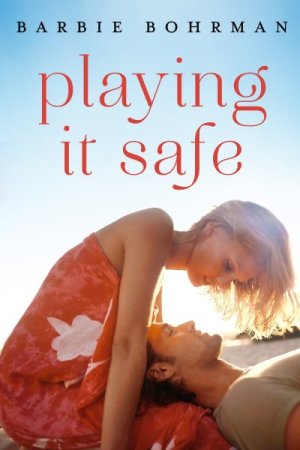 Playing It Safe

by Barbie Bohrman
on October 1, 2014
Pages: 292
Buy on Amazon
Goodreads


Julia Boyd has dated more than her share of jerks, and she's done even pretending to like them. Putting her dating life on hold and focusing on her event planning career is a much safer bet for the blue-eyed blonde…until she meets her newest client.

Organizing the opening for an art gallery should be a breeze for Julia, but gallery owner Alex Holt is becoming very distracting. Tall and muscular with enough charisma and sexy dimples to make Julia swoon, Alex could be the perfect man. The two of them click immediately, creating enough witty banter to ignite sparks.

But just before flames of passion can erupt with Alex, Julia begins planning an engagement party…and learns the groom is Aiden, the man who broke her heart years ago. When Aiden admits that he still has feelings for Julia, everything changes. Should she seek shelter in the familiarity of the past, or should she risk everything on a brand-new love?
I adore Barbie Bohrman and her first book Promise Me and Playing It Safe brought back those characters again this time focusing on Julia and Alex's story. Barbie gave us something so well written and engaging that I found it hard to put down as I wanted to to savor every moment that I spent with Julia and Alex.
Julia is my kind of chick! She is witty, strong and speaks her mind. Julia has sworn off guys because of her past relationships and who could blame her – they were all duds!
Enter Alex Holt! OMG! Alex with his flirty and fun bantering (and did I mention successful art gallery owner and HOT!); Alex is just what Julia needs to get over her men slump.
On the pretense of planning Alex's niece's birthday party, Alex and Julia will embark on the type of romance that you could only wish for. Alex is playful and kind and the readers know and feel that this is more than just sex – with Alex, Julia finally realizes her worth because the thought and effort he puts into everything makes this man so so special.
I found myself smiling throughout my read as I am happy for Julia. Alex warmed my heart in every way, his patience to wait for her for when she was ready elevated him to a whole other level.
And this book, without the angst – just two people trying to find a way to get past the insecurities and to move forward and find love together makes reading so much fun. My heart didn't race because of being nervous or being worried for Alex and Julia; my heart soared because of the potential for love for two amazing people who I felt deserved that and so much more.
The epilogue in this book is one of my FAVORITES of all time. I had a HUGE smile on my face when I closed the book and I encourage anyone looking for a true feel good heartfelt romance complete with amazing characters to love to look no further than Barbie's PLAYING IT SAFE! You will love it as much as I did!


Turning into one of the far rooms of the gallery, which is almost like an alcove that only a few people can fit in at a time, I finally spot Alex.
Alone.
Just me and him in this tiny space.
He's dressed impeccably, as usual, in a pinstripe suit and a light blue dress shirt that perfectly accentuates his eyes. He's not wearing a tie again, but that's good for me because I get to look at his throat while his Adam's apple bobs up and down while he talks. I know I'm being ridiculous, but something as insignificant as that is so very sexy to me in a really hot guy.
"What are you doing in here all by yourself?" I ask him before bringing the glass to my lips to take another sip. "Are you hiding or something?"
He smiles and ever so smoothly brings his line of vision down my body and back up again, but not before lingering a moment too long on "the boys."
I knew it! Alex is a tits man, and I feel so vindicated it's not even funny. In my head I'm doing the Running Man to the tune of Salt-N-Pepa's "Push It" and giving myself a pat on the back.
"Why would I be hiding?" he asks.
"I don't know, why would you be hiding?"
"Why do you care if I'm hiding or not?"
"Why do you answer every question with another question?"
Alex takes a step forward, and there he goes again crowding my personal space, but I'm standing my ground this time. He raises an eyebrow at my stance and says, "Maybe I like getting you all worked up."
The double meaning in that is so not lost on me, and just like that, we went from zero to sixty in no time at all.
"Maybe?" I ask innocently while gazing up at him.
"Now look who's answering with questions."
His masculine chuckle resonates through me, making my toes curl while he takes the upper hand again. I seriously cannot keep up with this much longer. I'm either going to throw him against the wall and rub myself all over him like a slutty cat on a scratching post, or I'm going to douse myself with a bucket of ice-cold water.
"For your information, I'm not hiding . . . at least not from you," he explains. "Just like the quiet sometimes."
"Huh. Always figured you for the type that was into parties and shit."
"That would imply you're thinking about me," he says without missing a beat.
"You'd like that, wouldn't you?"
He takes a step forward and moves to my side to leave, but not before ducking his head closer so that I feel his warm breath fan across my ear. "That's a good question. Are you ready for the answer?"
And then he's gone, disappearing behind me back into the gallery's exhibit, while I ponder what just happened, kind of pissed off that the son of a bitch just answered me with another goddamn question.

♥READ THE BOOKS♥
**Both Books Sold on Amazon**
Book 1 – Promise Me
Book 2 – Playing It Safe