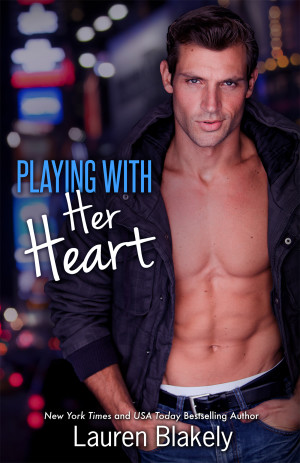 Today we welcome Lauren Blakely to our blog as she celebrates her new book Playing With Her Heart which released on August 18th.
Enter for a chance to win an amazing giveaway using Rafflecopter below!
---
Synopsis
When you're acting the role of a lifetime, how can you know if love is real—or all just a part of the show?
Twenty-three year old rising theatre star Jill McCormick has built a life out of pretending. Pretending she's happy, pretending her long-distance crushes add up to something real, pretending she's not haunted by the dark secret that shattered her world six years ago. Cast in her first Broadway show, she desperately needs to keep her façade intact, but that's before she comes face to face with her devastating new boss…
Hot-shot director Davis Milo knows the first rule of directing: never fall for your leading lady. Captivated by Jill's raw talent, he fights his feelings, but watching Jill on-stage with another man is more than his jealous streak can take. Keeping things professional isn't an option. He wants all of her.
Soon the ingénue and her director are staying late in the empty theatre, their private rehearsals spiraling into new, forbidden territory. Caught up between fiction and reality, Jill struggles to find the truth in all their staged kisses. But how can she be sure that what she feels is real, and not a part of the play? And when two people spend their lives pretending, what happens after the final curtain falls?
Excerpt
JILL

The car stops at the lobby and the doors crank open. We step out into the cold, biting night, the sounds of New York traffic hitting my ears. The familiar soundtrack to my days and nights in this city. We walk down the steps to the sidewalk. A cold wind whooshes by and I pull my coat tighter. He moves closer to me and for a second I think he may drape an arm over my shoulder, pull me in close and keep me warm. But he doesn't. Instead, he points to a town car waiting at the curb.
"For you," he says.
"Me? You got me a car service?" I shouldn't be excited over a car, but I am. I've only acted in a few off-Broadway shows and a couple of commercials, and I didn't even warrant a cab in my contracts for those. Subway all the way.
"If I'm making you work late, it's the least I can do," he says, as he opens the door for me, and I slide inside.
Then he leans into the car, reaches for the seat belt, and pulls it across my chest, buckling me in. He's inches from me, and I can smell him. He smells cold like the night air. But he also smells the way a man should smell at the end of the day. A little bit of sweat, a lot of work, and all raw power. He brings one hand behind my head and unclips my hair, letting it fall over his fingers. I tremble from his touch as a shiver runs down my spine. "I like your hair up and I like your hair down," he whispers to me, breaking down all my resistance in an instant. Because I can see this playing out if I do nothing – I'll spend it rewinding this moment and putting it on repeat all night long. But I don't want to go home with only a memory to feed my body, and I can't stand the thought of this night ending too soon.
I make my choice. There's only one choice. "Do you want to share?" I ask, praying he lives in the same direction.
"You're downtown, right?"
I nod.
"Me too."
Then he closes my door, and I don't see him as he walks behind the car, so I swivel around watching through the tinted window as he reaches the other side quickly, opens the door, his dark eyes pinning me, and sending a rush of heat down my chest and straight to my very core. He never takes his eyes off me, as he closes the door, and hits a button on the console that starts to close the tinted privacy partition, telling the driver "Just drive."
Like it's a command.
Then he turns and looks at me, and for a long beat we are still, the air between us crackling with the anticipation of what's next. But I am overcome with want and I can't hold back, nor can he. As the engine starts, I unbuckle myself just as his hands are on my face, and he sucks in a breath at the first touch. Then, a low growl escapes his throat as his lips find mine with a hungry kiss that ignites something in me. I grab his shirt, loving the feel of his strong, firm chest. My fingers fist the fabric as I pull him closer, but he doesn't need any direction from me. Within seconds, his hands are in my hair, and his lips are consuming me, his tongue tangling with mine, and I'm about to burst from all this sensation. From the way he smells so masculine and strong, to the delicious scratch of his stubble, to the calloused fingers that tug on my hair.
He tastes so fucking good that I don't want to stop. Instead, I want to be devoured by him. I want him – no, I need him, I desperately need him – to do something about this onslaught of desire he's started in my body that's become a delicious and needy ache between my legs.
"I want to be under you," I say, and I'm not even sure how I'm forming words, let alone coherent thoughts, but all I know is what my body is demanding. I need the weight of him on me. I need to feel him pressed hard against me. I take off my jacket quickly, tossing it to the floor of the car, and he does the same. Then I slide down on the leather, so I'm lying flat, and he moves with me, hovering over me, braced on his strong arms.
"Who needs jackets anyway?" he says with a wry smile, then returns his lips to my neck, trailing kisses across my skin that make me hot and wet and hungry. "Jill," he says, and he's no longer playful. He's intense and demanding, as he puts a hand on my chin and makes me look at him. "Tell me you think about me."
I don't answer. I just breathe out hard.
"Tell me I get you off when you're all alone."
I bite my lip, and my nipples harden with the way he's speaking to me. I want his hands all over me. I want his hands between my legs. I wriggle under him, arching my hips against him. He moves away, so I can't even feel his erection against me, though I'm dying to.
"Tell me you picture me doing all sorts of things to you." His hands roam down my chest, and he cups my breasts through my sweater. I nearly cry out, it feels so good, sparks of sheer pleasure rippling through my entire being. "You do, don't you?"
"Why are you asking me?" I say in a tortured voice, because he's tormenting me with his fantastic hands, pinching my nipple between his thumb and index finger, and it's rough, but it makes me feel alive. It makes this moment feel real. I want to feel every single thing right now. Every real feeling.
"Because. I don't want you thinking of someone else when I make you come tonight."
Book Trailer

About the Author
Lauren Blakely is an unabashed fan of clever jokes, toast, and good guys in novels. Like the heroine in CAUGHT UP IN US, she thinks life should be filled with movie kisses and coffee drinks. Lauren lives in California with her husband and children, and spends her days writing both true stories and make-believe ones.