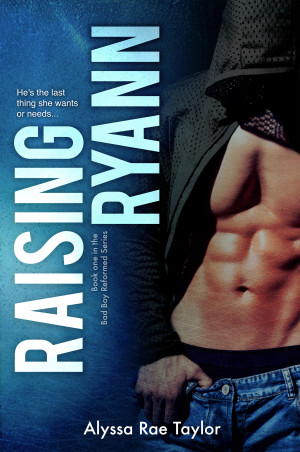 Today we welcome Alyssa Rae Taylor as she celebrates her new book Raising Ryann which will release on August 9th.
Enter for a chance to win some amazing giveaways using Rafflecopter below!
---
5 STARS!!!
Synopsis
Twenty-year-old Reese Johnson can finally leave her troublesome past behind. She enters college with her best friend, Gia, and spends her time doing what she loves—working as a self-defense instructor at a local gym. Then Luke Ryann enters the picture. He's the tall, dark, and tattooed MMA fighter her boss hires to privately train her. One minute, he captivates her with his piercing brown eyes and boyish dimples. The next, he infuriates her with his relentless banter and cocky bad boy behavior. He's the last thing she wants or needs, and she never expects to fall in love with him.
Luke's jaded past has him keeping a safe distance. Despite what he feels, some things are better left alone. He has a dangerous secret—one that has the potential to risk their lives. As he fights the attraction between them, can he resist the growing tension and protect the woman he'll never be able to have?
Recommended for mature audiences due to situations of abuse, violence, strong language and sexual content.
Raising Ryann, the first book in the Bad Boy Reformed series, isn't just a story about first love. It's filled with action, suspense, mystery, and a touch of humor.
Kim's Review
I had the HONOR to receive an ARC of Raising Ryann from the author in exchange for an honest review! I actually had heard about the book from someone else and when I read the synopsis I was all aboard and when I received the ARC I was..


Reese grew up with a mother that swapped men faster than most people change their underwear. What this poor girl went through when six years earlier from where the book starts I was….


Reese is a survivor! I loved her character she wasn't a helpless creature she stood up for self and took action to ensure she was never put in a situation in which she was helpless ever again. I was totally.


Reese remembers who saved her all those years ago. She dreams about him. He is the ONLY one for her but he's not around anymore. Her life is school, teaching self-defense classes at a local gym to young girls and helping her mother. Well Reese was in for a big…


Luke is a former MMA fighter ~ he walked away from the fame & glory cause he realized how shallow the life he was leading. He walks away at the top and agrees to work at his friend's (well they are more than friends but you can read about them) gym. Luke also knows that Reese is working there and he remembers Reese as a "kid" since he stayed with his friends that lived across the street from Reese's house. He also has a secret, more than one, that he doesn't want Reese to know! I had to …


when he decides he isn't going to let Reese in on that secret. We all know how that typically goes. Luke comes to realize very quickly that Reese isn't that "little" girl he recalls. It was fun to watch a friendship begin and then ultimately a relationship blossom. I so tried to restrain myself from..


Sadly, Luke decides to fight those feelings in the beginning and this totally had me wanting to …


some sense into the man ~ Luke is the kind of guy that women would say.


and literally do anything to get his attention. He is that "hot" guy.
As the story continues there were parts of this book where I was so…


for what I thought was about to come. The author did a FANTASTIC job of drawing the reader in where you could literally feel the sexual tension between Luke and Reese. They shared quite of few…


but the emotional component of the story was at the forefront and KUDOS to the author for not making this story all about "sex"! I was..


because I loved that things were taken slow and at the right pace. They don't know everything about each other well perhaps Reese didn't know everything about Luke ~ There were a few times where I was..


towards the end of the book! Things became complicated ~ very ~ and very quickly. I also shed a few tears when Luke finally opened up to Reese and shared his childhood with her. I was totally…


when I got near the end of the book! I was starting to …


I mean come on …


how could this go down like this and then I sat there ..


you mean to tell me I have to WAIT for the next book! OMG! yes the book doesn't wrap up all nice and neat at the end! I have a feeling book 2 is going to be seriously intense and I can't wait to see what happens between Luke and Reese. Once I was able to think through everything I was…


I totally didn't expect that ending but boy oh boy am I excited, happy, giddy, and I could go on and on but I'll spare you. Raising Ryann was a 5 star read for me! The author did a brilliant job. It was very well written that as a reader I felt the emotions the characters did.
The book is told from Reese POV primarily but we get a few dashes of Luke in there and it balanced the book well. It wasn't all angst I certainly ….


at time or two. Ultimately I felt the story was about two people essentially trying to work through a horrific past that all the sudden becomes there present and whether theses two can survive it together remains to be seen! I highly recommend this read it is so well worth it!!
About the Author
I'm a mother of three, wife of one and caregiver to two English Bulldogs. I spend most my time taking care of my children or watching Sam & Dean Winchester, fight off scary creatures on the WB.
I'm also a big reader, and tend to prefer books that tug at my emotions. I'm a sucker for any love story that includes bad boys, alpha males, fighters, rockers, and tattoos. I also enjoy an angsty read, and am not a fan of the instalove type romance.
The first time I picked up a pen and started writing, I couldn't stop, which leads to the publishing of my first novel Raising Ryann, coming out August 2013.
I live in Phoenix Arizona with my husband, our three daughters, two English Bulldogs, two Holland Lops bunnies, & a Beta fish.