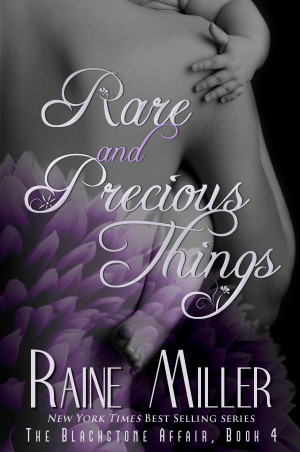 Today we welcome Raine Miller to our blog as she celebrates her new book in the Blackstone Affair – RARE AND PRECIOUS THINGS! Enjoy the excerpt and teaser below and make sure to enter for a chance to win some amazing giveaways! Good luck!!
---

The fourth part in the New York Times bestselling series, The Blackstone Affair: A bright beginning for two damaged souls fighting for their hard-won love, and the promise of a new hope to secure their happily ever after.
Fresh from an idyllic honeymoon along the Italian coast, the Blackstones prepare for the birth of their precious baby and the challenges of settling into a new home. But things get complicated when specters from the past reappear to threaten the very foundation of their relationship. Ethan and Brynne will have to fight harder than ever for each other. Rare and Precious Things is the story of two people who both need the other in order to be complete, but learn just how "rare" their brand of love is when they have to risk everything in order to hold onto it.


We both stood there panting, our faces so close, but yet, not touching; him in his tux with the purple brocade vest, me in my vintage inspired lace wedding dress, the sexual tension crackling in the air between us like a raging electrical storm about to go nuclear.

I told Ethan what I wanted.

"I n-need to get ready for you," I managed on a shaky breath, hoping he understood this was something important to me.

He swallowed hard, making his Adam's apple flex at his throat. "All right," he said slowly. "I'll do the same."

I looked back to where the glow from the en suite bathroom showed me the way. "Where will you go?" I asked him, feeling slightly guilty about kicking him out, even if for just a short while.

"The adjoining bedroom is also very nice." He gestured toward a door in the wall to the left of the bed. "These old manor houses always had lord and lady connecting bedrooms so they could meet up for the real important, private stuff that happened in the night." He drew a finger across the low neckline of my bodice, moving especially slow over the swell of my breasts sitting against the lace of my gown.

"Oh? The important private stuff you say."

"Undoubtedly, baby. The shagging…is…very…very…very…important." He gave me soft, seductive kisses between each of the words.

"Which room are we in right now? Lord's or lady's?" I asked breathlessly.

He shrugged. "No idea. Don't care either. I shag and sleep wherever my lady is, and I always will. Pick a room, Mrs. Blackstone."

I sighed with need and forced myself to take a step backward, creating some distance between our bodies. "Okay…how does this room in fifteen minutes sound?" I stepped backward again, moving closer toward the bathroom door, my eyes never leaving his blues as they tracked my movements.

Those same beautiful blue eyes also glittered at me with all the shuttered heat of a man who would be ravishing me very soon. Please, and thank you.

He gave me the serious Ethan-stare, the one I'd seen many times and was well familiar with—the one raw with male prowess…and the overpowering sexual dominance.

"Like fifteen minutes too fucking long, my beauty."

Christine's 3.5-4 STAR Review!
I enjoyed returning to Ethan and his beautiful American Girl's world and seeing them have it all – finally – each other, marriage and a precious baby on the way.  It has to be said that Raine Miller's writing has gotten better and better with each successive book and returning to this couple's journey to happiness is like coming home.
Much has happened in the 4 months since the couple first met and to me it feels like a lifetime of knowing them.  I enjoy the playfulness between Ethan and Brynne and found myself smiling throughout.
This couple has finally found blissful happiness which warms my heart for it to then come crashing down when old wounds from the past are opened and Brynne must face some demons from her past.
Ethan is as loving and protective as ever and finally on his own road to mending as he looks to get help for his PTSD.  I am so proud of how far he has come with opening up and letting the guilt out.  Only from this will he be able to truly enjoy his happiness that he has found with Brynne and with their soon to be child.
I love how Raine incorporates history within her stories.  Yes, she writes romance and love and sex so well but its the history that for me stands out as its different and adds another layer into a great read.
So while I love this book, there were some things that did not work for me that makes me struggle with how I would rate this book.  I love Raine Miller and love this cast of characters she has created for this series.  Who doesn't love a sexy alpha male taking care of his woman?  I think where I wanted more was more depth into the story – yes there was a lot of sex thrown in which I don't mind but I wanted more story development…I wanted more time with Peaches and seeing them as parents.  I do feel that I have gotten real closure from this couple so do look forward to more from Raine – and yes I truly do recommend this series as the love that emits from the pages of these books will touch your very heart and fill you with complete love and joy…this is a couple I won't soon forget!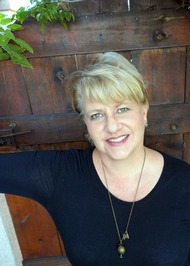 Raine Miller has been reading romance novels since she picked up that first Barbara Cartland book at the tender age of thirteen. And it's a safe bet she'll never stop, because now she writes them too! Granted Raine's stories are edgy enough to turn Ms. Cartland in her grave, but to her way of thinking, a hot, sexy hero never goes out of fashion. A part-time teacher and writer of sexy romance stories every other chance she gets pretty much fills her days. She has a handsome prince of a husband, and two brilliant sons to pull her back into the real world if the writing takes her too far away. Her sons know she likes to write stories, but gratefully have never asked to read any, thank God! Raine loves to hear from readers and to chat about the characters in her books.
---
Series Reading Order Book 1 – Naked

Book 2 – All In


Book 3 – Eyes Wide Open


Book 3.5 – Cherry Girl (spin off)


Book 4 – Rare and Precious Things