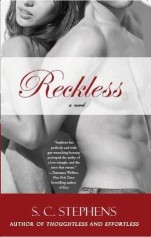 Today we welcome SC Stephens to our blog as she celebrates her new release Reckless.
Enter using Rafflecopter below for some AMAZING Kellan Kyle merchandise. Please note that this is for US only.
---
5 STARS!!!
Summary
Can love survive when life gets Reckless?
When the band hits it big, Kiera and Kellan must ask themselves: Can their love for each other survive the constant pressures of superstardom? The friendships they've formed, the new family they've found, and the history they've forged will all play a part in helping them navigate the turbulent waters of the band's exploding popularity. A greedy executive hell-bent on success, a declining pop star looking for an edge, and a media circus that twists lies into truths are just some of the obstacles the lovers will have to overcome if they are going to remain together. Fame comes with a price-but will it cost Kiera and Kellan everything?
Teaser
Kellan and I held hands as we stared up at the red neon glowing with the words Pete's Bar. It was almost hard to believe that it was just a little over two years ago that I had first lain eyes on Kellan here. He'd seemed like such a player, and I suppose he was back then, but there was a surprising amount of depth to this ex-player. 


As I was reminiscing, Kellan bumped my shoulder. "Did I ever tell you that I noticed you the second you walked into Pete's with Denny?"

I looked up at him, surprised. "Really? While you were playing? With all of those people in the bar?"


Walking backwards, Kellan pulled me towards the double doors to the large, rectangular building. "Yep. It was like an electric current zipped around the room when you stepped through the doors. Like I knew I'd never be the same from that moment forward."

He gave me a crooked grin. I rolled my eyes. "That did not happen. You noticed Denny. I seriously doubt you noticed me."

Kellan stopped walking and I stepped into his chest. Being here, in the parking lot of Pete's with him, felt just as much like home to me as our little, white two-story place. "I could barely pull my eyes away from you. Just glancing at you made my head feel lighter, made my stomach…tingle. Watching you was…life-changing."

I couldn't help but be moved by his words. Then I remembered his very suggestive performance. I gave him a sly grin. "And yet, you still managed to mentally undress every female in your audience."

Kellan laughed as he resumed walking. "Yeah, okay, I'll give you that one." He cocked a brow at me. "I did notice you, though." His eyes scanned my face. "How could I not?"
Kim's FIRST Review with Shh Moms Reading!!!
All of us experienced that same thrill the closer we got to the release date of Reckless. You know the one where at midnight we were refreshing our devices every minute to see if it hit. Well, to be honest I was doing this………………………………………


Yes the long wait was over and my fear of the title was sitting in my stomach ~ I never read the "teaser" chapters that were put out! I'm not into self-torture or more accurately I couldn't read it cause then I would've gone completely…………………………………….


Reckless the final book in the Thoughtless series ~ the series where I fell head over freaking heels in love with Kellan Kyle. Seriously, who wouldn't; but wait Kiera was in the picture and the question ALL of us had, or perhaps still have, is would she remain. Well ladies if you've read it you know and if you haven't take that journey yourself.
Kellan and the rest of the D-Bags had been back in Seattle following Kiera's graduation and then the marriage of Kiera & Kellan at Pete's Bar ~ not really a "ceremony" per se just a joining of two hearts and in their eyes they were married. This book opens with a little glimpse of the Kellan & Kiera the morning after the "said" marriage and a little………………………………………………..


Holy Hotness….now the best part is they have to tell Kiera's parents and I couldn't wait to see the reaction although I kind of had a feeling how that would go… Well, I guess the surprise was on Kellan & Kiera cause what waited for them had me…………………..


Immediately following that I wanted to do some of ……………..


Now the new Kiera she was AWESOME! I loved her and the outlook she had. I loved that they "learned" something coming off of Effortless and honesty was first and foremost in their relationship along with communication. Yes that works really well ~ not kidding about that either. All too soon it's time for the "boys" to head back to L.A. and the gang all meets at Pete's for a proper send off. When I say the "gang" I mean everyone including Denny! Oh and Griffin …….


Kiera was able to cope with this little send off because she was going to be joining Kellan, very soon, and when she does he has a little surprise for her…………………………………………..


Sweet Bliss, well we all know that this was too good to be true, right? These two love-birds had to be tested and that they were by a huge internationally known Pop-Diva ~ Sienna Sexton ~ well, she wants something and boy oh boy she will go to quite the length to get what she wants. There were parts of this book where I was ……………


then there were parts of this after Sienna's offer which the "boys" couldn't turn down led me to do this………………………..


and I would've paid good money to do this to a certain Miss My **** Doesn't Stink……………………………………………


but what Kellan agrees to do after encouragement from Kiera had me…


There's plenty of this ladies……………………………….


Yes, I loved the "steamy" side of this book. I will never think of the ABC's again without thinking of Reckless and I will never look at Cowboy's quite the same way…… With the D-bags out on tour and their star rising quickly I could picture this………………..


Kellan & Kiera's relationship grew stronger and their open & honest communication was so refreshing from before, but the biggest factor that made things really "click" and connect for me was Kiera. That girl totally ROCKED in this book. She was awesome and the way she pushed past her insecurities and her maturity well she……….


Kellan comes to "term" with some of his demons and this emotional part of the book made me fall in love with him even more, but it's the outside forces that had me………………………………….


and just when I thought ………………………………….


well something happened that left me ……………………….


I was a freaking mess! I was freaking out! I was ………………


at 3 a.m. in the morning yelling at my Nook!!!! Hoping, praying, oh no please don't go there S.C. please don't. By the end of Reckless I was..


What a great wrap up to a tremendous series. I was so impressed with the maturity Kellan & Kiera showed. I ADORE Griffin OMG he was hysterical! Griffin & Anna had me dying laughing. I can't stop thinking "Thanksgiving" 🙂 I was dying ~ but Griffin as a father~ well just read it. The EPILOGUE was FAN-FREAKING-TASTIC!!! I couldn't think of a better way for the Thoughtless series to conclude.
S.C. Stephens left me with the biggest freaking smile and the worst book hangover I've ever had. I'm so not kidding it took days for me to recover from this book. I was so sleep deprived that when I was done I "crashed" from lack of sleep and from my emotional trip throughout Reckless. Reckless is a HUGE 5+++++++++++++++ off the freaking charts star read. If you haven't read it, I admire your willpower, but holy hell get on it NOW. If you haven't read the Thoughtless series……


START NOW!!! Jump from Thoughtless to Effortless and conclude with Reckless! Follow Denny, Kiera & Kellan as well as the "D-Bags" & their ladies on this AHHHHHHHHMMMMMMMMMMMMMMAAAAAAAAZZZZZZZZIIIIIINNNNGGGGG journey. I'm sad this is over but I'm going to head back to the beginning and start again 🙂
About the Author
S.C. Stephens is an independent author who enjoys spending every free moment she has creating stories that are packed with emotion and heavy on romance.
Her first attempt at a full-length novel was Thoughtless. She wrote the angst-filled love triangle in early 2009 and published it that summer on FictionPress. Amazed and surprised by the response, more stories were quick to follow.
Conversion, the first novel in a three story vampire series, was released in the fall. Collision Course, a tragic, yet hopeful tale of love and loss was released in early 2010. The second Conversion novel came out next, along with It's All Relative, a different take on a one night stand story.
In addition to writing, Stephens enjoys reading other people's fabulous novels, loading up her iPod with writer's block reducing music, heading out to the movie theaters, and spending quality time with her children.