Today we welcome M.J Abraham to our blog as she celebrates her new book Resplendent which released on July 28th.
Enter for a chance to win some amazing giveaways using Rafflecopter below!
---
4.5 STARS!!!
Synopsis
Savannah Martinez and Andres Rivera have been friends since high school.
She knew him better than anyone else, and he was the only one she ever confided in.
Their friendship was the one brilliant thing they each cherished that wasn't tarnished by outside forces that wanted them apart.
But fate wasn't on their side. When she gave him the chance to turn their relationship into something more, he let her go.
Heartbroken and alone, she kept her distance in more ways than one. Now, years later, Savannah is back in town for good and Andres realizes just how empty his life has been without her.
When a secret comes to light, forcing a deeper wedge between them, Andres finds himself fighting for the only woman he has ever loved. Determined to fix the past and make things right, he will go to any length to prove to Savannah that they were meant to be together.
Will fate give them a second chance? Or will those secrets and betrayals ruin the one last chance Andres has of being with the woman of his dreams?
Kim's Review
Resplendent is the second book in A Second Chance series ~ This is the story of Savannah & Andres or better yet Peach & Dres. I must say this was one of those books that I started to read and I kept….
I was immediately captured by how the book was told both in past and present tense but at no time was it confusing. The book is told from both Peach & Dres POV which was wonderful and totally had me…
Savannah the poor thing had tragedy enter her life at young age and she went to live with her Godmother Lola and Lola's daughter Carmin. Carmin was the same age as Savannah and Carmin was probably the most manipulative biatch I've ever met. She had me wanting to…….
from the very beginning of the book. Savannah was the most selfless person out there! When she first meets Andres when they were both in high school it's due to Carmin having a "date" with him. Andres and Savannah get one look at each other and it was instant……
These two had a chemistry that knew no bounds and I could feel that they were meant to be together. I just knew that HAD to be. Andres is one of those guys that I totally would've …………..
From there it became Peach & Dres but unfortunately they were relegated to a friendship status due to Carmin's alleged feelings for Andres. Peach just wouldn't go there and I just had to sit back …
It had me so….
I wanted to hop in the book and tell Peach "Look AT CARMIN she just doesn't care." Peach leaves Miami to go to Boston for college and she maintains her friendship with Dres. One night a few years later Dres shows up out of the blue and it was..
it was a night of first, a night of hope and I night of admitted feelings but sadly the reasoning behind the visit was one filled with so much pain for Dres that I started to feel like I could've…
and what happened a few days later that just left me….
and I kept saying to my Kindle
Fast forward again and Peach is back in Miami for good and Dres catches sight of her while he is out at a local club. He can't believe his luck and he knows NOBODY is going to take his Peach this time I was ….
a few little errors take place when an outing to a local photography exhibit brings these two together and I mean….
together! It was hot, sexy and oh so freaking good I was literally ..
A start of a blissful time together and I was all happy! Everything was 100% A OK and I was happy when suddenly …
then I was ..
I couldn't believe it! I KNEW there had to be something was fishy. This revelation leaves on person….
and both of them..
and me I was just highly pissed off! It didn't even compare to how
I was when the truth comes out ~ Are you kidding me? I think there's a character in this book I loathe more than any other character I've read. It wasn't long before I was totally….
and by the time the Epilogue rolled around I was totally…..
Resplendent was a 4.5 stars read for me~ I loved the story of Savannah & Andres and I adored how the author showed how they met when they were teenagers until the end of the book which I guarantee will bring a smile to your face. It's story that showed that both Peach & Dres knew what they wanted many years back and they eventually found each other. I would love more Peach & Dres!!!!! Yes I can honestly say after reading Resplendent…
About the Author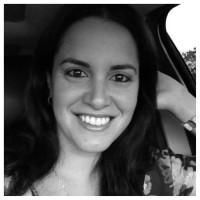 MJ Abraham lives in bipolar weather Florida with a husband that makes her laugh and a superhero son that calls her his Princess. She has a degree in Business Administration from Nova University but finds the people in her head to be much more interesting. She is a lover of clever words, reading way past her bedtime, and zombies. She may or may not be as random as her bio.