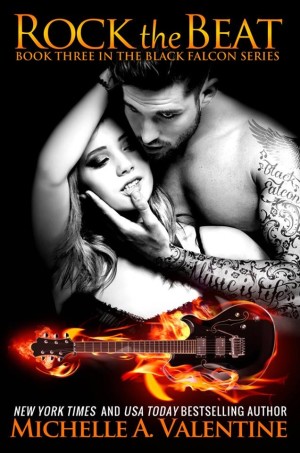 Today we welcome Michelle A. Valentine to our blog as she celebrates her new book in the Black Falcon Series – Rock the Beat which released on October 29th.
Enjoy a dual review from Jen and Christine below!
Enter for a chance to win some amazing giveaways using Rafflecopter below!
---
4.5 STARS!!!
Synopsis
Twenty-year-old Holly Pearson never dreamed that while working at her father's motocross track she'd run into the walking, talking definition of trouble in a sexy, tattooed package—Trip Douglas, the man sent to evaluate the track for a possible investment opportunity. Holly makes no attempt to hide the fact she despises Trip, but she learns to be civil toward him when he offers to help her land the man of her dreams.
Trip needs a break from the crazy rock-and-roll lifestyle he's been living for the past few years. With his Black Falcon band mates settling down with marriage and babies, Trip peruses an investment opportunity in motocross, something he's always been passionate about. Hiding his celebrity status, Trip infiltrates the new business posing as a dirt bike rider training for the X-Games. The only obstacle is the owner's daughter, Holly. She's a real ball bustin' Ice Queen, and she'll do whatever it takes to make the deal fall through. Trip soon discovers that winning over his new enemy is the key to gaining a partnership in Mountain Time Speed Track.
Knowing he's the expert on getting laid, Trip ropes Holly into becoming his ally by helping her score a date with the man she's crushing on. The problem is, the more time Trip and Holly spend together, the more they uncover the undeniable attraction between them. Soon they both realize that even the best laid plans go to hell when you find you're falling in love with the enemy.
**Book THREE in the Black Falcon series. Can also be read as a stand alone novel.**
Excerpt
He steps in front of me and his eyes zero in on my chest. Both of his hands dart to my top button on my gray top and he releases it from its hole before moving on to the next one. "First of all, I was attracted to your banging body in that little black dress. It screamed, "Fuck me," so that's not flirting—that's attention seeking. Believe me, I wasn't the only one watching you shake your ass. I was just the only one brave enough to try and get with you even though you were there with another man."
"You thought I was there with Max?" I ask even though it doesn't surprise me. Max isn't exactly the stereotypically homosexual male. There's nothing feminine about him. People make the mistake that we're an item all the time.
"Yep."
"And you were what, going to steal me away from my date?"
Trip shrugs. "When I see something I want, I go after it. And that night I wanted you. That is until you let him drag you away from me. I figured it wasn't worth the scene it would cause to kick his ass."
I roll my eyes. "How do you know you wouldn't have been the one on the receiving end of that ass-kicking? Max is a pretty strong dude."
He gives me a pointed look. "If there's one thing I know besides that I'm awesome in bed, is that I can fight."
I sigh. "Okay, so you're a badass—I get it. What's the other reason you think you I can't flirt?"
He smiles. "I win the flirting debate because I believe it was me who came on to you first, so you can't take credit for that."
My brain attempts to wade through the drunken memories of a couple nights ago. "You may have started the dance, but I believe I'm the one who turned around to take it to that next level, allowing you to kiss me. Therefore I finished it. I get total credit for flirting with you first."
He undoes the last button on my shirt. "No. Max dragged you away, effectively cutting us both off for the night. And Thank God for that. He deserves a fucking medal for performing a good deed. Can you imagine how awkward all this would be if we'd had crazy sex that night, only to meet up the very next day? That would've been a nightmare."
I flinch. "Am I really that horrible that you would've regretted sleeping with me?"
Playlist

Jen's Review
*I was provided an ARC from the author in exchange for an honest review*
After reading and loving the previous books in the Black Falcon Series by Michelle Valentine, I simply couldn't wait to read about Trip Douglas! The Twenty-Five year old sexy, tattoo'd, filthy mouthed drummer of Black Falcon. I have to say, Rock the Heart, Noel's story has been my favorite of this Rocker series, but book three, Rock the Beat did not disappoint! You could read this as a stand alone, but I would suggest starting from the beginning to get to know the characters fully!
Ever since Trip married young at age 19, and divorced after finding out his wife had cheated, he became a love em' and leave em' bad boy rocker. All he wanted to do was focus on the band and music. But, when the band decides it's time to take a hiatus, so that Noel & Riff can spend time with their families, Trip is unsure what to do with himself. That is until he decides to check out an investment opportunity at a family run Motocross Track in Arizona. Rather than introducing himself as the investor and famous musician, Trip decides that he will let the owner know that he's just doing "leg work" for the investor.
Twenty year old Holly Pearson decides being back home to help her father with the financially strapped, family run track business, is what she needs to do, so she leaves college behind, and heads home. After being dumped by motocross star Jackson Cruze, Holly has a little too much "liquid courage" one night, and finds herself dancing with dancing with a sexy stranger, whom she is hoping will help her forget her life for at least one night. She wants to forget her relationship with her Mom, her now ex-boyfriend Jackson, her ailing father, and financial trouble that the track is in. After coming on a bit strong, her best friend Max drags her out of the bar, and away from this sexy stranger…until an opportunity for the track to bring in money, will bring them back together. Working closely showing Trip the ropes of the Motocross business, hoping to make her ex jealous, Holly and Trip take advantage of their chemistry, and when these sparks ignite, it's HOT HOT HOT!
I loved Holly's character, she's witty, smart, and doesn't take crap from Trip, which makes him fall hard, and really brings the alpha-male out in him! The serious storyline involving her Dad Bill surprised me, and I loved the relationship that grew with he and Trip. Rock the Beat is different from the other books in this series, since Black Falcon is on a break, there is only a small amount of the band interaction in this one. I knew that going in, but I did miss it, I love Rocker based stories, and for me, that's probably what kept this book from being a 5 star read. That being said, this series and Ms. Valentine's books are some of my favorites, and I would highly recommend them to readers, can't wait to read Tyke's Story! Be sure to check out the very back of the book for a sneak peek at Rock the Beginning, The Prequel to the Black Falcon Series!
Favorite Quotes:
"If denying how much you want me makes you sleep better at night, have at it."
"Sweetheart, I haven't even begun to charm you yet. When I do, I promise I won't have to ask twice to get you naked. You'll be begging me to take you and make your body feel good, just like you were last night."
"When I decide I want something. I get it. Always. Failure isn't in my vocabulary."
"God, Sweetness. You don't know how much I've thought about this over the last couple of days. It's been so hard to deny myself this."
"I think I love you."
"Think, huh? That's a start, I guess. But just so we're clear, I know that I love you."
Christine's Review
OMG – Trip Douglas!  I couldn't wait to get my hands on this book and Michelle Valentine didn't disappoint!
As Noel and Riff settle down with their women and families, Trip looks to become an investor in a failing motorcross track business.  Enter Holly Pearson….Trip and Holly actually met the previous night dancing at a night club and HOLY HOT!  You can feel the electricity and sparks flying out of my kindle!  Holly didn't finish college and came home to work at her father's motorcross business to help him in his time of need as his business is not only struggling but he has been very sick.
I LOVE Holly and that she has NO CLUE that Trip is a famous drummer for Black Falcon.  She doesn't fall for him like most girls do and totally gives this cocky man a run for his money.  There is more than meets the eye with Trip – and I adored that about him.  Not only is he smart and has a good head on his shoulders – he is the perfect combo of businessman and rocker.
Trip enters into an agreement with Holly to make her ex jealous and all I can think in my head is "ohhhh this is going to be SO much fun to watch!" as their attraction is undeniable and I know that I am in for a hot and sexy ride!
I'll be honest that it worries me at first because I know that Trip sees this as a challenge as women usually fall at his feet.  Conversely Holly seems so into her douche of an ex boyfriend that I don't know if they will really SEE what's in front of them – how perfect they could be together.
As some truths are revealed, will this couple be able to find their way to each other and take a chance on a love of a lifetime?  You will have to read this book to find out!
I enjoyed this book immensely.  I found myself laughing at times reading Trip and Holly's interactions.  And I really rooted for these characters to work out as they really embedded themselves into my heart.  I LOVED the Rock the Beginning special treat at the end and think that you will too!
I do look forward to more about the band as I missed them in this book as this was more centered around Trip and Holly….all in all this was another great addition to the Black Falcon Series and I look forward to Tyke's story next! xo
**Special Note: For those who have bought Rock the Beat and have pages missing, Michelle has posted them on her blog along with information on how to contact Amazon to update it for you. Thank you!
About the Author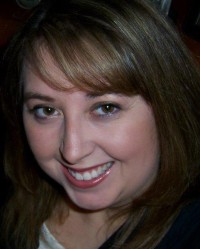 Michelle A. Valentine is a Central Ohio nurse turned New York Times & USA Today bestselling author of erotic and New Adult romance. Her love of hard-rock music, tattoos, and sexy musicians inspired her erotic BLACK FALCON series.
---
GIVEAWAY
a Rafflecopter giveaway

Series Order – all books $.99 for a limited time!
Book 1 – Rock the Heart

Book 1.5 – Rock the Band

Book 2 – Rock My Bed

Book 2.5 – Rock My World