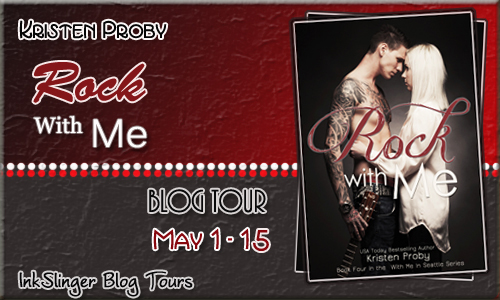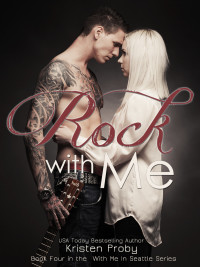 Today we welcome Kristen Proby to our blog as she celebrates her new book Rock With Me which released on May 1st.
Enter using Rafflecopter below for a chance to win an ebook of this great book!
---
5 STARS!!!
Synopsis
Front Man Leo Nash from the world-famous rock band, Nash, is the last person on earth Samantha Williams would trust. She's already learned about loving a celebrity the hard way and isn't signing up for another lesson.
Every time Sam gives Leo attitude, he wants to knock that chip off her fragile little shoulder. What the hell did he ever do to her, anyway? He's not used to women treating him like he's poisonous, and he isn't about to let her run away every time he gets close. He's had enough of people running away to last him a lifetime…when this one runs, he gives chase. But, catching Sam isn't as hard as he thought.
The sexual attraction between them is so thick, Sam can practically hold it in her hand. There's no way she can deny herself the promise of pleasure being with Leo would provide. But, pleasure always comes with pain and when secrets are revealed and trust is challenged, who will run and who will chase?
Denise's Review
Rock with Me is book 4 in Ms. Proby's With Me in Seattle series; if you have not read this series yet, stop log into an internet browser and 1-click because this series is outstanding!
Ms Proby masterfully builds the storyline and her characters with witty, heat and laugh out loud dialogue and scenarios that make for books you won't want to put down and wish would not end.  In this series each book has a wonderful end with a build up to the next story that leaves you wanting to know more and wanting to spend time with the whole cast.
Ok, enough about the series; if you have read the prior books in the series, you will adore Rock With Me.
Leo Nash and Samantha Williams story is layered, showing their lives from all perspectives. Ms. Proby does a wonderful job showing how these two find something special in each other, she does this not only with their own words and actions but she also used the other characters in the book to highlight the unique connection between Leo and Sam.
I really enjoyed that Leo and Sam's characters are mature, they have careers and goals; people who thought they have life all figured out, well unti the one right person steps in and makes them truly think. I adored watching Leo and Sam move past their self imposed barriers and open up their hearts.
Leo's backstory is heartbreaking, and will endear you to him. And Sam's stubbornness and her resistantance to family help put into perspective the touching scene between she and Leo; which points out to the reader that life is truly all about perspective. On so many levels Ms. Proby pulls these two together and makes the reader want to see them make it work.
The use of secondary characters as well as their presence in many scenarios was so well done. Ms. Proby highlights the characters with close ties to Leo and Sam making for many memorable interactions. So yes you get to see Luke again, he plays a role in many key scenes.
There is a scene using Olivia, Luke and Nat's daughter, Samantha's niece that will have you laughing out load, it is humorous, relatable to the reader and so true to Sam and Leo; the scene is used to not only allow them to bond to each other but also to speak to who they are as people. Loved it!
For readers who read Play with Me, the prior book in the series, if you thought the mini van scene made you laugh well Game Night in Rock With Me is hilarious. Ms. Proby again shows what an amazing artist she is as she manages to pull off dialogue and banter with a room full of individual characters readers have grown to love. Each character's comments and actions feels true to them and their interactions build their relationships to each other and the reader.  You truly feel like part of this world and may find yourself wishing you could hang out with this group.
This book also adds additional secondary characters, you get to meet Leo's band, his family. This interaction allows Sam into Leo's world and again the reader to truly appreciate who Leo is. Leo's world also brings groupies and this makes for again some  funny interactions! Sam's reaction to them is so true to her character.
So truth time, I adore Will Montgomery the male lead in the prior book Play With Me, this book solidified that admiration for me; Will stars in a scene that is perfectly woven into this book that will melt your heart.
We all know Leo is a rock star, which makes you think you know why this book is titled the way it is, but Ms. Proby weaves a nice connection to the title in a heartwarming scene between Leo and Sam.
The end of this book felt so true to Leo and Samantha and left me with a huge smile.
It also left me hoping Ms. Proby writes Safe With Me quickly!
I am so looking forward to the next book about Caleb and Brynne; and not just to see their story development but also to be able to visit with my friends, the Montgomery clan!
About the Author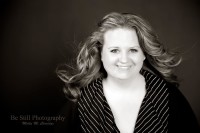 Kristen is the author of the Amazon and USA Today bestselling With Me In Seattle series. She has a passion for a good love story and strong characters who love humor and have a strong sense of loyalty and family. Her men are the alpha type; fiercely protective and a bit bossy, and her ladies are fun, strong, and not afraid to stand up for themselves.
Kristen spends her days with her muse in the Pacific Northwest. She enjoys coffee, chocolate and sunshine. And naps.