Today we welcome Kristen Proby to our blog as she celebrates her new book Safe With Me which released on September 24th.
Enter for a chance to win some amazing giveaways using Rafflecopter below!
---
5 STARS!!!
Synopsis
Keeping others safe is what Caleb Montgomery does. He's never had a problem taking on an assignment, whether it was during his dangerous SEAL days or his most recent job of training war mercenaries. But being assigned to keep Brynna Vincent and her adorable daughters, Maddie and Josie, safe from an unknown threat has thrown Caleb off his axis. Hot for the tall brunette since she came back to town more than a year ago, being close to her day in and day out is cracking Caleb's resolve to keep his hands off her gorgeous body and his head in the mission.
Brynna is sick and tired of being afraid. All she wants is a normal, quiet life for her and her precious girls. Just as she's settling into her new home in Seattle and feeling safe again, Caleb shows up on her doorstep insisting the danger is as high as ever. But whether she needs to be sheltered from the threat in her past, or from the intense emotions she feels for the sexy, protective man sleeping in her home, remains to be seen. What will happen if Brynna and her girls fall in love with a man so broken he may not be able to protect them from the danger that threatens, much less himself?"
SAFE WITH ME is the fifth book in the With Me In Seattle series, and continues to follow this tight-knit, loving family through life's trials and tribulations with humor, passion and everlasting love.
Excerpt
"Expecting anyone?" I ask her with a raised eyebrow.
"I called my mom and asked her to bring the kids home. I miss them." She grins shyly and I kiss her soft forehead before opening the front door. Two small girls and an eager dog come bounding inside, with Brynna's parents close behind them.
"Thanks for bringing them home." Brynna smiles at her parents and hugs both girls close.
"No problem. They were ready to come home anyway."
"Grandpa says we're bad for his high pressure," Josie informs her mother with a serious face.
"He says we'll give him vagina," Maddie joins in and I snort before catching the laugh that wants to come out of me.
"Angina," he corrects them and rolls his eyes. "You'll give me angina."
"That's what I said," Maddie counters.
"We'll head out, honey." Eloise hugs Brynna close and kisses my cheek as she passes by.
"Thanks again, Mom. And don't forget that Monday night is our monthly night out with the gang, so the kids will be back with you that night."
"No problem," Eloise smiles.
"I don't think we'll be going to that, Bryn," I begin but am met with a glare from Brynna.
"I will have a cop, a SEAL, a professional football player and a former UFC fighter with me, Caleb. I will be well taken care of." She props her fists on her hips and looks at me like I'm nuts.
"I guess when she puts it like that," I shrug and smile. Her parents laugh as they leave and the girls immediately start chatting about their night with their grandparents.
Bix wanders over to me and I settle on the couch with him half in my lap and half on the couch. With all of his training, he still hasn't figured out that he's not a lap dog. I'm content to scratch his belly and gently massage around his bad ear, earning moans of pleasure from the big goof as the girls talk excitedly to their mother.
She's such a good mom.
She smiles happily at the girls and gestures for them to join her on the loveseat adjacent to where I'm sitting, settling one on each side of her, wrapping her arms around them and kissing their heads.
I wish I'd seen her with them when they were babies. What a sight it must have been to watch her soothe them, cuddle them.
Nurse them.
"My tooth is loose!" Josie tells her excitedly.
"It is?" Brynna asks. "Let me see."
Josie shows her mother her loose top front tooth and then turns around to show me. "See, Caleb?"
"I see. Let me go get my pliers, I'll take it out for you."
"No!" Josie giggles and covers her mouth with her little hand.
"My tooth isn't loose," Maddie pouts with a long face.
"Don't worry, baby," Brynna chuckles and kisses her cheek. "It will be soon."
"Can we watch a movie, mama?" Josie asks with a yawn.
"I think it's time for bed, sweetheart."
"I want Caleb to tuck me in," Maddie responds and turns her big brown eyes on me, gazing at me hopefully.
"Come on," I snap my fingers and Bix jumps off my lap, happy to head upstairs to bed. I scoop both girls up and carry them, one under each arm, like they're sacks of potatoes, making them giggle like crazy. "I'll dump you in bed!"
"Mom! Help!"
"You're on your own," Brynna laughs as I climb the stairs. "I have a kitchen to clean." "I'll be down to help in a while!" I call down to her as I toss the girls on their beds. Time to put them to bed and have some quiet time with their sexy mother.
Denise's Review
As many of you know, I adore this series and prior to reading Safe With Me, I was Team Will.  Well I am sorry Mr. Montgomery, you have been traded for your older brother as I am proud to now say I am Team Caleb.
I have come to count on Ms. Proby's books to deliver a range of emotions to the reader; which she delivered in spades, yes I shed a tear or two or three, yes I laughed my ass off and yes I closed my Kindle with this cast of characters even closer to my heart.
Safe With Me tells the story of Caleb Montgomery, the third in the Montgomery clan, the Navy Seal many of us loved in the background of the prior books in this series.
Well, first things first – this is Ms. Proby's best book yet.  Caleb is the most complex character she has written and the range of emotions this book pulled from me is hard to even put into words.
Ms. Proby has grown as a writer so much since book 1 Come Away With Me and although in prior reads she did an outstanding job using supporting characters to build the story, in this book she takes that to a whole new level.
Caleb's love interest in Brynna Vincent, a single Mom to two little girls, Josie and Maddie; so in this story the secondary characters are truly part of the love story. Not just cute loving moments but real life, sick kids, grumpy kids and yes tender loving moments all bond them to each other.
The connection between Caleb and Brynna is something many of us have sensed in prior books and in this book it will grab you and not let go. These two banter, they push each other, they love each other and truly come to accept each other – dark pasts and all.
Caleb is a man who has returned to war wounded, not the wounds you can see but the ones that run deep into someone's soul; Ms. Proby's portrayal of PTSD was heartfelt, painful and will draw the reader to Caleb, even if at times you want to shake him.
Many of us read Rock With Me and just stared at our Kindles repeating Family Meeting ugghh.. I want the Family meeting NOW.
Over the past few months, I have been making many "guesses" about what this meeting would be about and let me just say HOLY COW… I doubt anyone would have guessed this. I can't wait for readers to dive in and experience this meeting first hand.  Ms. Proby will rock you to your core at this meeting, a meeting where many of her character express emotions so true to what she has developed, you feel like you are in the room with them and yes my knuckles were white from gripping my Kindle.
In Ms. Proby's prior books, she used secondary characters but in this one – Wow, just Wow. They not only add to the story, they weave a story that makes you want to be part of this family. More than just Josie and Maddie; the whole cast is part of this wonderful journey.
Steve Monteomgery, the patriarch, has some wonderful scenes in this book; you will look at him in a new light and truly appreciate the relationship he has with each of his children even more after you read Safe With Me.
From a laughter stand-point, I thought nothing could top the mini-van scene from Will's book Play with Me.. well let me know just say Poker Night, the American Girls dolls scene and a night out at the bar with this cast will now all make me smile just thinking about them!
So there are a few things I will not reveal as I believe the reader is entitled to experience the amazing journey the Montgomery family experiences in this book but I will simply say this story has me wanting to embrace this family as they come to a deeper understanding of what the word family truly means.
Kristen Proby is an Amazing writer; truly a brilliant mind, harnessing the voices in her head to create wonderfully entertaining stories with characters who will live in your heart long after you finish reading.
I am very much looking forward to Tied With Me, Matt Montgomery's story as I now want to know more about this "kinky" brother and yes I want to see this family I now adore in the background loving each other so very much.
About the Author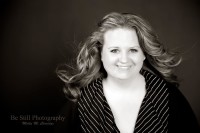 Kristen is the author of the Amazon and USA Today bestselling With Me In Seattle series. She has a passion for a good love story and strong characters who love humor and have a strong sense of loyalty and family. Her men are the alpha type; fiercely protective and a bit bossy, and her ladies are fun, strong, and not afraid to stand up for themselves.
Kristen spends her days with her muse in the Pacific Northwest. She enjoys coffee, chocolate and sunshine. And naps.