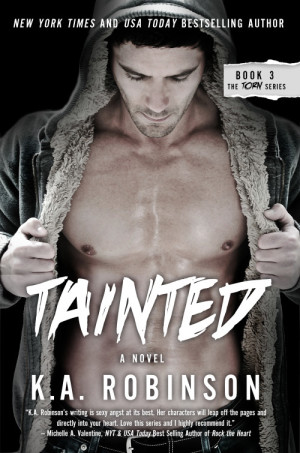 Today we welcome K.A. Robinson to our blog as she celebrates her new book TAINTED which released on January 23rd.
Enter for a chance to win a giveaway on her Facebook author here below.
---

Part One: Facing My Demons
Drake lost everything the day Chloe walked away from him. Feeling angry and hurt by her abandonment, he dives deeper into his cocaine use. Each day becomes a struggle for him. After his band is picked up by a recording studio in Los Angeles, things go from bad to worse. What happens to a man who has lost everything he ever truly cared about?
Part Two: Learning to Love Again
When Drake showed up on Chloe's doorstep, begging for forgiveness, she couldn't turn him away. To Chloe, loving Drake is like breathing and she couldn't bring herself to let him go again.
But what happens next? Follow Chloe and Drake as they learn to forgive and heal together.
Will Drake's fame get in the way of their happily ever after? Or is love enough to keep them together?
The epic conclusion to Drake and Chloe's story.

"Please, Chloe. I love you. I want to spend every second of my life with you from now until the day I die. I can't live without you," I pleaded.
This had gone so much better in my head. While I knew she would be angry, I had hoped that I wouldn't have to resort to groveling to get her to take me back. If I had to though, I would. I would rather die than spend one more day without her.
"I don't want to get hurt again, Drake," she whispered. "I can't take it."
I grabbed her and pulled her into my arms. She struggled at first, but I held on tight, refusing to let her go.
"I will never hurt you again, Chloe. Never. Let me prove it to you."
I pressed my lips to hers and kissed her like I was dying, like it was the last kiss we would ever share because it might just be our last. When I let her go, she might slap me and then never speak to me again. If she did, I wanted to remember the feel of her lips against mine for the rest of my life.
Despite what she'd said, her body responded to me instantly. She wrapped her arms around me and kissed me back, showing me just how much she still wanted me. I groaned as her lips parted, and I slipped my tongue inside her mouth, flicking my tongue ring against her tongue in a way that I knew drove her crazy.

Christine's 3.5 STAR Review!
I had a lot to catch up on with this series so had to go back to TORN to start from the beginning and boy am I glad I did!  K.A. Robinson is a new author to me and I will undoubtedly read more from her in the future.
I enjoyed this series – it was a quick read going through all three books in three days.  What's not to like when you have young love thrown in with a love triangle here and there, a troubled rock star with an all consuming love for the sweet girl next door.   That combined with a mother from hell and a very supportive secondary cast of characters gives you a  fun and entertaining though at times frustrating read.
Speaking about the series as a whole there were many things that I loved and some things that fell short for me.  I know that this is a tour focusing on Tainted but here are my thoughts for the entire series….
The series was written well and very entertaining and very true to young love in college with young adults still growing and maturing and trying to find their place in the world.  The author did a great job painting this aspect of the story and I was there with them reliving my college days!
I LOVED Drake in book 1, he was protective, caring and funny.  I could see and feel why Chloe would fall head over heels for him.  But as the series continued into book 2, the character I had come to love did a total 360.  Yes circumstances caused this downward spiral but I felt that with more communication that this could have been remedied right away.  In Tainted, I wanted to see more fight coming from Drake, the strength that he exhibited in book 1, wasn't quite there and I felt that he kind of just gave up.  However, he redeemed himself to me as the book continued, when after a near death experience, he comes to the realization of what was important to him in his life – mainly the woman of his dreams and his life and future.  Watching that inner strength return allowed me to breath a sense of relief because I wanted the Sweet Drake from Torn to return and boy did he!
I liked and didn't like Chloe throughout this series.  I appreciated that Chloe had a tough life growing up and because of this I felt that she lacked inner confidence and strength.  Yes there were choices in love that she had to make early on in the series that frustrated me at times because I felt that she couldn't make up her mind.   I understand young love and how we can sometimes fall fast and hard and we can be so indecisive.  But as the issues with Drake progressed and her heart broke so many times, I felt that Chloe couldn't hold strong and true to her decisions of trying to stay away from him to protect her heart – I felt that she always gave in to him and never let him work for it.  I wanted her to be stronger…I wanted her to be tough!  Thankfully we saw this more in Tainted and I was so so happy! I realize that as we grow, we mature more and I was happy to see this of Chloe in the last book.
I have to say that I did like Logan…like a lot!  It was so obvious from the get go that he felt something more for Chloe and that she didn't reciprocate.  I felt that all he wanted was to protect her, love her and take care of her.  So I do feel that he was a little unfairly made to look like the bad guy so that it would eventually be ok for Drake and Chloe to be together.  I hope that the author goes back to this character as I would like to see a happy for him.
I will say that out of all three books, Tainted was my favorite.  I am also a sucker for a happy ending.  I enjoyed how it was structured and hearing the different points of view at key points in their lives.  The ending melted my heart, it made me so happy to see everything conclude as it should for this couple.
I think K.A. tells a good story – I look forward to reading more from her.

K.A. Robinson is the New York Times and USA Today Best Selling Author of The Torn Series and Shattered Ties. She lives in West Virginia with her husband and toddler son. When she isn't writing, she loves to read dystopian, zombie, and New Adult books. She has an addiction to Caribou coffee and Starbucks coffee.


Enter at K.A. Robinson's Facebook page here
Series Reading Order
Book 1 – Torn – 5 STAR review here

Book 2 – Twisted – 5 STAR review here