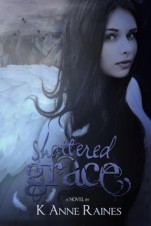 Today we welcome new author K. Anne Raines to our blog as she celebrates her debut novel Shattered Grace, which released on February 28th.
Enter using Rafflecopter below for a giveaway!
3.5 STARS!!!
Summary
Seventeen-year-old Grace grows up knowing she's different, but she always attributed it to a mother who didn't want her, a father who abandoned her, and a curse that sets her apart. Despite those struggles, her grandfather remained her rock and confidant. Her life irrevocably shatters the day her grandfather dies.
The day of his funeral sets off a chain of events, making Grace question everything she's ever known to be true, and as a result, who she can truly trust. She inherits his house, part of his money, his Guardian and something that ties them together.
Just before Grace's 18th birthday, she is thrust into a world she couldn't fathom existed and does everything she can to thwart the destiny suddenly forced upon her. She's been chosen for greatness, but at what cost? With eyes now open, she must choose to either be Chosen, or watch those around her suffer the consequences.
Torn between the man who's come to protect her and the one sent to destroy her, she teeters on the edge of decision, trying to come to grips with who she is, what she wants and what all of that means for her, those she loves and the rest of mankind.
Excerpt:
"It wasn't your fault," Quentin said softly as he came up behind her, touching her briefly on the shoulder before lowering himself to sit on the edge of the coffee table. He leaned toward her, resting his elbows on his knees as he stared into her eyes, his expression conveying his compassion.

Grace raised her tear-filled eyes. "It wouldn't have happened if I wasn't in the car with them." Tears spilled over her lower lids, blurring her view of Emily's picture glowing from the cell phone she still gripped.

"Look at me." Quentin lifted her face with a gentle finger. "It was my fault. It's my job to keep you safe and I failed."

She heard every word Quentin spoke, but couldn't cling to them like he intended. Every one of her friends could have died—because of her, not him. Visions of caskets and grieving families had her pulse quickening. Worry festered in the center of her chest—circling and tearing at her until what rose forth was anger. With every beat of her heart, the anger pulsed stronger. No. In her head, she said it again. No. The word ricocheted like a war cry through her cerebral cortex until it owned her, heart and soul. Energy channeled through every inch of her body. A shiver chased behind it. Those she cared for and loved would not pay for what she was.

In that instant, Grace felt the power of her choice thunder through her like an electrical current. Just like Seth in the movie, she chose to be what she was meant to be, and not to shed what she originally thought was a burden. Newly determined, she leveled her gaze with Quentin's.

"What do I need to do to make sure they never hurt anyone I love again?"

Quentin gazed back at her, his features rearranging themselves into an expression flat and cold—deadly. "You train and you fight back. You let me do my job. And we don't let them win. Ever."

Resolve steeled her voice. "We won't."
Christine's Review
I love paranormal books and this debut novel by KA Raines did not disappoint.
The only person who has ever given Grace Morgan unconditional love has passed away – her beloved grandfather.  Grace is the black sheep among her family and I feel sadness in my heart as she has no emotional connection to anyone, not even her own mother who she doesn't trust and resents because of all of the hurt she has caused her.  Grace has always known she was different and unbeknownst to her and what she will find out before her 18th birthday is that she has lived a life full of many secrets that were kept from her and that her life will never be the same again.
Quentin Kenward is her grandfather's lawyer and friend and Grace can't help but notice how attractive he is when they first meet.  Quentin is her guardian Angel and has been a guardian for members of her family for many years.  His purpose is to protect the Chosen, namely Grace – the ones selected to protect Pandora's box.  Quentin's relationship with Grace should be impersonal but he is attracted to her as well.  I enjoyed their interactions with each other – the flirting and Quentin's struggle with his attraction to Grace had me laughing out loud.  I especially loved his protectiveness of Grace – not because it was his duty but because deep in my heart, I knew he felt more for her than just being her guardian.  I truly enjoyed Grace as the main heroine as I felt that her stubbornness, courage and strength of character allowed her to accept this duty as the Chosen, fight back against the evil and protect the ones she loves.
A secondary character that added that love triangle aspect to the story was Darius, a singer in a band that she meets one night.  Somehow Darius and Grace always cross paths with each other, even in her dreams.  Grace feels a special connection with Darius, enjoys hanging out with him and has more of a connection with him as Quentin is always trying to stay at arm's length from her.  Which will she choose?  I had a hard time choosing between them myself!
So a bunch of questions cross my mind as I read this book – Who is this mysterious Darius?  Will Grace be able to overcome her feelings of being betrayed and put trust in those around her?  What happened with her relationship with her mother?  And what will happen with Pandora's box and will Grace be able to do her duty as Chosen?
I truly enjoyed this book!  There were many surprises that kept me on my toes throughout.  At times, I was a bit confused with some of the terminology and did feel that it was rushed at the end, but when a book ends and I am immediately wondering when book 2 will be out, I know it was a good book and that I will definitely continue with the series!  Ms. Raines did a wonderful job on her first book – it was well written, the secondary characters were interesting and well developed (albeit sometimes immature in dialogue but realistic when thinking that this is set in high school and the drama of growing up at that age!) and I am looking forward to what happens next!
Character Inspirations
Giveaway
About the Author
K Anne Raines is the author of Shattered Grace, book one in the Fallen from Grace Series. She is a Washington State University graduate and the senior accountant at a local firm in her home town. K Anne's impassioned but regular commitment to chocolate covered raisins inspires creativity at home…where ever the raisins are, there she is with her laptop. A lover of great sushi and other fine food, K Anne prefers coffee in the morning, the right wine in the evening, and her fireplace at all times. A Northwest native, K Anne Raines is the mother of three, cat lover, avid exerciser, and blanket hogger.