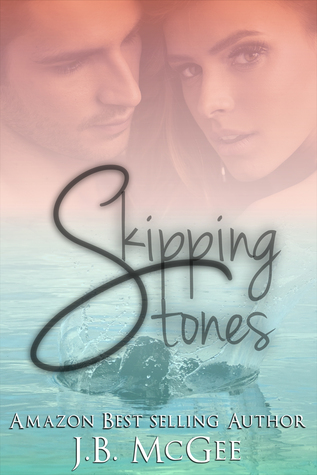 Today we welcome J.B McGee to our blog as she celebrates her new book Skipping Stones which released on September 16th.
Enter for a chance to win some amazing giveaways using Rafflecopter below.
---
Synopsis
They say there are five stages of grief: denial, anger, bargaining, depression, and acceptance.
Not everyone will grieve in this order, nor will everyone go through every stage. It's during the stage of denial when Alex Hart meets Andrew Foster. He takes her one-step closer to acceptance: the stage when new, meaningful relationships are formed. The stage when the realization occurs that this is now the new state of normal.
Just when Alex thinks she is on her way to healing, she enters the bargaining phase. That's the phase where you wonder what you could have done differently. You wonder "what if?" Specifically, what if the ones you loved hadn't left you?
Leaving…this is what makes heading off to war so difficult and frightening for Alex. She knows all too well what it's like to be the one on the losing end of life, which is why she's made it her personal mission in life to save as many lives as possible. The extreme high she gets from treating trauma victims turns into Alex's own form of therapy, or so she thinks.
When faced with her world being turned upside down, Alex may just find that her true therapy is in the one who has always saved her.
Jen's 5 STAR Review
I love to do reviews, especially when they are for an author like J.B. McGee, she is one that I will put everything aside to read whenever a new book is released. Skipping Stones for me was a highly anticipated story, I just couldn't wait to get my hands on! I knew going into this read, that this book was going to be different, and let me say, in this story, different is amazing! Not only did Skipping Stones pull at my heart and soul, it engrossed me so fully, it was hard to concentrate on anything else until I read the words "The End". This is such a unique story, it made me remember why I love to read, it's an honest to goodness love story. A love story of family, faith, and first love. A heartwarming journey, that will have you feeling every emotion possible, you'll be reaching for a box of tissues one minute, and grinning ear to ear the next.
The journey begins as 15 year old Alex Hart is planning on spending the summer with her Memaw and Papa, while her parents are traveling. When tragedy strikes, her whole life changes in an instant. Alex's only escape from the sadness that engulfs her every breath, is down at the creek. It's her comfort place, the one place on earth where she can be alone and think, it's her solace.
The creek is also where she meets 17 year old Drew Foster, who recently moved to Graniteville, South Carolina not far from her Memaw and Papa's. Alex is immediately drawn to him, even with all the pain she is dealing with in her life, she can't help but get butterflies when they first meet at the creek. He tries to take her pain away by teaching her how to skip stones, something that always helps him when he can't talk to other people about his own problems. Little does Alex realize just how big of an impact Drew will have throughout her life, and how even though there is so much wrong in her life, there are still people that will be there for her, comfort and help her through her grief. Alex's journey through life will not always be easy, and it will be filled with roadblocks along the way, but in the end, it will fill your heart with love and hope!
I have to say Skipping Stones for me was such an excellent read. The characters are so well developed, I felt like I was a part of this story! Even though it wasn't a sex driven book, it was raw and emotional, full of twists and surprises that kept me turning pages. This is one of those books that is not to be missed, it's so beautiful and unique, that is hard to tell the reader about it in a review, without giving away too much of the story. Simply put, I adored this book! Skipping Stones is a stand alone book, and you will love the amazing Epilogue that follows the final chapter, it's a wonderful HEA. I highly recommend that every reader find out for themselves if Alex will ever learn how to skip stones! Truly a 5 Star gorgeous book!! Thanks to Shh…Mom's Reading for the opportunity to guest review this wonderful story!
Favorite Quotes:
"You make me forget. I want to forget. I want to be lost with you. Please take me to another place, a happy place."
"I know you probably feel like there's no color left in this world. Like there's no light, instead all darkness. But there's sunshine. there are colorful flowers all around us."
"Our tears are the rain, our cries are the thunder, and the lightening is the sword stabbing us right where it hurt the most, setting us on fire. Nothing good comes from lightening other than the magical façade of it. It's intriguing. It draws us in like a magnet. It excites us, yet scares us. It's dangerous, yet entertaining. It's all the things he was for me."
Christine's 4 STAR Review
This was my first J.B McGee book and will definitely not be my last.  When this book came along on a blog tour request, it was an immediate yes for me as I have been dying to read this author.  The prologue immediately grabbed my attention and I couldn't wait to dive right in.
Without going into too much of a summary of the book as Jen described it perfectly above I wanted to tell more what worked for me in this book.  When tragedy strikes and Alex's life does a complete 360, I am crying for her and as a parent, I want to jump into this book and comfort her in her time of need.  Thankfully Alex meets Drew Foster and he is a reminder to her of how to be young and to live life.  Besides her wonderful grandparents, he is her support, her rock and the one who will help her to cope in her grief.  He is the one that she will experience all of her true firsts with including first real love.  J.B has an amazing way with words where you feel the words, the romance, the emotions and what it's like to experience real love at such a young age.
What I would have loved more of in this book is more of a connection between Alex and Drew when they meet up later in life.  I never doubted their love for each other and how their love was able to span across 15 years, never wavering and always strong.  With that being said, I would have loved to see more of this when they meet again.  I would have loved to learn more about Drew's past, more explanation on why he left and what he was doing in his time away from Alex – I felt that this was a little glossed over and I think it would have added a little more for me on connecting with the characters.
This book was definitely an emotional rollercoaster and you will need the tissues.  It's a touching story about a second chance in love, keeping promises, and finding true happiness.  I completely LOVED the epilogue as it gives us a look into a perfect future for this couple – the love and happiness is so evident that I could feel it coming out of my kindle and completely warming my heart.  Their happiness was well deserved and completely touched my heart.
So thank you Ms. McGee for giving me something to think about and reflect upon and giving us a completely romantic story that touches the very soul. <3
About the Author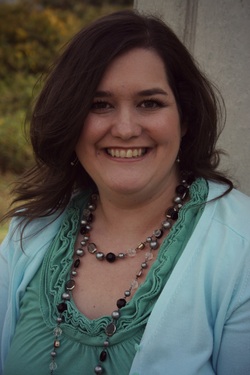 J.B. McGee was born and raised in Aiken, South Carolina. After graduating from South Aiken High School, she toured Europe as a member of the 1999 International Bands of America Tour, playing the clarinet. While attending Converse College, an all-girls school in Spartanburg, South Carolina, she visited Charleston often. It quickly became one of her favorite vacation spots. She met her husband, Chad, during Christmas break her freshman year, and they married in 2001 and she moved back to her home town.
In 2005, the couple welcomed their first son, Noah. J.B. finished her Bachelor of Arts degree in Early Childhood Education at the University of South Carolina-Aiken in 2006. During her time studying children's literature, a professor had encouraged her to become a writer.
In 2007, she welcomed their second child, Jonah, and she became a stay at home mom/entrepreneur. In 2009, the found out their two children and J.B. have Mitochondrial Disease. In 2011, a diagnosis also was given to Chad. Please take a moment and learn more about Mitochondrial Disease. Awareness is key to this disease that has no cure or treatments.
J.B. McGee and her family now reside in Buford, Georgia, to be closer to their children's medical team. After a passion for reading had been re-ignited, J.B. decided to finally give writing a shot. Broken (This Series), is her first book and first series.