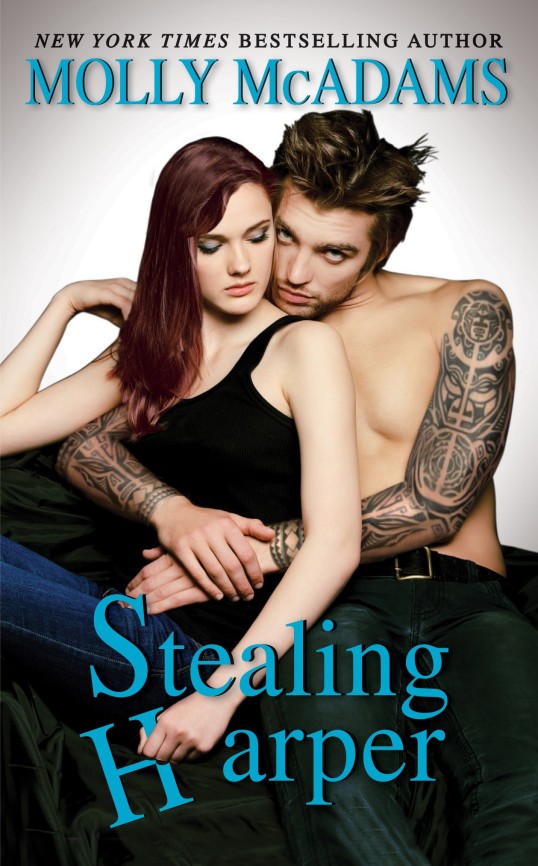 Today we welcome Molly McAdams to our blog as she celebrates her upcoming release Stealing Harper.
Read an excerpt from Stealing Harper below. The excerpt right before this went live yesterday at GIRLS IN THE STACKS and you can read the next excerpt tomorrow at Mundie Moms.  Full tour schedule can be found below.
Molly also stopped by and chatted with us – see our interview with her below.
Enter for some amazing giveaways from Harper Collins using Rafflecopter below! Good luck!
---
5 STARS!!!
Synopsis
Chase Grayson has never been interested in having a relationship that lasts longer than it takes for him and his date to get dressed again. But then he stumbles into a gray-eyed girl whose innocence pours off her, and everything changes. From the minute Harper opens her mouth to let him know just how much he disgusts her, he's hooked.
But a princess deserves a Prince Charming who can make her dreams come true. Not a guy who can turn her life into a nightmare.
All good intentions go out the window when Harper starts to fall for the guy Chase has come to view as a brother. He wanted to protect her by keeping her away, but he can't stand to see her with anyone else, and he'll do anything to make her his. But when it comes down to Harper choosing between the two, will Chase have the strength to step back from the girl who has become his whole world if it means she'll be happy?
Lines will be crossed. Friendships will be put to the test. And hearts will be shattered.
Excerpt
"Calm down, Princess, I'm not going to do anything to you."

"I really wish you would stop calling me that."

I rolled my eyes, why else did she think I still called her that? I opened up one of my drawers and pulled out a pair of mesh workout shorts before throwing them at her and walking toward my door, "Put those on, I'll be back."

"Why?"

"Did you want to sleep in that skirt?" I raked my teeth over my bottom lip as I thought about her sleeping in nothing at all, "I swear I won't mind it, I figured you'd be uncomfortable though."

"Breanna said I would be in a room with her tonight, and if that's not happening I'd rather just go back to the dorm."

"I can assure you she'll be sleeping in the bathroom. I'll give you a minute to change, I'll be right back."

"I am not sleeping with you in here."

"Look, you're seriously hot, that alone is going to have them chasing after you. But top that off with the few words you've even said that shows me just how snarky and sweet as hell you are, that is one hell of a tempting combination. Trust me when I say they're going to want to change what they just found out about you. So if you don't mind, I'd rather make sure that doesn't happen." I'd already vowed to make it my mission in life to make sure that didn't happen.
---
Interview with Molly
Conversation Key
Denise- response in black font
Molly – response in blue font
What inspired you to write Taking Chances?
It was actually a dream! Almost all of my books have come from a dream or two. Usually the dream ends up only being a small part of one scene, but Taking Chances is actually the only dream that expanded throughout a few chapters!
Did you always know who Harper would end up with or did the story evolve as you wrote it?
I've known since the dream. In the dream, she was with Chase, but I knew she was supposed to be with Brandon. So I've always known.
How have you handled the criticisms of the "twist" in Taking Chances?
For the most part, I think the majority of the upset readers are just that, upset. They're mad that I did something they didn't want to happen. BUT I felt the exact same way when I wrote it, so I understand. There's always the harsher critiques, but there's really no easy way of dealing with those. You just have to move on and know that the book was written the way it was meant to.
What was the catalyst behind telling Chase's side of the story in Taking Chances?
Some of my very first readers were begging for more Chase, and after thinking about it for a while, I agreed that there needed to be more of him. Just more, in a different way. His story of what had gone down needed to be heard!
What do you hope readers will take away from Stealing Harper?
Definitely not that I'm trying to torture them. I hope people see this story for what it is. Life is unpredictable, so enjoy it while you can, and live it to its fullest. Never leave any situation angry, and always tell the people you love, that you do love them.
Will we see more from these characters in others books?
Eventually, yes. But I don't plan to continue any of the main or immediate supporting character's stories. I'll let y'all figure out what that means haha
Can you tell us a bit about your creative process?
I more or less sit on these dreams until they're all I can think about, and then I write them down. From there, I just build off them. I already have a sense of the characters from the dream, but by the time I finally start the book, they're ready to take over and tell me their story. So all I do is write it out for them.
Fun Fact: Favorite Junk Food
Fries. My. Freaking. Weakness.
Fun Fact: a song that pulls you right back into this story
Endlessly by The Cab, or anything Hinder
Quick answer: Team Brandon or Team Chase
Team Brandon. He's just such a sweetheart!
---
Denise's Review
Stealing Harper is a companion book to Taking Chances.  If you have not read Taking Chance yet, stop reading this review and go 1-click it now, as it is a 5 star powerful and emotional read that for me was all about it's not what life gives you, it's what you do with it.
Ok back to Stealing Harper.  Stealing Harper tells Chase Grayson's story. Chase never wanted a relationship or even to be with the same woman twice.  That is until he meets Harper or as he calls her "Princess."
This book is not simply the re-telling of Taking Chances, this book offer unique insights into events and scenes that readers did not see in book 1.
You experience intense scenes between Chase and Brandon and you see Chase with his colleagues at work and with his Mom and Dad; all encounters that truly allow the reader to understand Chase better. These scenes build his character and truly endeared him to the reader.
This is not a story about a girl changing a man; this is a tale of how a man decided to make himself better. Chase choses to change his life, to be better as he struggles with his increasingly deeper feelings for Harper; his girl; his Princess.
Ms. McAdams did a wonderful job with using secondary characters in this book.  Chase's Mom and Dad have some well written exchanges as did Brad one of the other roommates. Oh and you will hate Trish even more after this book.
I adored how the integrity of the first book and its storyline was kept true to form. This book truly was about showing Chase, his perspective, his struggle and his emotions as he embraces a love he thought he would never feel.
Ms. McAdams will have you feeling a wide range of emotions, and despite knowing the outcome of many events in the book, I still experienced strong emotions and often had a lump in my throat as my heart broke all over again.
Yes, please be warned that your heart will break when you read this story but for me is was so worth the journey.
For those of you who read my review of Taking Chances, it is clear that I am Team Brandon. And though I still am, I closed my Kindle knowing Chase was a good enough man for Harper.
Added note – you may want to make sure Taking Chances is still on your Kindle as I was compelled after finishing Stealing Harper to go back and re-read the second part of Taking Chances.
Hat's off to Molly McAdams for a well written, and emotional story.  I truly hope to read more books staring this cast of characters….
---
About the Author
Molly grew up in California but now lives in the oh-so-amazing state of Texas with her husband and furry four-legged daughter. Some of her hobbies include hiking, snowboarding, traveling and long walks on the beach…which roughly translates to being a homebody with her hubby and dishing out movie quotes. When she's not diving into the world of her characters, she can be found hiding out in her bedroom surrounded by her laptop, cell, Kindle and fighting over the TV remote. She has a weakness for crude-humored movies, fried pickles and loves curling up in a fluffy comforter during a thunderstorm…or under one in a bathtub if there are tornados. That way she can pretend they aren't really happening.