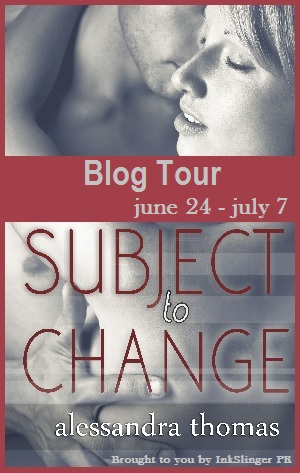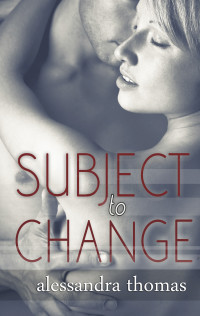 Today we welcome Alessandra Thomas to our blog as she celebrates her new book Subject to Change which released on June 25th.
Enter for a chance to win some amazing giveaways using Rafflecopter below.
---
4.5 STARS!!!
Synopsis
Joey made her dad a deathbed promise that she would become a doctor, and dedicate herself to fighting the very cancer that took his life. There's just one problem -three years into her pre-med classes, she's struggling to stay on top of the curve, let alone prove she's dazzling enough to earn a spot in an Ivy League medical school. In a Hail Mary move, she throws a basic Business 101 class into her semester schedule, banking on a perfect score to boost her GPA.
That is, until she's paired for a final project with Hawk, the bartending, motorbike-riding, gorgeously bedheaded loser who falls asleep in class and communicates in one-word sentences.
Hawk does whatever he wants, whenever he wants, which sets Joey on edge – in every possible way. As they get to know each other, her urge to scream at him is curbed only by her fantasies of tearing his clothes off. Soon those fantasies become reality, and Joey realizes Hawk makes her feel more fully herself than any of the rich boys her mother and sorority sisters approve of.
But the promise to her father hangs over her head, and the harder Joey tries to succeed in her chosen career, the faster everything falls into a hopeless tailspin of bad grades, broken promises and guilt. It doesn't help to have Hawk sitting like a devil on her shoulder, insisting she should be free to live however she wants to live – like he does.
The only thing Joey knows is that her neatly organized life is crushing her – and Hawk's bad attitude might be the only thing that can save her.
Kim's Review
Josephine "Joey" made a death bed promise to her father, Dr. Daly, that she would use the trust fund her set up to go t pre-med school and become a doctor just like he was. A promise that she was hell bent on fulfilling regardless the toll it had taken on her physically, mentally and socially. She's an undergrad in her junior year of college when she has to take a GEC and chooses Business assuming it would be an easy A ~ what she didn't factor in was just how life changing this class would be and what she would ultimately find.
Will "Hawk" is doing the best he can to get by day to day while working as a bartender, tending to a teenage sister and attending college. He is taking business class as way to improve his situation and make something more out of what he already has. Hawk has to maintain control of everything around him ~ it's the only way he could cope with the devastating hand life dealt him ~ a hand so crappy that I guarantee you will shed a few…


Two strangers destined to meet ~ two people who will realize they need each other ~ two people both controlling and both needing a little bump or change in their path. Subject to change is a beautiful example of trying to live your life for others ~ a life or career path your not meant to be on but a promise you will not back down on. You can feel Joey's sheer exhaustion and pain come through the pages! Her constant struggle to "keep up" in pre-med classes and when she makes rounds with an Oncologist she realizes ~ slowly ~ but surely just where her passion truly lies but can she break the one promise she made to her father.
Hawk so closed up ~ so unwilling to open up any further to anyone given the pain love has brought him. He's struggling to make it and make something of himself at the same time struggling with a rebellious teenage sister that he loves more than life himself. So much responsibility for a 23 year old man but can he relinquish some control and open his heart and let someone in and finally find peace in his life.
Subject to Change is a fast read that at times will have you

and Joey she just had me wanting to say…


me at times! But she did grow and with that growth some of her prejudices were set aside. Hawk, oh yes there was time or two I wanted to say…


for things he did or said and his lack of explanation but oh a piercing blue eyed tattooed hottie that had my heart ….


I watched the two of them come together with such …


and then in the next breath they would..


with such passion that sometimes I was left ..


I was totally …


when I read the Epilogue!!! It was the PERFECT ending for Joey & Hawk!!!
Subject to Change was a 4.5 star read for me! I loved the character growth throughout the book but I must admit Joey sometimes frustrated the living daylights out of me. A love story that explodes quickly between the sheets but discussions of feelings was slow to come and that totally worked for these two characters. A book I recommend be added to anyone's TBR that is looking for a HEA but with some emotion in between!!!!
About the Author

Alessandra Thomas is a New Adult writer who swears she was in her twenties yesterday. Since she's not, she spends her time looking back on her college years fondly, and writing sexy stories about guys and girls falling in love and really living life for the first time. When she's not writing, you can find her with a spoonful of ice cream in one hand and the newest New Adult release in the other.