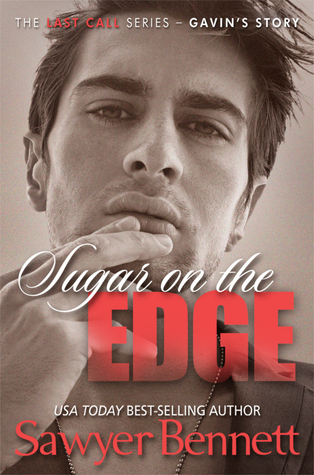 Sugar on the Edge

by Sawyer Bennett
on July 28, 2014
Pages: 264
Buy on Amazon
Goodreads


He's utterly alone…
Tortured and existing in a dark spiral of despair, bestselling British author, Gavin Cooke, has come to the Outer Banks of North Carolina to escape the seedy lifestyle he had been living in London and in a desperate attempt to regain his writing focus. He's twisted, bitter and angry at the world. He's a loner… needing not a single thing other than his Scotch and a laptop upon which he can bang out his next erotic, dark thriller.

She's running in place and getting nowhere…
Savannah Shepherd's life is falling apart. Her dream of being a wildlife photographer seems a distant memory and she's barely able to make ends meet. Driving herself forward with no clear goals apparent, she's about ready to pack up her bags and head home with her tail between her legs.

Two unlikely lovers…
He's raw, forceful and a dirty talker. She's a flowers and romance type of girl. Yet within each other, they find a mutual craving that can only be satisfied by giving in to their desires for one another.
Lust turns into something more… something they were not looking for but tentatively accept. Will it be enough to push them past the obstacles of Gavin's bitter past?

*SUGAR ON THE EDGE can be read as a stand-alone*
I thoroughly enjoyed Sugar on the Edge, this book tells the story of Gavin Cooke, a bestselling British Author, who comes to the Outer Banks of North Carolina to escape. This new home puts him face to face with Savannah Shepherd. This book can easily be read as a stand alone; as Gavin, the hero is in this book, is not seen in prior books in the series.
I was almost immediately struck by the depth of Gavin's pain and was rooting for him to heal. Gavin is alone with a traumatic event in his past having him just existing. The reader is able to feel him simply going through the motions, his despair was tangible.
Savannah's desire to get to know Gavin and to understand this lonely man, a man who gives her glimpses of what lies beneath, was so well done. The connection these two develop was tangible and when they did connect physically was hot as hell.
Gavin's opening up to Savannah about his past was an amazingly powerful scene and one that took their physical connection to another level. I love when an author shows sex for lust and then sex for love with the same couple, Ms. Bennett truly did that.
The event in Gavin's past may bring a tear to your eye and then some as the event is so tragic that it will touch your soul. Ms. Bennett did an amazing job showing how Mental Illness affects so many, it does not affect the one who suffers but all those who love them too.
As Gavin and Savannah connect, Gavin is forced to come face to face with his past and although I wanted to throttle him at one point, watching Gavin heal was so well done. Again yes I did hate Gavin at one point but well I am don't now. It could have worked out any other way as sometimes coming face to face with the past is just too scary.
In the end, the happy Gavin and Savannah find was amazing and truly had me knowing it was the forever kind of love. Sometimes you don't know what you have until you almost lose it all.
Ms. Bennett – thank you for healing Gavin, for giving Gavin a happy and for bringing a smile to my face.
I look forward to hopefully seeing glimpses of these two in future Last Call books.
♥READ THE SERIES♥
Book 1 – On the Rocks
Book 2 – Make it a Double
Book 3 – Sugar on the Edge