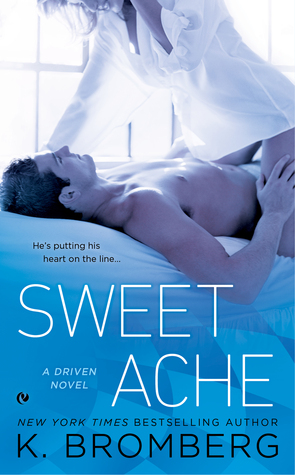 Sweet Ache

by K. Bromberg
on June 2, 2015
Pages: 400
Buy on Amazon
Goodreads


The New York Times bestselling author of Slow Burn turns up the heat when a sexy bet turns into so much more…

Hawkin Play, the bad boy rock star with a good guy heart, has lived a lifetime of cleaning up after his twin brother's mistakes. Hunter's most recent screw-up could land Hawke in jail and risk the band's future. Hawke agrees to guest lecture at a local college to stay in the judge's good graces—and a bet with his bandmate to seduce his sexy teaching assistant is icing on the cake.

Quinlan Westin is harder to bed than Hawke imagined. She knows his type and is determined to avoid the rocker at all costs—even if their attraction runs deeper than simple lust.

Just as Hawke might finally be winning over the girl, his brother has other plans. When Hunter realizes his twin finally has a weakness, he'll stop at nothing to take advantage…
Happy Release Day to K. Bromberg and SWEET ACHE! We LOVE this series!!!  This is a Rock Star stand-alone in the Driven Series by K. Bromberg!
Sweet Ache's prologue introduces readers to a new character, Hawkin Play.  The prologue of this book is powerful and set the story up for someone who intertwines with Hawkin's family.
In this book, the Play family is more than just a supporting cast; the family is woven throughout as so much of Hawkin's past and present family dynamic play (no pun intended) into who he is and what is going on in his life.  Hawkins Mom and Dad each have strong story lines and Hawkin's brother, Hunter well… saying too much about him may give away the story.  So I am going to keep the details of the how and what out of this review as I think the reader should experience it first hand.
Keep in mind as you read this line from the book, it is so true to the story "Blood is thicker than water but you can still drown in it all the same"
The way in which Hawkin's meets Quinlan Westin is adorable, it was witty, created wonderful banter to the start of this relationship… all while layering in the seriousness of the situation surrounding Hawkins.
Hawkin and Quinlan's relationship was so much fun to watch develop; it was also engaging to watch them learn to trust each other.
Hawkin's, the rock star, is portrayed with the use of powerful song lyrics and the strong bonds he has with band mates… speaking of band mates, I love the use of ink in this book… for one aspect of this story line.. the reader knows it's coming but witnessing it executed was still enjoyable as it was well played (cryptic I know – read the book).
Readers of this series may remember Quinlan from book 1 – 3 of the Driven Series as she is Colton's sister.  I think to truly get the most out of this book, it should be read after book 1 – 3.  (book 4 is a male POV and book 5 is about other characters not seen in this book so you can skip those if this series is new to you).
Q and Colt have a wonderful sibling relationship and the use of Colton in this book means so much more if the reader understands his deep backstory and witnesses his journey to happy.  IF you are a Colton fan already, you will love him even more!
As Quinlan and Hawkin learn to trust, as they start to lean on each other, the bonds of the past threaten to destroy it all.
When revenge comes at any cost… is love enough???  Well read the book to find out! 🙂
P.S. as a side note, the use of mental health issues in this book was really well done.

Quinlan
I walk toward him, the sight of him slightly unkempt with a carefree smile he hasn't possessed for days calls to my libido on so many levels it's ridiculous. He brings a shot of something to his mouth and I don't even give a second thought to what it is because I know I'll taste it on my lips momentarily.
He hums deep in his throat when I step up into his body and there is something so inherently sexy about the sound—knowing that I caused that reaction—that together with the feel of his firm body against mine lets me know there will be no interruptions this time.
He looks at me, eyes darkening and one hand sliding beneath my shirt a beat before our lips meet in a hungry, no-holds-barred kiss. His empty bottle clatters on the counter behind him so that his other hand can join in the temptation. I lose myself in the taste of the tequila on his tongue, and the hypnotizing feeling of his hands on my body.
The music thumps hard around us, the noise buzzes, and the faint scent of cigarette smoke wafts in from outside but it's as if none of it hits me because I'm consumed by everything about him: his taste, his cologne, the groan I can't hear but can feel against our connected chests, the heat of his body. I don't care who's watching because it's almost as if the overwhelming emotions that he's experienced all week long are manifesting themselves into our mutual desperation.
"Upstairs. Now," he murmurs against my lips, and I've never heard more perfect words. He grasps the bottle of tequila behind him in one hand and my hand in the other without saying anything further and walks with purpose through the crowd. I can't see his face but he must have a determined look on it because not one person stops him to talk when that's been the norm for the evening thus far. At the bottom of the stairs, I catch the eyes of the three wannabe women and just smirk. Call me bitchy, but I can't help it, I'm with the one they were hoping to land tonight.

♥READ THE SERIES♥
Book 1 – Driven
Book 2 – Fueled
Book 3 – Crashed
Book 4 – Raced
Book 5 – Slow Burn
Book 6 – Sweet Ache